New Mix: Death Grips, Angel Olsen, GEMS, and More
New Mix: Death Grips, Angel Olsen, GEMS, and More
On this episode of All Songs Considered, hear Robin Hilton explain why he has a Yo Gabba Gabba! song stuck in his head every day, and how the best remedy this week has been the new Death Grips record, Government Plates.
We've also got an electrified cut from the arresting singer-songwriter Angel Olsen. Her new album doesn't come out till February, but it's an early frontrunner for one of Bob Boilen's favorites in 2014. Bob also shares new music from the appropriately named Quilt, a band that patches together light and airy, but droning songs within songs. Plus a new cut from the colorful dream-pop band GEMS. Meanwhile, Robin shares a song from the band Ages And Ages that's filled him with so much hope he thinks it could actually change your life - or at least how you're feeling at the moment. He also revisits his previous hometown of Athens, GA where he's discovered yet another great band called The New Sound Of Numbers.
We need your help putting together our Thanksgiving edition of All Songs! Our current Question of the Week asks: What song best describes your family? Go to our Soundcloud page and record your story for us. We'll share some of our favorites on next week's show.
Songs Featured On This Episode
Death Grips
Song: Feels Like A Wheel
from Government Plates
This frenetic hip-hop trio creates songs that demand full attention and leave listeners breathless. Watch them live in concert to see what we mean. Death Grips is fronted by vocalist MC Ride, with drummer Zach Hill (formerly of Hella), and producer Andy Morin.
Angel Olsen
Song: Forgiven/Forgotten
from Burn Your Fire For No Witness
To this point, Chicago-based singer-songwriter Angel Olsen was known for crafting delicate guitar songs with intensely personal lyrics. "Forgiven, Forgotten," from her upcoming 2014 album Burn Your Fire For No Witness, is edgier than much of her previous work.
Divisionary (Do The Right Thing)
Ages and Ages
Song: Divisionary (Do The Right Thing)
from Divisionary
The polar opposite of Death Grips, Ages and Ages is a joyful chamber pop group that's been through a lot in the last few years. The bands new album is called Divisionary, and this song, "Do The Right Thing" has a chorus you'll be singing all day.
Quilt
Song: Arctic Shark
from Held in Splendor
"Arctic Shark" comes from the Boston-based band Quilt's new album, Held in Splendor, due out in January. On the song, the aptly named trio stitches together a patchwork of gorgeous harmonies and dreampop textures.
The New Sound of Numbers
Song: Complete
from Invisible Magnetic
The New Sound of Numbers is something of an Athens, GA supergroup, featuring members of Olivia Tremor Control, Circulatory System and Pylon. "Complete" comes from the group's new record Invisible Magnetic. It's a little poppy, and a little weird, but totally danceable.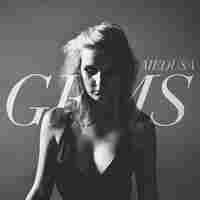 GEMS
Song: Pegasus
from Medusa
We first featured GEMS as one of Bob Boilen's favorites from this year's CMJ Music Festival. "Pegasus" comes from the duo's debut EP, Medusa, and features fuzzy, dreamy synths, and singer Lindsey Pitts' sultry vocals.