Viking's Choice 2013: We Saved The Weirdest And Loudest For Last
Viking's Choice 2013: We Saved The Weirdest And Loudest For Last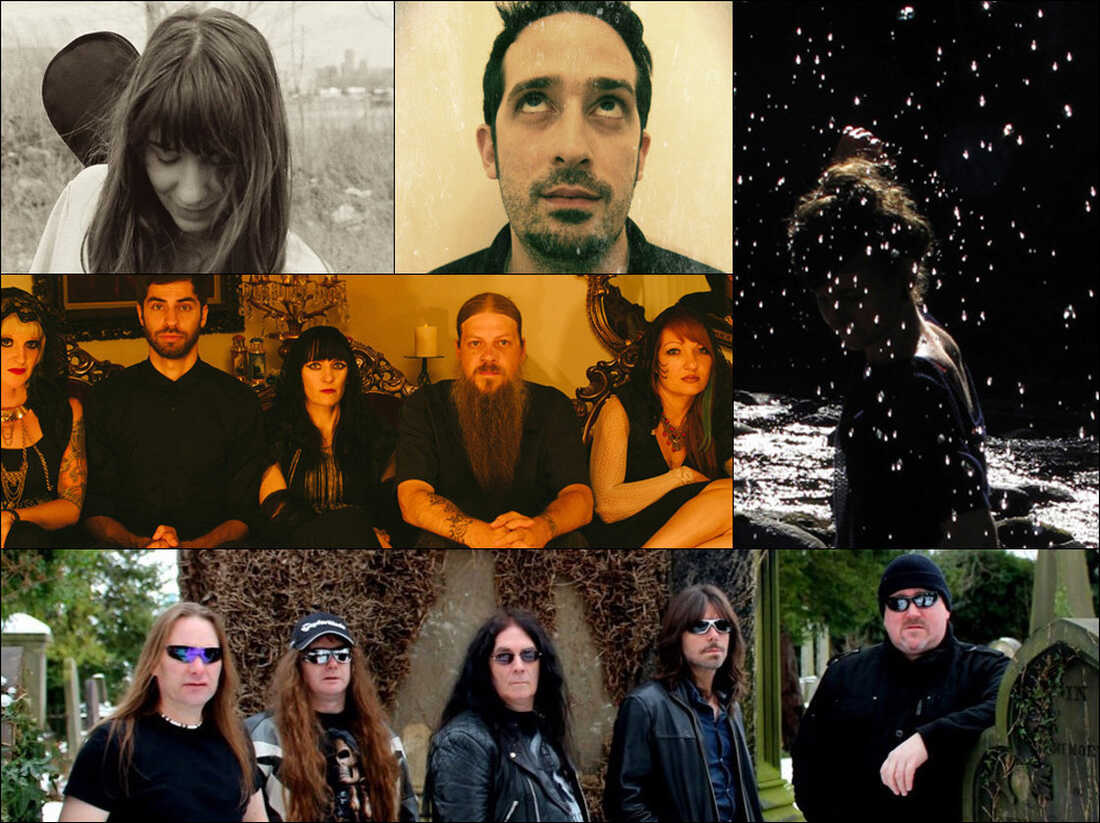 We've saved the best (and weirdest ... and loudest) for last. It's been a couple of years since we last had NPR Music producer Lars Gotrich on the show to highlight the year in metal and what he sometimes calls "outer sound," a nebulous grouping of experimental music. It was time to bring his weird sonic world back.
In 2013, the impeccably named heavy metal band Satan came out of the woodwork after a 17-year gap as if nothing had changed in heavy music and made its best album yet. Circuit des Yeux and Jeremiah Cymerman shook hell in their own ways. And, more than ever before, Lars Gotrich looked to cassettes and artists like Giant Claw and Katie Gately for the bizarre, inspired and even euphoric.
Over on the Best Music of 2013 blog, you'll find the complete lists of Lars' favorite metal and cassette releases of 2013. This episode of All Songs Considered includes highlights from both lists, plus a couple of added bonus tracks — you can read Lars' notes and stream all the songs below.
Viking's Choice: 2013 In Metal, Cassettes And Outer Sound
Satan
On the way to my bachelor party out in the middle of nowhere, I requested but two albums be played on our bachelor van of doom: Noisem's Agony Defined and Satan's Life Sentence. Looking back on it now, that wasn't meant as an ill omen for my nuptials, just that a party was about to start and I needed sustenance. For that, hell bless this '80s heavy metal band for returning after 26 years and ignoring everything that has changed in heavy music. Life Sentence is just riffs upon ridiculous riffs that spiral with careless speed. Come on, just listen to "Siege Mentality" and don't grin ear to ear. --Lars Gotrich
Giant Claw
Song: Meal Brothers Theme
Let's just go ahead and call 2013 the year of our crustaceous hero, Giant Claw. Keith Rankin (a.k.a. Giant Claw, also one-half the stellar Orange Milk label) released four tapes on four different labels, not one following the same vibe or intent. If I was being honest with myself, all four would have made this list. There's the Lynch-ian noir of Music for Film, the goofy side-scroller video game music of Tear in Static and the spastic sci-fi free-fusion of Max Mutant. But the tape that killed me every time is Impossible Chew, a playful and rhythmic romp of synths and sequencers that never lets up on its ecstatic rainbow of happiness. --LG
Impossible Chew is available on Field Hymns. Follow Giant Claw on Bandcamp.
Katie Gately
Pipes might be a single 14-minute track tape, but in it contains the frightening multitudes of Katie Gately's still-developing voice. And that's just what it is: Gately's voice, torn asunder and reconfigured into something like an ecstatic pop song that can and does go every which way. It'd be a disservice to even describe the insane chutes and ladders game that "Pipes" plays. --LG
Pipes is available on Blue Tapes. Follow Katie Gately on Soundcloud.
Circuit Des Yeux
On an oddly inspired tour featuring tape looper Jason Lescalleet and supreme drone musician Mike Shiflet that hit Washington, D.C. this fall, unknown-to-me Circuit des Yeux's Haley Fohr played an intense solo set that shook hell — just acoustic guitar, a group of effects pedals and Fohr's rich and resonant baritone voice. It was like she was connecting the dots between PJ Harvey, the self-destructive dirges of The Stooges and mutated free-jazz vocalist Patty Waters in a primal meditation. Overdue does all of that, too, and is enriched by occasional strings and percussion. --LG
Overdue is available on Ba Da Bing (CD) and Lewin + Lynn (vinyl).
SubRosa
Song: Ghosts of a Dead Empire
More Constant Than the Gods is gorgeous. It's okay to say that about a metal album, right? There's a certain grace entwined in the Salt Lake City band that few of its doom ilk achieve. Maybe it's the dueling violins that act like lead guitars, maybe it's genuinely thoughtful lyrics worth pouring over, or just the majestic composition that pervades these lengthy tracks — whatever it is, More Constant Than the Gods is a record that constantly reveals new wonders upon each listen. --LG
Jeremiah Cymerman
Jeremiah Cymerman is a sonic trickster. The New York City-based composer and clarinetist has an ear for extremity like few others, raising Cain one moment and dipping to imperceptible gurgles the next. For Sky Burial, he wrote a rough score for some of New York's most thrilling improvisers — saxophonist Matt Bauder, plus trumpeters Pete Wooley and Peter Evans — and then took the recordings to his home studio to disassemble and Frankenstein the pieces together with electro pulses and manic effects. The result messes with perception and structure as if they were harmonious battles to pacify and taunt at once. --LG
Sky Burial is available from 5049 Records and Bandcamp.
Holly Waxwing
Song: Silktails for Isabel
This past summer, Adrian Rew released a CDR of field recordings featuring slot machine music, a dizzying and tantalizing jumble of flickering tones and melodies. In some ways, Holly Waxwing's Goldbeat Acrobatics feels like the organized, beat tape response. This is pitch-shifted cosmic soul built on euphoric triggers and tugged emotions, meticulously blurring samples and featherweight beats to unbearingly addictive heights. --LG
Goldbeat Acrobatics is sold out from Noumenal Loom, but is available on Bandcamp. Follow Holly Waxwing on Bandcamp.