New Year, New Mix: St. Vincent, Bruce Springsteen, Damien Jurado, More
Hosts Bob Boilen and Robin Hilton are back from their holiday journey to the heartland, rested and ready to celebrate the new year with a batch of new music from some of their favorite artists, and latest discoveries.
Robin kicks things off with a new cut from St. Vincent, an artist who continues to redefine what it means to rock an electric guitar. Her new, self-titled album isn't out until late February, but you can get a good taste of it with the fantastically gritty, disjointed song "Digital Witness." (For more on this record, check out our interview with singer-guitarist Annie Clark.)
Also on the show: Bruce Springsteen reimagines his somber, acoustic classic, "The Ghost Of Tom Joad," as massive, noisy rock song, courtesy of Rage Against The Machine guitarist Tom Morello; Lost In The Trees, a band normally defined by its lush string arrangements, is back with a brand new sound; singer-songwriter Damien Jurado takes us on a journey through an imaginary world where everyone is named "Silver." Plus, Bob Boilen shares some bold and beautiful new discoveries from the Swedish duo I Break Horses and Atlanta-based singer-songwriter Danny Brewer, who writes and records as Besides Daniel.
Songs Featured On This Episode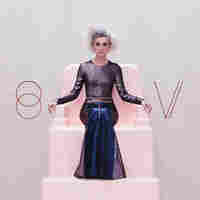 St. Vincent
This cut, from St. Vincent's forthcoming self-titled album, features brawny horn arrangements, reminiscent of her 2012 collaboration with David Byrne. St. Vincent is due out Feb. 25.
I Break Horses
Song: Denial
from Chiaroscuro
I Break Horses is a duo from Sweden featuring Maria Lindén and Fredrik Balck. Together they make gorgeously textured songs heavily influenced by '80s synth-pop.
Damien Jurado
Song: Silver Timothy
from Brothers and Sisters of the Eternal Son
The Seattle-based singer and songwriter's latest album takes a deeper dive into the mysterious characters he first introduced on the 2012 album Marqopa. You can hear the full record, Brothers And Sisters Of The Eternal Son, in our First Listen series.
Lost in the Trees
Song: Past Life
from Past Life
On the band's latest record, Lost In The Trees frontman and songwriter Ari Picker drops the lush string arrangements for a more spare, minimalist sound.
10The Ghost of Tom Joad (Electric Version)
Bruce Springsteen
Song: The Ghost of Tom Joad (Electric Version)
from
Bruce Springsteen reimagines one of his somber, acoustic classics, originally released in 1995, as an epic, noisy rock track, with help from Rage Against The Machine guitarist Tom Morello.
Besides Daniel
Song: Untouched and Burning
from This Marvelous Grief
Besides Daniel is the work of Atlanta singer-songwriter Danny Brewer. His music is both intimate and epic, with joyful sing-alongs and moments of quiet reflection.