New Mix: The Antlers, EMA, Yann Tiersen, Sturgill Simpson, More
On this week's show, hosts Bob Boilen and Robin Hilton ask big questions about the world we live in via new music from the singer known as EMA, a head-turning cut from the young country crooner Sturgill Simpson and more.
EMA's beat-heavy "Neruomancer" takes a critical look at the state of humanity in a world dominated by narcissistic social media and virtual realties. Sturgill Simpson's "Turtles All The Way Down" is a strange and transfixing ode to other dimensions, space, time, reptile alien autopsies and other curiosities in his endless search for meaning in the universe. They're probably not the first things you think of when considering contemporary country music.
Not everything on the show is so existential. There's a gorgeous, soaring new song from The Antlers; idiosyncratic folk singer Jolie Holland decides to plug-in her guitar; The San Francisco-based band Papercuts has a sweetly shimmering piano pop song full of hope and wistful melancholy and French orchestra-pop artist Yann Tiersen returns with a batch of broody tunes that start small and dark, but bloom into big and bright wonder.
Songs Featured On This Episode
Neuromancer
from The Future's Void
by EMA
EMA is otherwise known as Erika M. Anderson, a singer originally from South Dakota who makes bold, beat-heavy pop. On this song she takes a critical look at social media, virtual reality and other trappings of modern living.
Turtles All The Way Down
from Metamodern Sounds In Country Music
by Sturgill Simpson
Think you don't care for contemporary country music? Sturgill Simpson will make you think again. The 35 year-old singer and modern-day philosopher from Kentucky takes surprising sonic and lyrical turns on his latest album, Metamodern Sounds In Country Music, due out May 13.
Read an Ann Powers interview with Sturgill Simpson and see a video for this song.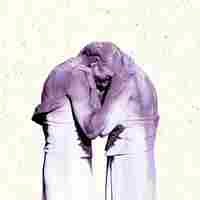 Palace
from Familiars
by The Antlers
The Antlers make music more for the heart and the brain than the feet. This cut from the Brooklyn-based band is a gorgeous, soaring ode to innocence. Familiars is scheduled for release on June 17.
Dark Days
from Wine Dark Sea
by Jolie Holland
Jolie Holland has spent the past 15 years making heartfelt acoustic folk. But on her latest album, she plugs in and turns her trademark sound upside down. Wine Dark Sea is due out May 20.
Still Knocking At the Door
from Life Among the Savages
by Papercuts
Papercuts is the San Francisco-based musical project of multi-instrumentalist Jason Quever. His latest bedroom recording, Life Among The Savages, is out May 6.
Midsummer Evening
from Infinity
by Yann Tiersen
French artist Yann Tiersen makes musical curiosities with an always eclectic mix of instrumentation, crafting worlds where strange and surprising sounds can play together. His latest album is scheduled for release on May 19.