Discussion: The Year In Music (So Far), 2014
Discussion: The Year In Music (So Far), 2014
On this week's show, hosts Bob Boilen and Robin Hilton are joined by NPR Music's Stephen Thompson to recount their favorite music from the first six months of 2014. They spin the ferocious punk energy of Perfect Pussy, the magnetic vocals of Broken Twin, absurdly catchy electro-pop from Sylvan Esso and much more.
Bob opens the show with a cut from his favorite new band of 2014, the San Francisco-based seven-piece group known as The Family Crest. The band makes music on an epic scale, with stunning vocals and a multitude of instruments. Stephen then beats Robin to the punch to claim Perfect Pussy as his favorite new band of the year, with the song "Driver," two minutes of howling vocals and surging guitars from the Syracuse band's debut album Say Yes to Love.
Later in the show Robin returns the favor by snagging Sturgill Simpson as his biggest surprise of the year. "Turtles All the Way Down" finds the country singer examining cosmic questions with his heart-wrenching voice and classic country arrangements. Also on the show: A fuzzy rock number from the often-hushed singer Angel Olsen; The German band The Notwist has Stephen's favorite song of the year in "Kong;" The band Nothing rumbles and shakes with glorious noise-rock; Damien Jurado's flamingo-tinged "Silver Timothy" explodes into a synth-fueled jam and much, much more.
Songs Featured On This Episode
The Family Crest
Song: Beneath the Brine
from Beneath The Brine
Favorite New Artist: "I'm so thrilled about this band. ... Liam McCormick is opera-trained, and many of the musicians are classically trained. There's some jazz musicians as well ... really quite a force." --Bob Boilen
Perfect Pussy
Song: Driver
from Say Yes To Love
Favorite New Artist: "I was amazed at how much [this record] had grown on me. There's this incredible ferocity but there's also layers, textures and surprises that roll in throughout the record." --Stephen Thompson
Broken Twin
Song: If Pilots Go To Heaven
from May
Favorite New Artist: "Her voice just sends me. It's very vulnerable but very powerful at the same time." --Robin Hilton
Jessica Lea Mayfield
Song: Do I Have the Time
from Make My Head Sing...
Biggest Surprise: "Both this album and song I've listened to more than any other record all year so far." --Bob Boilen
Mimicking Birds
Song: Bloodlines
from Eons
Biggest Surprise: "[This] song is constantly in motion. It's constantly taking you through the course of it. I find I always move when I listen to it; even though it's a very mellow song it always keeps me in motion." --Stephen Thompson
Sturgill Simpson
Song: Turtles All The Way Down
from Metamodern Sounds In Country Music
Biggest Surprise: "Even people who swear they don't like country music have completely fallen in love with this record. He takes these classic sounds and turns them towards these really weighty, deep, existential themes on the record, and you can hear that best on this song." --Robin Hilton
Angel Olsen
Song: Forgiven/Forgotten
from Burn Your Fire For No Witness
Favorite Album: "So much about what she does speaks to the way Leonard Cohen crafted songs; there's so many layers in the words and the delivery is so often deadpan, and the words just tell everything that you want to know." –Bob Boilen
Sylvan Esso
Favorite Album: "Nick Sanborn creates these electronic beds for Amelia Meath's vocals to lie atop. It's an absolutely intoxicating record." --Stephen Thompson
Nothing
Song: Get Well
from Guilty Of Everything
Favorite Album: "It's got a nice drone to it but it also has brawny guitars." --Robin Hilton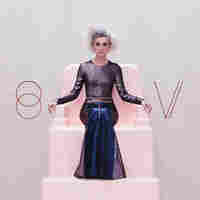 St. Vincent
Favorite Song: "What I love about this record is how she advances the sound of a guitar without it sounding like where guitars often go when they try to be non-guitars: in the land of synthesizers. There's something that goes between the grunge of a guitar and the incredible harmonics that synthesizers are capable of, so it's really rich and different than the normal guitar sound. I love her for that." --Bob Boilen
The Notwist
Song: Kong
from Close To The Glass
Favorite Song: "The song is about this fantasy that the singer Markus Acher had had about a superhero coming in and saving his house from a flood. And if you listen closely you can pick up little hints of that story. The song is just this wonderfully fizzy, catchy, propulsive, beautiful, cool song." --Stephen Thompson
Damien Jurado
Song: Silver Timothy
from Brothers and Sisters of the Eternal Son
Favorite Song: "Go back and revisit this record if you missed it. It's the best thing he's ever done." --Robin Hilton