New Mix: TV On The Radio, Caribou, More
New Mix: TV On The Radio, Caribou, More
Earlier this month, All Songs Considered host Bob Boilen traveled to Reykjavik, Iceland to attend the annual Iceland Airwaves music festival. Kevin Cole and the crew from NPR member station KEXP were there to broadcast and record bands at the festival. The lineup included bands from around the world, but Airwaves is a rare chance to hear bands from Iceland itself — about 150 of them were on the bill, and Bob and Kevin pick three standouts here.
Robin Hilton shares a track from TV on the Radio's latest album, Seeds, which the band (and Robin) believes to be its best yet. Bob offers up a pulsing track from Caribou, whose album Our Love, its most dance-able, attracted a more enthusiastic response than any other stage of the group's 10-year career, if the show Bob saw last week is any indication. Robin closes the show with a gorgeous ambient cut from A Winged Victory For The Sullen's new album, Atomos.
New Mix: TV On The Radio, Caribou, Discoveries From Iceland, More
Júníus Meyvant
Song: Color Decay
from Color Decay
"Color Decay" is shaping up to be one of KEXP host Kevin Cole's favorite songs of the year. Cole compares Meyvant's gentle, driving sound to that of Bon Iver, Iron & Wine and Lee Hazelwood. For more on "Color Decay," visit the artist's website.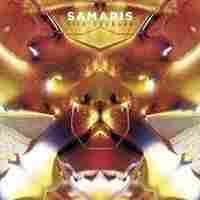 Samaris
Song: Lífsins ólgusjór
from Silkidrangar
The electronic trio Samaris is known for drawing lyrical inspiration from 19th century Icelandic poetry. This is the case on "Lífsins Ólgusjór," a bouncy and laid-back song with roots in reggae rhythms. For more on this album, visit the band's website.
Sóley
Song: Halloween
from Halloween (Live on KEXP)
KEXP recorded Sóley live at KEX Hostel in Reykjavik during Iceland Airwaves 2013. Stark percussion and dreamy synth drive "Halloween."
TV on the Radio
In an interview with Rolling Stone, TV on the Radio vocalist Tunde Adibimpe described Seeds as "1,000 percent, without a doubt, the best thing we've ever done." In the opening track, "Quartz," the band's longing and restlessness are more apparent than ever before. For more on the album, visit the band's website.
Caribou
Song: Silver
from Our Love
"Silver," like much of Our Love, is intensely personal. The song is anchored by a steady, uncompromising beat, which is juxtaposed by the uncertainty of Dan Snaith's lyrics. For more on the album, visit the artist's website.
A Winged Victory for the Sullen
Song: Atomos IX
from Atomos
Host Robin Hilton claims that Atomos is some of the most beautiful ambient music he's ever heard. "Atomos IX" is dark and sprawling. For more on this album, visit the artist's website.