Guest DJ: Yusuf/Cat Stevens
Guest DJ: Yusuf/Cat Stevens
Decades ago, the potent folk songs of Cat Stevens inspired All Songs Considered host Bob Boilen to pick up acoustic guitar. Now known as Yusuf/Cat Stevens, the singer visits the All Songs studio for this week's show to discuss his path to music and share songs that inspired him along the way. Yusuf/Cat Stevens' most recent album, Tell 'Em I'm Gone, features reworkings of a number of classic blues songs and originals. The record also includes collaborations with super-producer Rick Rubin and harmonica player Charlie Musselwhite. Tell Em I'm Gone is his first album since 2009's Roadslinger.
Guest DJ: Yusuf/Cat Stevens
The Beatles
Song: There's a Place
from Please Please Me
On discovering The Beatles through the music of Leonard Bernstein:
"One of the all time classic [Leonard Bernstein] songs for me was a song called 'Somewhere.' That song was was everything to me .... John Lennon must've written ['There's a Place'] being inspired by 'Somewhere.'"
Wendy Carlos
Song: Scherzo, Ninth Symphony: Second Movement
from A Clockwork Orange
On drawing artistic inspiration from classical music:
"[My older sister] had these classics, like Beethoven and Tchaikovsky. And I loved those. I used to love painting while listening to those records. It was like I was watching all this landscape happen — musical landscape — and I was just drawing as I listened. So it became a big thing for me to listen while I was drawing. And I think that kind of led in some way in the future to me telling stories and painting with words and music... [Beethoven's 9th] is, like, the #1 pop song ever written."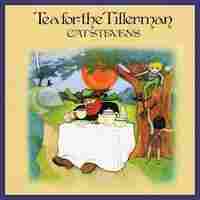 Cat Stevens
Song: Into White
from Tea for the Tillerman
On painting as inspiration for songwriting:
"I learned later in life that if you spun a disc with all the colors on it, it would turn white — so that was theme for my song, '[Into] White.'"
The Band
Song: When I Paint My Masterpiece
from Cahoots
On writing songs for Tell 'Em I'm Gone:
[Demos for Tell 'Em I'm Gone] were always sparse, because I didn't want to go back to what I had at the beginning of my career, which was a lot of band, a lot of noise, and — too much arrangement. So in a way, [the album] was kind of a marrying together of my knowledge of — my love of classical music and the simplicity of my demos, which is what I wanted to capture."
Yusuf/Cat Stevens
Song: Tell 'Em I'm Gone
from Tell 'Em I'm Gone
On collaborating with Rick Rubin for Tell 'Em I'm Gone:
"First place, I think [Rick Rubin] was interested in working with me, and I definitely was interested in getting him on board for this album. I think he envisaged me coming with a bunch of songs. That was the direction I think he thought we were gonna go. But I had all these blues songs in my pocket and I said, 'You know, these are the things which interest me now.' He turned around and said, 'OK, we can work with this.' And then somehow the musicians they picked were really perfect."
Tinariwen
Song: Amassakoul 'N' Ténéré
from Amassakoul
On seeing Tinariwen perform live:
"Yeah, we [saw Tinariwen] in L.A. last time [we were touring]. It's great. Nobody understands what they're saying, but it goes straight to you, because they're freedom fighters, with music. Beautiful."
Yusuf/Cat Stevens
Song: I Was Raised In Babylon
from Tell 'Em I'm Gone
On workshopping "I Was Raised in Babylon" in the studio:
"I kind of hid ['I Was Raised in Babylon'] somewhere around the middle [of the album], when I was picking a track list — but then everybody said, 'That song is so good.' So, I thought, maybe we should stick it up first. So, it became the first track on the record. And I had two versions; this was the version which, after playing the first version in the studio with Rick Rubin — and actually, Richard Thompson was with us. Not a bad combination. I realized the skill of Richard, in the kind of folk mold, and I said, 'Let's try it this way' — because I had this other version — and it just started to fly. And, of course, the words, like a little critique about civilization. And it's one of the best tracks."
The Beatles
Song: Twist and Shout
from Please Please Me
On The Beatles' "Twist and Shout" changing the way he thought about music:
"The Beatles took most of the credit for driving me towards music. It was the ultimate primal scream, I think, of Lennon on 'Twist and Shout,' that just set us lose. Forget about punk music. This was the beginning of releasing that incredible pent up energy in our generation. [Twist and Shout] did change the world. [It] set us free."
Curtis Mayfield
Song: People Get Ready
from People Get Ready: The Curtis Mayfield Story
On being inspired to write "Peace Train" because of The Impressions' "People Get Ready":
This is a song that I think maybe somewhere in my subconscious must've driven me to writing that song 'Peace Train.' It's one of the most beautiful songs."