Recommended Dose: The Best Dance Tracks Of November
Featuring new music from Theo Parrish, Kim Ann Foxman and Romare
Recommended Dose: The Best Dance Tracks Of November
Each month, we listen to hundreds of new electronic music tracks, test the standouts on loud speakers and highlight the best of the best in a 30-minute mix.
November's selections include our favorite track from Theo Parrish's upcoming American Intelligence album, a solo cut from Hercules And Love Affair's Kim Ann Foxman, and four more exceptional tunes worthy of your time.
You can stream this month's mix here or through NPR Music's SoundCloud account. If you'd rather just hear each song individually, check out the playlist below.
You can keep up with our favorite discoveries on Twitter by following @Sami_Yenigun and @spotieotis.
Recommended Dose: The Best Dance Tracks Of November
Theo Parrish, 'Be In Yo Self'
The veteran Detroit producer and DJ operates in that surprisingly small corner of the dance world where house, techno and soul intermingle. On his new triple LP, American Intelligence, Parrish offers up 15 tracks and more than 2 hours of hypnotic funk, and our favorite 13 minutes of the journey is "Be In Yo Self," which features Motor City singer Ideeyah and techno's go-to guitarist Duminie Deporres. The hook – "Being yourself shouldn't have a downside" – offers words that stay with you long after the track ends.
Rx Timecode: 00:00 - 10:49
Frank & Tony, 'Villa Seurat'
Frank & Tony is the generic-sounding collective moniker of DJs Francis Harris and Anthony Collins, and it couldn't be less fitting for the music on the duo's new LP, You Go Girl. This is deep house of the classiest order: soft, gauzy and almost entirely disconnected from the modern definition of the genre. "Villa Seurat" is one of the many standout tracks on the album, thanks to the haunting piano at the song's center. Fans of DJ Sprinkles' Midtown 120 Blues will find much to love.
Rx Timecode: 10:50 – 15:52
Romare, 'Roots'
It starts with a croak, like a bullfrog moaning atop a hissing marsh. Then, British producer Romare punches in a kick drum, some hi-hats, and light hand drumming. It's a murky vibe, bogged down by that bassy drawl, but when the out-of-tune piano keys cut in toward the end, an eerie bit of light shines through, which gives this track a second wave of delirious energy.
Rx Timecode: 15:53 – 23:08
Celeste Sloman/Courtesy of the artist
Afrikan Sciences, 'The Image'
It's been a big year for PAN, which has released superb leftfield techno from the likes of Lee Gamble and Objekt. The label ends the year with another warped dance LP, this time from Afrikan Sciences. "The Image" centers on a six-note synth line, pinned down by a stuttering drum kick and decorated with jazzy keys. Hazy pad tones wade in and out, keeping it all nice and queasy.
Rx Timecode: 23:09 – 30:05
Christelle de Castro/Courtesy of the artist
Kim Ann Foxman, 'Steal My Secrets'
Former Hercules And Love Affair vocalist Kim Ann Foxman says she wants her new label Firehouse to "represent [New York's] flavor and be part of the music history that is so abundant here." Taking its name from a Brooklyn Firehouse where she makes music, the label's first release features the springy, upbeat club track "Steal My Secrets." It features a warm mid-range bass and a looped breakbeat, which injects a healthy dose of energy from the upper-frequencies.
Rx Timecode: 30:06 – 35:28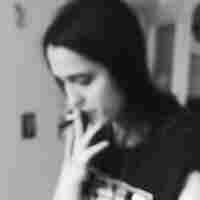 Helena Hauff, 'Hiemal Quietus'
This young Hamburg producer made quite the entrance last year, releasing her debut 12" on Actress's Werk Discs and contributing to another EP on the always-adventurous PAN label. Her latest EP, Shatter Cone, brings the raw acid house that Hauff is known for, but our favorite track is the more subdued "Hiemal Quietus." A deliberate, ominous bass combines with piercing electro synths to recall Black Strobe's classic "The Abwehr Disco."
Rx Timecode: 35:29 – 40:38