Robin Hilton's Top 10 Albums Of 2014
When I think back on the music of 2014, I'm struck by how many singer-songwriters I listened to. It's been a while since that's happened. Dylan Shearer and his album Garagearray was one of them. So was Matt Kivel's Days Of Being Wild. But it was Chris Staples' simple but deeply moving poetry and melodies that crushed my little heart in 2014. That's one of the big things I'll remember about music from this year.
On the other end of the sonic spectrum is the new Weezer record, Everything Will Be Alright In The End. Seriously, it's a breathtaking work of art, brilliantly produced. Intimate, thoughtful, reflective and, at the same time, a fearless, take-no-prisoners, rock-and-roll assault. I've heard plenty of albums over the years that left me in awe. But I can't think of any in recent memory that have been so much fun to listen to, and so affecting. Everything Will Be Alright In The End is the record of the year.
I loved way more music in 2014 than I could ever fit on a top ten list. But the albums below are the ones I found myself going back to the most this year, and the ones I'm sure I'll still be listening to years from now. Ten bonus albums not on the list (that easily could have been): Perfume Genius' Too Bright, Angel Olsen's Burn Your Fire For No Witness, Damien Rice's My Favourite Faded Fantasy, Beck's Morning Phase, Spoon's They Want My Soul, Luluc's Passenger, Joe Henry's Invisible Hour, Bing & Ruth's Tomorrow Was The Golden Age, Actress' Ghettoville and Damien Jurado's Brothers And Sisters Of The Eternal Son.
Robin Hilton's Top 10 Albums Of 2014
1. Weezer, 'Everything Will Be Alright In The End'
Has there ever been a band more vilified by its own fans than Weezer? It's been nothing but an uphill battle for the group since it first released its generation-defining Blue Album and Pinkerton in the mid '90s. With every record that's followed, it seems more and more fans have peeled away from the pack like jilted lovers, claiming Weezer had lost its nerd-rock mojo with lackluster melodies and humorless lyrics. But this year, on the 20th anniversary of dropping its debut, Weezer returned with one of the best records they've ever made. Period. The aptly titled Everything Will Be Alright In The End is a reflective, sometimes deeply emotional song cycle with consistently infectious hooks, killer guitar riffs and the kind of melodies that linger between your ears long after you've listened. It's sometimes angry, sometimes sad and sometimes comical, but always potent. I've had more fun listening to this record than any other in 2014.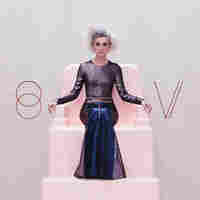 2. St. Vincent, 'St. Vincent'
It's nearly impossible to surprise music lovers any more. But St. Vincent is one of the few artists who reliably can. Her fourth full-length is packed with the kind of sounds and rhythms that leave your head spinning in wonder at how on earth she does it. Sometimes woozy and off-kilter, sometimes crisp and precisely articulated, St. Vincent has delightful oddities to discover with each play.
3. Chris Staples, 'American Soft'
If albums are friends, then American Soft by Chris Staples was my closest confidant in 2014. No other record set off the waterworks in me like this one did. Staples originally put it out himself in 2012, but fortunately Barsuk picked it up this year, remastered it and gave it a proper release. These are the kinds of songs and reflections that make you feel nothing but gratitude for every precious moment of your miraculous little life. Just a perfectly composed album of remarkable beauty.
Buy Featured Music
Song

American Soft

Album

American Soft

Artist

Chris Staples

Label

Barsuk
Your purchase helps support NPR programming. How?
4. Nothing, 'Guilty Of Everything'
I'm still seeing doctors over the back injury I suffered in March when Nothing's guitarist threw himself off the stage and landed on me like a lead-filled laundry bag during one of the band's SXSW sets. But no hard feelings, guys. You still put out a hell of a record this year. Guilty Of Everything (which I'd also award "Best Album Title" in 2014) sounds like the record My Bloody Valentine would have made if it hadn't disappeared after releasing Loveless in 1991. Nothing, which hails from Philadelphia, knows how to strike a startling balance between gritty noise rock and meditative drones. Guilty Of Everything came out in March and pretty much owned the first half of my year.
5. Ty Segall, 'Manipulator'
Ty Segall has released a staggering amount of music (somewhere in the neighborhood of two-dozen albums in six years) and it just keeps getting better. He put out an introspective, mostly acoustic record called Sleeper in 2013. But on this year's Manipulator Segall plugs back in, turns all his amps to eleven and returns with a vengeance. Segall devoted more time to recording Manipulator than he normally does, taking care to get each wailing guitar solo, each butt-shaking beat and every twisted lyric just right. The attention to detail has a memorable payoff. Manipulator is by far the year's best straight-up, fist-pumping rock and roll album.
6. Perfect Pussy, 'Say Yes To Love'
The album title Say Yes To Love sounds like a collection of syrupy ballads from an overly earnest singer-songwriter. But the debut album from Perfect Pussy is one of the year's most (gloriously) brutal sonic assaults. It was the only record I listened to four times in a row, all the way through, from start to finish. Granted, the whole thing is only 24 minutes long. But it invites that kind of obsession, particularly because it isn't just one relentless blitz. Say Yes To Love also has some dark, quieter moments, particularly toward the end, where you're not even sure what's happening. I guess that's what keeps me hitting play over and over — the sense that things aren't really what they seem on this record.
7. Grouper, 'Ruins'
No other album in 2014 sounded quite like Grouper's Ruins. Liz Harris, the Portland, Ore. musician behind Grouper's murky world of sound, recorded the album with a four-track tape deck and a single microphone at a house in Portugal, where she was doing an artists' residency. Each day she walked through the ruins of several old estates, sifting through a lot of what she calls "emotional garbage" and anger. Ruins captures this period of soul searching — a delicately woven mix of Harris' wispy voice, a lone piano and a menagerie of incidental sounds that sneak into the recordings: Distant bullfrogs, crickets, the wind, the creak of a wood floor. It's a profoundly moving collection of songs that feel almost cavernous, like the dark and empty hole that must reside somewhere in Grouper's heart.
8. Tweedy, 'Sukierae'
I'll admit it: When I first heard Jeff Tweedy had made a record with his teenage son, I immediately feared it'd be some sort of nepotistic vanity project, not a recipe for great music. But the songs he made with his son Spencer on drums (all 20 of them) are too damn good, and Spencer is too much of a genuine talent to dismiss. Much of Sukierae sounds like life lessons and confessions from father to son; from the apologetic ("I'm taking a moment to express my regret before I forget how it goes") to the sublime ("I want to watch you growing old and dumb. I want to see what you and I become") to the grim ("Nobody loves you, nobody cares"). These songs are emotionally complicated, both heartfelt and heartsick. A mix of tenderness and raw candor. Some of the finest songs from one of America's greatest living songwriters.
9. A Winged Victory for the Sullen, 'Atomos'
This was the album I reached for the most on rainy days and quiet nights in 2014. Atomos is a wordless record from Pianist Dustin O'Halloran and composer Adam Wiltzie. Sometimes spare and evenly paced, sometimes lushly orchestrated, the whole album is built on a bed of strings, a lonely piano, and some shimmering synth tones. On "Atomos IX," quite possibly the year's most beautiful song by anyone, the duo allows mysterious voices drowned in radio static to creep into the mix. It's lovely and transfixing, and a standout in a strong year for ambient music.
10. Sturgill Simpson, 'Metamodern Sounds In Country Music'
Honestly, I've never gotten much into contemporary country. I love me some Johnny Cash, The Carter Family or Hank Williams. But too much of what I've heard in more recent decades has been overly polished, too obvious and stylized. So when NPR Music's Ann Powers first passed along Sturgill Simpson's Metamodern Sounds In Country Music, I was dubious. To be sure, when you first hear his twangy croon and chicken pickin' guitar licks, it's easy to place him among Nashville's country music establishment. But Simpson's remarkable new album remains a fiercely independent outsider record that both embraces the classic sounds of outlaw country (Cash, Jennings, Haggard) while forging a path entirely its own. The songs are more like existential meditations on drinking and doing drugs than the typical blue collar ballad. "There's a gateway in our mind that leads somewhere out there far beyond this plane," Simpson sings on "Turtles All The Way Down." "Where reptile aliens made of light cut you open and pull out all your pain." Preach, Sturgill. Preach.