Stephen Thompson's Top 10 Albums Of 2014
It's hard to process 2014's music without acknowledging the shadow cast by the previous year: Until Taylor Swift's album rolled out in its waning months, 2014's least escapable chart hits (Pharrell's "Happy," John Legend's "All Of Me," Idina Menzel's take on "Let It Go" from Frozen) were carried over from 2013. Even the year's grandest and most enduring pop juggernaut — see No. 2, below — was sneaked out online in mid-December, much to the chagrin of certain year-end list makers with early deadlines.
Still, 2014 spawned many winners of its own. As reiterated year in and year out, this is nothing but a list of personal favorites — chosen capriciously as a snapshot of what one guy loved the most as of early December. It's by no means definitive, we're all unique and special snowflakes, and so on.
Stephen Thompson's Top 10 Albums Of 2014
1. Luluc, 'Passerby'
An indispensable Sunday-morning balm of a record, Passerby radiates the soothing calm of carefully curated solitude. Plainspoken to the point of simplicity, with subtle shading standing in for audacious statements, Passerby isn't 2014's best album, exactly. But as a quintessential favorite album of 2014, it hits a precise, warmly transporting, Nick Drake-worthy sweet spot perfectly. Pick your signifier of comfort — warm cocoa, hot tea, blankets fresh out of the dryer — and it inevitably applies to everything Luluc touches.
2. Beyoncé, 'Beyoncé'
Released with no advance warning, alongside a huge clutch of videos, in mid-December of last year — which, yes, places an asterisk next to the whole "Top 10 Albums Of 2014" designation — Beyoncé's lavishly ambitious album required the entire year to be fully unpacked. It's got a perfect life-and-death pop anthem ("XO"), quotable treatises on beauty ("***Flawless," "Pretty Hurts"), sweetly raunchy come-ons ("Blow"), obligatory guest spots by Jay-Z ("Drunk In Love") and Blue Ivy ("Blue"), priceless Ed McMahon samples, a monologue defining feminism itself and much more. Beyoncé launched a thousand think pieces, and with damn good reason, but it's also one of the best pop records in years, straight-up.
3. Sylvan Esso, 'Sylvan Esso'
Dance music is often melancholy in the way it captures loneliness and the impermanence of pleasure. But few performers nail ambivalence quite like Amelia Meath (Mountain Man) and Nick Sanborn (Megafaun, Made Of Oak), who record together as Sylvan Esso. The duo's whiz-bang electronic pop songs are endlessly elastic and three-dimensional, but Meath's words keep snagging spots located just beneath the skin. "Coffee" may well be 2014's best song, as it piles hooks atop hooks while subtly but frankly chronicling one woman's lifelong search for connection.
4. First Aid Kit, 'Stay Gold'
The Swedish sister act First Aid Kit broke through five or six years ago on the sense of featherweight YouTube concoctions like a decorous cover of Fleet Foxes' "Tiger Mountain Peasant Song." But Stay Gold deepens the duo's sound in every way. Klara and Johanna Söderberg's voices still intertwine almost supernaturally, but they do so in the service of country-folk songs that positively sparkle while conveying real insight. From practical and profound ballads — "Waitress," "Shattered & Hollow" — to the ramshackle set-closer "Heaven Knows," it's wise and gorgeous through and through.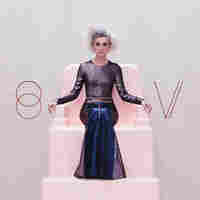 5. St. Vincent, 'St. Vincent'
The eternal struggle of year-end top 10 lists lies in differentiating "best" from "favorite." It isn't out of line to call St. Vincent the best album of the year: Its jagged, forceful, spikily effervescent songs marry artistic (even avant-garde) ambition to unstoppable chops. But it doesn't neglect the savvy songcraft of which favorites are made, either. On the sort of album to which great careers build, St. Vincent's Annie Clark is working on a higher level altogether. Year's best live show, too.
6. Mimicking Birds, 'Eons'
Mimicking Birds' Nate Lacy writes songs that are creepy without being, well, creepy. His band's first album in four years is a subtly slithering sleeper, propelled by masterful songs like "Bloodlines." That song contains what sounds like Eons' mantra: "I am a creature / of mixed-up energies." It's an album of mixed-up energies, too, but Eons is also tightly coiled and wonderfully disciplined in its pacing. As a result, it's not just mysterious; it's legitimately suspenseful.
7. The New Pornographers, 'Brill Bruisers'
The brilliance of The New Pornographers is encapsulated in the first second of Brill Bruisers, the Canadian supergroup's almost comically accomplished sixth album. Seriously, one second: sssssssssssshWUMP. Then, it's on to full-blast, full-on power-pop majesty, with hooks piled atop hooks piled atop hooks. All the best and most familiar ingredients are reconvened here, from soaring eternal ringer Neko Case to the inward-facing wordsmithery of Dan Bejar. But, as is so often the case with this band, frontman A.C. Newman takes the biggest, boldest bow of all.
8. Haley Bonar, 'Last War'
With nine songs in just a little more than half an hour, Haley Bonar's Last War merits constant replay: It's chiming and charming enough to sneak some dynamite lines — "I wish I could date my former self / She'd be a fun girlfriend" — beneath Bonar's stormy arrangements. The singer-songwriter's fifth album, Last War, is like one of those Russian nesting dolls, as layer upon layer of ingratiating power-pop obscures thorny observations about dreams pursued, deferred and dashed.
9. Alt-J, 'This Is All Yours'
By all rights, This Is All Yours ought to be a letdown: It follows a polarizing, million-selling, Mercury Prize-winning debut, not to mention the departure of a key member in bassist and guitarist Gwil Sainsbury. Instead, it's a quietly intoxicating addition to a catalog that only makes more sense as alt-J carries on. Where An Awesome Wave was dominated by Joe Newman's adenoidal vocals, This Is All Yours alternately quiets and enshrouds him in a billowy, beautiful haze. The Miley Cyrus sample in "Hunger Of The Pine" invites plenty of attention, but don't miss "Warm Foothills," in which Newman trades lines — trades words, really — with four different singers, including Conor Oberst and Lianne La Havas.
10. Perfect Pussy, 'Say Yes To Love'
Calling Perfect Pussy's Say Yes To Love an "album" is pushing it — it's just 23 minutes long, and about a third of that is an expanse of tense feedback — but it's a bracing and powerful noise-punk screed. Meredith Graves spent the year making bold statements, both on Say Yes To Love and offstage, on her way to becoming one of 2014's most indispensable new voices. Here, however, she uses that voice as the bluntest possible instrument, to the point where Say Yes To Love's words are virtually impossible to decipher. Examine a lyric sheet, though, and the proficiency of Graves' poetry is downright stunning.