Bob Boilen's Top 10 Albums Of 2014
This year, my favorites were quieter than usual. My top three albums have acoustic guitars often as the lead instrument, though the artists — Luluc, Angel Olsen and Rodrigo Amarante — originate from Australia, the U.S. and Brazil, respectively.
Six of my top 10 are led by women. Five I wasn't even aware of until 2014 (Perfect Pussy, FKA twigs, Sylvan Esso, Rodrigo Amarante and Luluc). I saw eight out of 10 of these bands in concert this year (I missed both The Antlers and FKA twigs at home when I ventured to a music festival in Iceland). I'd say it was a better year for songs than for albums, but still, my top 10 records stand out and will be my friends for a long time.
Below my top 10, I have listed 10 more bonus picks in unranked, alphabetical order. These were artists who were new to me in 2014. They may not have made my top 10, but they are all worth listening to and keeping an ear out for.
P.S. You probably loved something I didn't. If your favorite record isn't here, tell me what it was so I can discover something new as well.
Bob Boilen's Favorite Albums Of 2014
1. Luluc, 'Passerby'
I've listened to this record by Australia's Luluc more than any other this year. These songs feel like they've always been; the simple beauty in Zoë Randall's voice and the underlying tension and support offered by guitarist Steve Hassett create a perfect vehicle for storytelling. Passerby co-produced with The National's Aaron Dessner in Brooklyn (where the duo live for half the year), is a quiet album filled with gentle surprises and a beautiful aura of calm
2. Angel Olsen, 'Burn Your Fire For No Witness'
Few records go from calm to combustible the way this album does. Twenty-seven-year-old Angel Olsen writes songs that shake, sadden and lift me. Burn Your Fire For No Witness was produced by the talented John Congleton, who recorded Olsen with microphones costing less than $150, keeping it homegrown while at the same time showing the strong foundation of her songs.
3. Rodrigo Amarante, 'Cavalo'
Rodrigo Amarante is from Rio de Janeiro and these days lives in Los Angeles. You may know him from a few other projects: Los Hermanos is the band from Rio but even more likely is Little Joy, the Brazilian/American band that included Binki Shapiro and Strokes drummer Fabrizio Moretti. What you probably don't know is that Rodrigo Amarante has made the most tender record of 2014. Cavalo is both sonically rich and spare at the same time: Every instrument breathes, every sound blends, yet every sound is distinct. At the core are songs of the heart and Rodrigo's voice, both sweet and smoky. Prepare to be drawn close to this intimate music. You'll want to crawl in bed with it.
4. Alt-J, 'This Is All Yours'
I wasn't sure how my new favorite art rock band would follow the unique brilliance of An Awesome Wave, but This Is All Yours is as quirky and smart as its predecessor. At times it sounds like the band will break into a madrigal. At times I hear Philip Glass, at times church bells. Crickets are set against a sample of Miley Cyrus and the snap of drums and angular guitars. Sometimes it's straight out rock, albeit with some erotic and twisted poetry. Every song seems to be three or four songs, a trademark this band wears proudly. These songs are never predictable, even after repeated listens. I am so glad this band survived the departure of bassist/guitarist Gwil Sainsbury. he's missed without creating a void.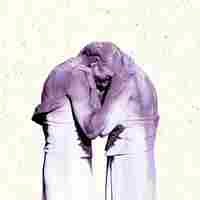 5. The Antlers, 'Familiars'
I am not sure what I expected from The Antlers, but stately horns and pretty piano lines weren't amongst my expectations. Still, I've come to love the heart and melancholy on this record. Peter Silberman sings like a man who's found his voice; it's comforting and cool and best of all he seems comfortable singing out of falsetto, which makes him able to be expressive in more diverse ways. The horns often take the center here, casting a yearning warmth on this philosophical record. I've yet to fully understand this album. Though the words are clear, the thoughts are complex. It seems to be about letting go or at least looking at what is familiar in different ways. I'm not sure, but I'm going to listen again and again. Sometimes I just drift away in the atmospherics of Familiars, other times I get a glimpse of someone searching, like a singer who finally found his voice.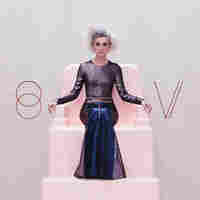 6. St. Vincent, 'St. Vincent'
I've always thought Annie Clark's music and guitar playing were pretty damn good; then she released her fourth St. Vincent record and I was floored. All of the qualities I've come to love in her music — the quirky lyrics, songs with hair-pin turns and her idiosyncratic guitar playing — were here, sharper than ever. There are songs about her Jesus and her mother, about political activist Huey Newton, about running naked in the desert and the meaning of it all in this digital age. The songs are fun, sometimes funny, and a treat for the ears.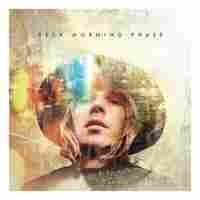 7. Beck, 'Morning Phase'
I'll admit, the one Beck album I put on most often is Sea Change, the slowest and prettiest of Beck records. So I was delighted when the same crew got together a dozen years later to make Morning Phase, along with orchestrations from Beck's dad, David Campbell. This album that feels like its companion and may be my second-most-listened-to Beck record.
8. Sylvan Esso
This album from the duo of Amelia Meath of Mountain Man and producer Nick Sanborn of Megafaun was pleasantly ever-present in 2014. It's a perfect marriage of organic and inorganic, voice and electronics, old and new. I had a magic moment seeing these two live early in the year shortly after the song "Coffee" was released. That night in Washington D.C., as they headlined the intimate venue DC9, they went from little-known to famously loved as the audience sang the song back to Amelia and Nick, including the words from the Jeff Barry and Ellie Greenwich's '60s hit "Hanky Panky," which come in near the end.
9. FKA twigs, 'LP1'
Generally my top 10 is filled with well-worn records from the year. That's not true of LP1, the debut album from Tahliah Debrett Barnett, a.k.a. FKA twigs. I'm late coming to this summer album. It's frankly not a great record for driving, which is where I find I listen to a lot of music. It doesn't work well in the office. This record demands attention. The hooks are almost non-existent, the beats the opposite of insistent. I couldn't classify what she does — maybe avant-garde&B? But sitting at home, with speakers cranked, I find this to be sonically about the most interesting record since James Blake's Retrograde. I have a feeling that as a late-comer to this record I will give it a lot of play in 2015.
10. Perfect Pussy, 'Say Yes To Love'
Despite a love for the quiet this year I needed one thorn in my top 10 and no one fit that bill both in performance and on record more than Perfect Pussy. The band's debut album, Say Yes To Love, comes off at first as punk rage (which can feel great), but there's so much more. The lyrics and voice of Meredith Graves are nearly buried in the frenzy of synth, drums and guitar noise, but if you get through multiple listens you start to hear these long long diatribes, like diary entrees from someone you wished you knew:

"I never wanted any children
Just a nice apartment with open air
And big windows and all the flowers
And I could only ever see myself there
Yeah, I guess I was too hard for my own good
And then my friends began to fall in love
First with themselves, then with each other
I met my despair at midday light
And it was amazing, and I almost cried
Nothing that comes and goes is you
But you can compensate for love's sake
And say yes, and make something together
Something new"

And that's what I love about Say Yes To Love. There's flowers and big windows, but like a big city you have to dig. The reward is a bit sweeter for it.
BONUS: Asgeir, 'In The Silence'
An Icelandic songwriter and singer hugely loved at home, his current album, In the Silence, is a remake of his 2012 album only this time sung in English.
BONUS: Chet Faker, 'Built On Glass'
A good mix of soul and electronics on this debut record from Austrailian Nicholas James Murphy. The music is spare yet danceable and that's refreshing.
BONUS: The Family Crest, 'Beneath The Brine'
Seeing is believing. Liam McCormick is a knockout singer, you simply must hear him live (or watch the band's Tiny Desk Concert). The music is orchestral pop with a jazz flair. They've been together in San Francisco since 2008 and Beneath the Brine isn't their first record, but it's simply a great introduction.
BONUS: Highasakite, 'Silent Treatment'
This Norweigan band tackles weighty subjects with a lightweight bounce. Song titles on this, their second album, include "Hiroshima," "Iran" and "I, the Handgrenade." Heavy, but it works.
BONUS: Hozier, 'Hozier'
Simply a wonderful debut album of solid, memorable, soulful songs from Andrew Hozier-Byrne, perfectly played.
BONUS: Quilt, 'Held In Splendor'
This Boston-based band has been making music since 2009, including a debut album in 2011 and I had completely missed them. Now I'm in love. They're as good, if not better than most dreamy psychedelic bands from back when that music was just being birthed. Golden vocals and guitar lines, truly happy to have discovered them for myself in 2014.
BONUS: Saintseneca, 'Dark Arc'
When Zac Little and his Ohio friends came to NPR for a Tiny Desk they were armed with a floorboard for some foot-stomping. By the end of the show the thick plywood had gaping holes stomped into it by the fervor of Zac Little; that clearly gives you an idea of what to love about Saintseneca.
BONUS: St. Paul and the Broken Bones, 'Half The City'
Close your eyes and you'll hear the soul power of a young Otis Redding. Open them and you'll find a white kid who may once have been your bank teller. This seven-piece Birmingham band led by Paul Janeway will simply tear you up and fill you with joy.
BONUS: Yasmine Hamdan, 'Ya Nass'
At the top of 2014 I saw a most riveting peformance at Globalfest, Lebanese singer and songwriter Yasmine Hamdan. A few months later I saw her performance in the film Only Lovers Left Alive, by Jim Jarmusch, and again found her completely alluring. Then she played at my desk, and frankly it's hard to think of another performer who manages to sing to a audience but seemingly is singing to to each and every one of us individually. A remarkable artist.