Viking's Choice: Ô Paon, 'Fille Tannée/Fille Tendue'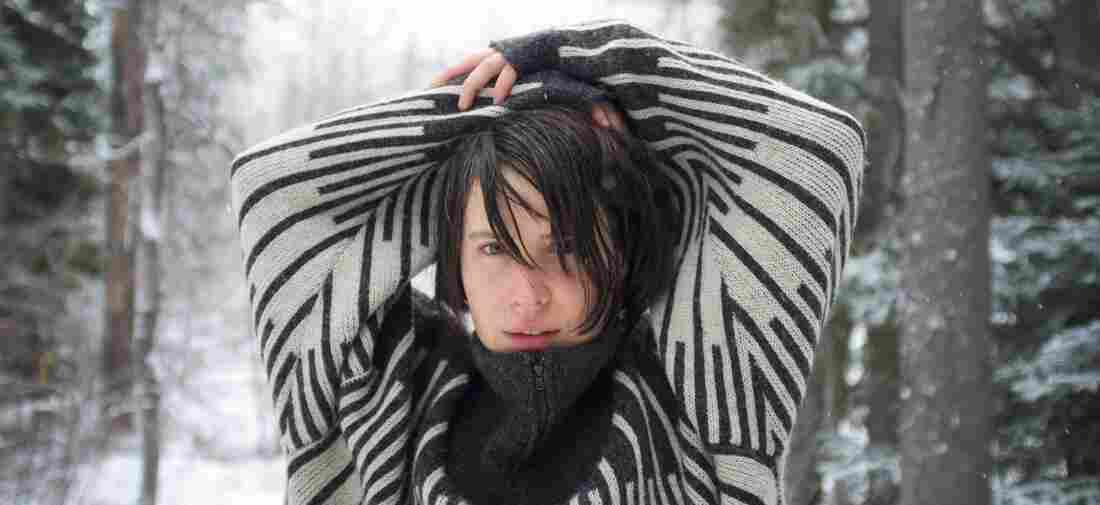 Nostalgia is a polar bear in the wild — warm and fuzzy from a distance, terrifying once the reality of its power confronts you. In her music as Ô Paon and in her graphic novels, the Anacortes, Wash.-based Geneviève Castrée often writes about the things that haunt her: violence, alienation, greed. With the loosely conceptual Fleuve, Castrée and her characters grapple with alienation from a place and time — specifically, coming of age in '90s suburban Montreal — that can't exist when you return to them.
As in 2010's Courses, Castrée loops her voice and guitars into somber meditations. But in keeping with Fleuve's theme and her preference to sing in French, Castrée also revisits the Québec punk bands that she loved as a teenager — slowing the tempo while retaining the intensity. With an assist from Architecture In Helsinki's Gus Franklin (who appears throughout the album as a multi-instrumentalist), the tragic and triumphant "Fillee Tannée/Fille Tendue" plows through a restlessly icy rock song with a chugging rhythm and drums that crash down like an avalanche. It's followed an extended coda that begins halfway through, a doomy dirge surrounded by the moans of Franklin and Nicholas Krgovich.
Fleuve wrestles with nostalgia by confronting it head on, and it's in "Fillee Tannée/Fille Tendue" that we meet its main protagonist, an "annoyed girl / tense girl" who looks for revolution but is stuck in the suburbs, still clinging to the comfort of "rain, long evenings outside." In an email exchange, Castrée talks about writing a "more bad-ass, f----- up" version of herself and politely corrects my presumption of her influences for Flueve.
Does nostalgia haunt you? Do you consider yourself a nostalgic person?
I am haunted by events, moments in time — they stick with me. For Fleuve, I was largely inspired by what it was like to be an angry but free-range teenager in those wintery suburbs. I don't think many kids will get to experience that in the future. New technologies allow for constant monitoring, for better or worse.
I am totally a nostalgic person. I mourn the pre-Internet era, a time when someone could spend a lot more of the day in their own head than on their phone. Considering the recent resurgence of '90s bands and TV shows, I feel like I am not the only one craving simpler, less cluttered times.
How do you reconcile that feeling with moving forward, especially during writing Fleuve, which takes on some of the bands I imagine you liked during that time (Eric's Trip, '90s K Records bands)? Or do you consider those influences an instrumental part of what you wanted to communicate with Fleuve?
I believe in having a future without forgetting who you really are at the core. What I mean by that is that with Fleuve, I sort of made it my duty to make something about the place I come from, inspired by it and by what my reality was like right before I moved away from Québec at 17. So Fleuve is about memories, but also about the awkwardness of returning to the place which raised you and feeling totally alienated and separate from it because, like you, it has evolved.
As for Eric's Trip and K Records, they were not part of my landscape. I really make a point to sing in French, using the occasional Québec slang to make it clear that it is still a huge part of me. Singing in a language other than English is not exactly a popular choice. Some of the music which inspired this record came down to remembering fragments of songs by French-singing Québec punk bands I would see live as a teen. Obscure bands with names like WD-40 or Les Secrétaires Volantes — bands that don't translate well, from a specific geographic spot, a specific era. And then there is Stereolab — I feel I owe a lot to Laetitia Sadier. Her lyric-writing abilities have always inspired me.
At this point, where is the line between this story and your own?
Ha ha. Yes, this record is quite autobiographical, but only up to a certain point. In a way, Fleuve is a companion to my book from a couple years ago, Susceptible. But with Fleuve, I was mostly writing about a potential version of myself — a more bad-ass, f----- up one, a kid who truly wears her anger on her sleeves and gets in trouble for it in serious ways. I am/was too polite to be her.
---
Fleuve is available now from Ô Paon's website.