New Mix: Ryan Adams, Jamie xx, The Civil Wars' Joy Williams, More
New Mix: Ryan Adams, Jamie xx, The Civil Wars' Joy Williams, More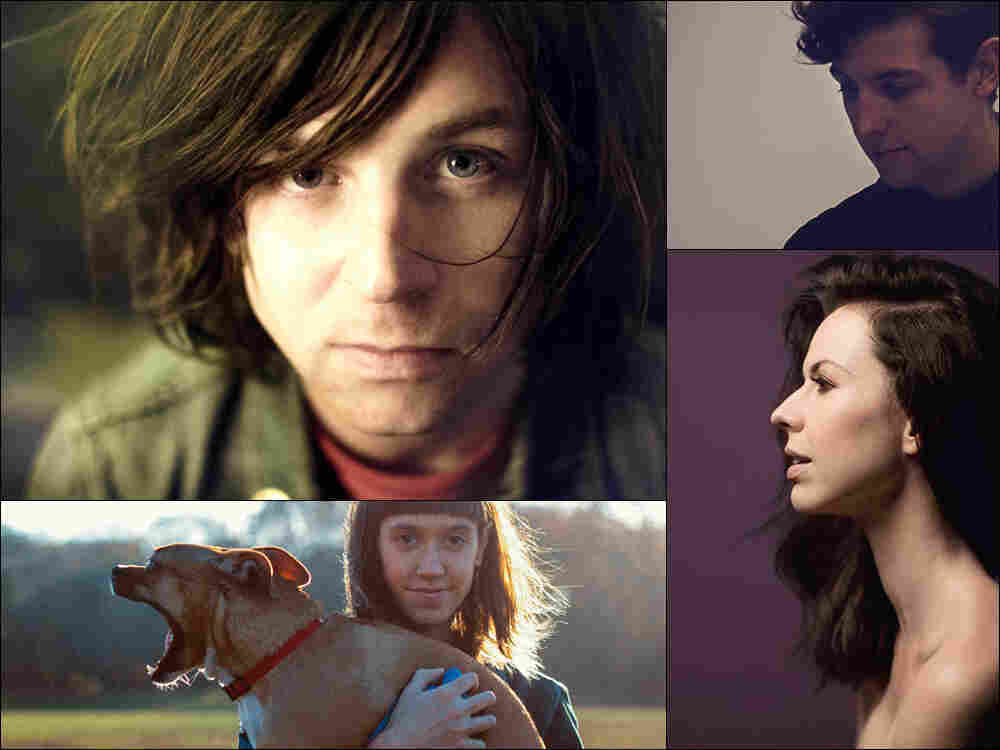 On All Songs Considered this week, we hear two songs by familiar musicians, one stripped down to his essence and one in a brand new context. Ryan Adams is at his best live, playing solo acoustic hits, with lots of comical chatter. The prolific singer and songwriter has a massive live album coming out with 42 songs recorded at Carnegie Hall. From that collection, we've got Adams' rock anthem "New York, New York," slowed waaaay down for solo piano (along with his seemingly random oratory on the film Terminator 2). The intense folk duo The Civil Wars broke up intensely around the release of its second album; that group's Joy Williams just announced her first solo album, and offers up a single, "Woman (Oh Mama)," that introduces a fresh pop sound.
Also on thee show, Jamie xx, founder of the deeply meditative pop band The xx, serves up club beats on a new cut from his debut solo album In Colour. We also have a quartet of discoveries: Eskimeaux, of Brooklyn art collective The Epoch, a colorful new single by Canadian songwriter Gianna Lauren infectious pop track from Midwest rockers Twinsmith and Florida songwriter Christopher Paul Stelling brings his incredible finger picking from the road to the studio.
But first, we give one last nod to the South By Southwest music festivals' biggest legacy: head colds.
Songs Featured On This Episode
Joy Williams
Song: Woman (Oh Mama)
from VENUS
Since break up of The Civil Wars, her Americana duo with John Paul White, vocalist Joy Williams has partnered with pop songwriter and producer Matt Morris for a new solo album. Her first single, "Woman (Oh Mama)," is an uncharacteristically jubilant return. Her album, VENUS, comes out this summer.
Twinsmith
Song: Alligator Years
from Alligator Years
Twinsmith is four guys from Nebraska who recently signed to Saddle Creek Records. The title track to the group's new album, Alligator Years, is just under three minutes of playful pop with hooks that will make you want to move. Alligator Years arrives May 4.
Christopher Paul Stelling
Song: Warm Enemy
from Labor Against Waste
Masterful guitar picker Christopher Paul Stelling plays with raw emotion perfected by his time on the road. The Florida-native estimates he's played more than 400 shows in the last three years, which you can hear in the powerful "Warm Enemy." His new album Labor Against Waste comes out June 16.
Ryan Adams
Song: New York, New York
from Live At Carnegie Hall
Recorded over two nights last November, Ryan Adams' new album Live At Carnegie Hall presents a career-spanning set list stripped down to only piano or guitar and voice. For his anthemic rock song "New York, New York," Adams slowed things way down to find the song's profound heartache. Adams' 42-track live LP is due out April 21.
Eskimeaux
Song: I Admit I'm Scared
from O.K.
Songwriter and producer Gabrielle Smith gets personal as Eskimeaux, with a new album that began as a bedroom recording. Her song "I Admit I'm Scared" weaves together folk and electronics with profound storytelling straight from the heart. Her new album, O.K., comes out May 12.
Jamie xx
Song: Loud Places
from In Colour
In his solo work, British producer Jamie xx of always-restrained British trio The xx leans toward the dance floor. On this single from his debut solo album, is joined by bandmate Romy Madley Croft, "Loud Places" swells under Romy's voice. Jamie xx's solo album, In Colour, arrives June 2.
Gianna Lauren
Song: Mistakes
from Mistakes
Canadian songwriter Gianna Lauren begins "Mistakes" with ominous bass and woozy guitars that shift in steps and to complement her bright vocals and sporadic electronics. With an album expected sometime this fall, the Halifax-based musician will release her single on April 7.