All Songs: Nine Creative Musicians You Should Know
This week on All Songs Considered, we grapple with the alchemy of creation — the myriad ways a musician gets from blank page and empty studio to a full sound and lyrics that ring true. We were inspired in part by a show Bob saw recently by Magnetic Fields front man Stephin Merritt, where he performed 26 songs, each based on a letter of the alphabet. (Merritt, whose projects are often governed by external limitations, claims that his best-known project, 1999's monumental triple album 69 Love Songs, took him only a year to write.)
The seven songs on the show (one is a collaboration between a drummer and a pair of remixers) follow on that theme: Each posits a means of making magic out of circumstance. For one group, the key was stripping away ambition and returning to a single voice. For others, sparse hometowns, the ghosts of previous albums and mysterious romantic entanglements provided the spark needed to reach forward into the dark and, as sung by Jeen on "Everywhere I Go," burn it bright.
Songs Featured On This Episode
The Staves
Song: No Me, No You, No More
from If I Was
The Staves are a trio of British sisters championed by Bon Iver's Justin Vernon. While recording their latest record at Vernon's Eau Claire studio, Emily, Jessica and Camilla Staveley-Taylor hit a creative block, one they eventually cured by stripping their sound back to a single, unaccompanied voice looped into a drone. From this they built the house of "No Me, No You, No More," a rich, compelling folk song heavy with longing but buoyed by the trio's sweet, high harmonies. The song is a testament to letting go of expectation in the midst of creation, to finding the way forward on a road no one expected to travel. If I Was is out now.
Pale Honey
Pale Honey is a Swedish minimalist rock duo whose self-titled debut album was released this week. "Over Your Head" piqued our interest with its inscrutable, slightly menacing lyrics about past love and jailhouses, along with its propulsive synth lines paired with strummed guitar and an understated beat. 22-year-old singers Tuva Lodmark and Nella Daltrey reminded Robin of "The xx with a slightly elevated pulse."
Farao
Song: Hunter
from Hunter (Single)
Bob's latest obsession is "Hunter," a sparse electronic single from Norwegian multi-instrumentalist Farao. "Just when you think something's gonna happen in this song," he says, "something else will happen." Farao, real name Kari Jahnsen, is from a tiny mountain village populated by 500 people. "Hunter" captures the space we imagine she grew up in, including the creative spirit needed to fill a long, dark Nordic winter. Displaying what Robin calls "the ear and the imagination to experiment," Jahnsen fills this track with surprising and often ephemeral details that round it into something both delicate and robust. We're looking forward to Farao's debut album, out soon.
Jeen
Song: Everywhere I Go
from Tourist Deluxe Edition
Aside from providing us with this week's mantra, "burn it bright," and causing us to ponder what exactly is a Cookie Duster (the name of her band with Broken Social Scene's Brendan Canning), Jeen O'Brien, who performs as Jeen, here offers a hybrid Sharon Van Etten/Lisa Loeb '90s throwback of a song in "Everywhere I Go."
Robin reports that Jeen's album, Tourist, out June 30th, ranges from acoustic guitar to more gnarled rock sounds, and some of that is captured on "Everywhere I Go," which sounds wistful and breezy in turn and all at once.
OOFJ
Song: You're Always Good
from Acute Feast
OOFJ (pronounced with a silent "j") stands for Orchestra Of Jenno, after founding member Jens Bjørnkjær. With South African singer Katharine Mills Rymer, he makes electronic music that's appropriately dramatic for the couple's beginnings: They met while Rymer was performing in a production of Shakespeare's Twelfth Night and Bjørnkjær was making music for Lars Von Trier's film Melancholia. Swelling strings and Rymer's high, disarming vocals open the track and it grows into a dense collection of sounds reminiscent of Blonde Redhead or Portishead. Acute Feast came out in April.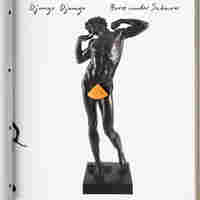 Django Django
Song: Shake And Tremble
from Born Under Saturn
Listeners hoping for a continuation of Scottish rock band Django Django's first album, which Robin calls "ridiculously catchy," won't get exactly what they're looking for on the quartet's newest effort, Born Under Saturn. The latest record is more contemplative and sprawling. We've got the appropriately named "Shake and Tremble," which marries a Devo-esque bass line with unflappable surf rock guitar and a Bob-approved series of hand claps. Born Under Saturn was released this week.
Tony Allen
Song: African Man (Ricardo Villalobos & Max Loderbauer Remix)
from Film of Life Remixes
Recommended Dose's Sami Yeniguin joins us to close the show, bringing a spacious 13-minute remix of Fela Kuti drummer Tony Allen's "African Man." Producers Ricardo Villalobos and Max Loderbauer paired to create this mix, which Sami says "pours cough syrup" over Allen's bouncy Afrobeat rhythm. What they've created is a "dark, woozy, rolling, psychedelic" track, perfect for closing the club after a long, winding night. The first LP for Villalobos and Loderbauer, performing as VILOD, arrives in June.