New Mix: Six Musical Discoveries You Can't Miss
New Mix: Six Musical Discoveries You Can't Miss
On this week's All Songs Considered, Bob is joined in the studio by NPR Music's Katie Presley and Jacob Ganz and the crew sets its sights on discovery. None of the musicians featured in this episode have ever been played on All Songs before — we set out to find artists aiming for different musical targets than we're used to. We found a piercing look at anxiety in the face of romantic revelation, an R&B/dance hybrid that spans more genres than it does minutes, an unflappable retort to unforgivable behavior and a song that sounds like the soundtrack to an '80s prom ... for ghosts. Nobody else is doing what these six artists are doing, and we can't wait to see where each of them goes from here.
LANGUAGE ADVISORY: Some of the songs included in this episode include profanity.
Songs Featured On This Episode
Nao
Song: Inhale Exhale
from February 15 EP
A shot of energy in the form of an inventive track from London singer-songwriter Nao. Incorporating elements of funk, electronic and R&B, "Inhale Exhale" embodies the kind of seamless genre-blending for which British dance music is renowned. We heard the sound of Stevie Wonder's classic songs in the keyboard line, topped with an irrepressible bounce that's contemporary but ageless. Nao's second EP, February 15, is out now.
DeQn Sue
Song: Bloody Monster
from Snack
Of the 7,000 acts that entered our Tiny Desk Concert Contest in the spring, several were particular favorites. We could only pick one winner, but if we could have picked two, DeQn Sue would have been the obvious choice. Her passionate delivery and brazen lyrics are as unforgettable as the story behind her newest single, "Bloody Monster," which is a fiery response to a racist outburst by a former roommate. An artist that can punctuate a painful experience convincingly with handclaps knows the way to Bob's heart, and DeQn Sue's proprietary blend of anger and silliness struck us as impressive, irresistible, and vital. DeQn Sue's latest EP, Snack, comes out July 21st.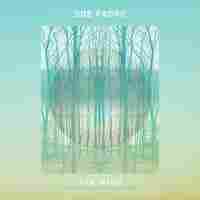 Doe Paoro
Song: The Wind
from The Wind
Brooklyn singer-songwriter Doe Paoro wrote "The Wind" during Hurricane Sandy and recorded it at Justin Vernon's Eau Claire, Wis. studio — two auspicious settings that make for one spacious, haunting track. The single, off of Paoro's not-yet-titled debut album, features guest vocals by Adam Rhodes and a beat from Chicago electronic duo Supreme Cuts. Vernon's influence is clearly felt, too, in the rich-but-simple vocal style made famous in the same setting by Vernon's band Bon Iver. The hard edge of the electronics on this track line the path laid by Paoro and Rhodes' liquid vocals with just enough grit to highlight the best of what humans and machines can bring out in each other. Doe Paoro's debut album comes out this September.
Wet
Song: Deadwater
from Don't You
Wet is a Brooklyn trio set to release its major-label debut this year, and we've got its lead single, "Deadwater," which features patient, swooning production supporting a vocal performance by singer Kelly Zutrau that has something slightly eccentric about it. On one level, it's a simple pop song — it could be an '80s prom theme — but there's mystery in Wet's sound. Is it easy listening with an alien twist? Are those ghosts at the end of the song? Whatever the alchemy at work behind Wet, we're all ears. The band's album, Don't You, is out later this year.
Briana Marela
Song: Surrender
from All Around Us
Pacific Northwesterner Briana Marela traveled from one verdant wonderland (Washington state) to another (Iceland) to record her latest album, All Around Us. Producer Alex Somers brings to "Surrender" the same distinctly hopeful toolkit of sounds and textures he brings to his work with Sigur Rós. Marela's vocals, high and sweet, get reinforcement in the form of strings from the band Amiina and percussion from Samuli Kosminen of the group múm. It manages to evoke both the majesty and the more playful sylvan spirit of each of this record's sonic homes. All Around Us comes out August 21st.
Anna B Savage
Katie's final pick comes from Anna B. Savage, a London singer-songwriter whose debut EP grapples with what Savage calls "the minutiae, indecisions and revisions" that narrate her experiences. In the case of this song, "1," it's the moment during which she reveals herself to a new lover. Savage's voice is husky and emotive, and her accompaniment sparse. Over the course of four minutes of musical truth-telling, sung like she's sharing secrets, Savage completely avoids cliches about romantic anticipation in favor of telling the unflinching truth. It's a gentle, startling song, and comes from a complex, gorgeous EP with more of the same. EP came out this week. See our premiere of the final track, "IV", here.