Our Favorite New Artists Of 2015 (So Far)
This week marks the mid-point of 2015, and the All Songs Considered team is ready to take stock. On this week's show, we share our favorite music from debut albums released in the first half of this year. It's only June, but we picked the music we're already eyeing for our year-end lists in December.
Bob Boilen and Katie Presley are joined on this episode by several members of the NPR Music team, who brought an astounding collection of songs that span genre, language and geography. We have gorgeous Afro-Cuban music from Paris, warm house beats from Amsterdam, a raucous gender liberation anthem from Olympia, heart-tugging punk from Philadelphia and a self-reflective turn from a Long Beach rapper, among others.
These picks are a very small sampling of what we've loved so far in 2015. For more NPR Music favorites, check out the Songs We Love 2015 app, and a list of the whole team's Favorite Albums Of The Year (So Far).
Who are your favorite new artists in 2015? Let us know in our survey of listeners' favorite discoveries of 2015 — we'll share the results later this week!
Songs Featured On This Episode
Ibeyi
"This one, for me, was completely out of left field. ... There's so much going on in these songs that are still very spare and breezy. And yet, if you start to unpack them, there are Yoruba chants, there are synthesizers and beats and samples, traditional instrumentation — and yet it's all very subtle and quiet and beautiful."
--Stephen Thompson
Eskimeaux
Song: I Admit I'm Scared
from O.K.
"I was knocked out. I had so much trouble picking which song on this wonderful album to choose. I could have picked anything. They're all just perfect pop songs. ... I sure do love [the record]. I know that'll be in my top three or four albums this year."
--Bob Boilen
Girlpool
Song: Before The World Was Big
from Before The World Was Big
"They do lo-fi punk, but they've got this free-spirited approach to instrumentation and these unadorned vocals. When they hit, they hit hard — in unison and selective harmony. [NPR Music's] Lars Gotrich described them as 'a lightning bolt to the gut,' and I just think of that every time. ... Listening to their music is a little more pleasant, but it packs that degree of punch."
--Katie Presley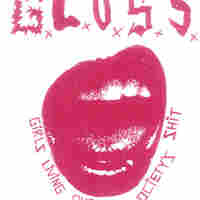 G.L.O.S.S.
Song: Lined Lips And Spiked Bats
from DEMO
"It's a band full of transgendered women and queer and queer-femmes. They're using all these words as terms of empowerment. ... It is awesome because they just want to change the dialogue around punk rock, which is mostly white dudes."
--Lars Gotrich
Vince Staples
Song: Summertime
from Summertime '06
[Summertime '06 is] a rap album, so there's a lot of dense lyricism about being a gangsta rapper. This is a song where he is really, really raw and vulnerable. The song is basically him addressing a woman who is his love interest, someone he really, really cares about. [He's] being apologetic. Oftentimes when we talk about hardcore hip-hop, you get one aspect of an artist — you get them at their most macho, their most aggressive. What I thought was interesting here is him basically apologizing for being as flawed as he is."
--Timmhotep Aku
Royce Wood Junior
Song: Honeydripper
from The Ashen Tang
"The album is a really interesting mix of '70s Stevie Wonder, '80s Prince funky soul, and then it's got these really weird, glitchy electronic elements thrown in. It's just a whole lot of fun. It's got classical guitars, strings, tons of pianos and keyboards thrown in all over the place. And every single song on this record has a different character to it — you've got slow jams, you've got really high-energy, very Stevie Wonder-esque tunes. This album is all over the place, but it doesn't take itself too seriously, and that's what I love about it."
--Julian Ring
Imam Baildi
Song: Argosvinis Moni
from Imam Baildi III
"[Imam Baildi] is a really great name for this band because they bring a lot of Asia Minor flavors into their music. ... They're a band from Athens [Greece], and... they take music from the 1940s and '50s and '60s, and they remix it and bring in elements of other stuff — electronics or hip-hop or Latin music. ... [The song is] an old tune from 1947 by a very, very famous Greek songwriter and bouzouki player named Vasilis Tsitsanis. It already had these Latin elements in it, and they've walked into this song and really amped up that flavor."
--Anastasia Tsioulcas
Chris Stapleton
Song: Daddy Doesn't Pray Anymore
from Traveller
"I believe in reinvention, I believe in long careers, and I believe in Chris Stapleton. [He] is one of the finest talents that Nashville has to offer. ... [Traveller] is a perfect companion for any music lover who appreciates great songs [and] heartfelt vocals. It's Americana, it's country, it's rock, it's everything to me. It's the album that I put on when I need some comfort, need some love, need a little sunshine down here in the Southern humidity."
--Ann Powers
Hunee
Song: Hiding The Moon
from Hunch Music
"He's considered in certain circles to be one of the best DJs in the world. ... It starts out as a minimal track, and then these warm Fender Rhodes chords get introduced in the middle of the song. It really brightens up the whole sound, turning it from something that would be cold and minimal techno into more buoyant, disco-tinged house music. There's this part right in the middle where, all of sudden, these godlike chants start coming in. It's the moment where you can just imagine Hunee DJing and the entire club going insane."
--Sami Yenigun