All Songs Rewind: The Legacy Of The '90s
All Songs Rewind: The Legacy Of The '90s
Bob Boilen and Robin Hilton are both out this week, and in their absence All Songs Considered contributor Katie Presley and ASC intern Julian Ring have done what any respectful colleagues would do in similar circumstances: They have taken control of the entire show.
This week Katie and Julian will share their favorite memories and episodes of All Songs, starting with one of the podcast's most popular shows ever, a 2011 episode that revisits the music of the 1990s: the best, worst and weirdest from a hugely divisive era in music.
This retrospective charts the birth of grunge, the commercial rise of hip-hop, a batch of gutsy female songwriters and a few goofy one-hit wonders we'd mostly forgotten about. This episode is also Ann Powers' debut as a member of NPR Music, and she and Stephen Thompson join Bob and Robin to take a look back at the decade of flannel and spice.
Rewind: The '90s Are Back, Or Whatever...
Smells Like Teen Spirit
from Nevermind
by Nirvana
Grace
from Grace
by Jeff Buckley
No Surprises
from OK Computer
by Radiohead
Doo Wop (That Thing)
from Miseducation of Lauryn Hill
by Lauryn Hill
Holland, 1945
from In the Aeroplane Over the Sea
by Neutral Milk Hotel
Shine
from Hints Allegations and Things Left Unsaid
by Collective Soul
Black Hole Sun
from Superunknown
by Soundgarden
Long Snake Moan
from To Bring You My Love
by PJ Harvey
Hit 'Em Wit da Hee
from Miss E...So Addictive/Da Real World/Supa Dupa Fly
by Missy Misdemeanor Elliott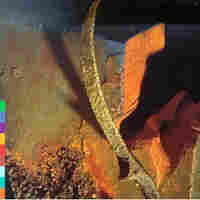 Mustt Mustt (Lost in His Work)
from Mustt Mustt
by Nusrat Fateh Ali Khan
Steal My Sunshine
from You Can't Stop the Bum Rush
by LEN
1979
from Mellon Collie and the Infinite Sadness
by The Smashing Pumpkins
Car Wheels on a Gravel Road
from Car Wheels on a Gravel Road
by Lucinda Williams
Soul and Fire
from Bubble & Scrape
by Sebadoh
Enter Sandman
from Metallica
by Metallica
Brimful Of Asha
from When I Was Born For The 7th Time
by Cornershop
The Fixer
from Backspacer
by Pearl Jam
Note: Ann Powers chose this song to play to show how Pearl Jam is still relevant 20 years after the band started. "The Fixer" is from the group's 2009 album, Backspacer.
When You Sleep
from Loveless
by My Bloody Valentine
Delia's Gone
from American Recordings
by Johnny Cash