Guest DJ: SOAK
SOAK, Bob Boilen's Current Obsession, Plays DJ
Before We Forgot How to Dream is one of my favorite albums of 2015. It's by an artist you may not yet know, but I'm hoping you'll fall in love with her. Her name is Bridie Monds-Watson, better known as SOAK.
Bridie is nineteen years old now, but she was fourteen when she wrote some of the music on her new record, including the standout cut "Sea Creatures." The songs on Before We Forgot How To Dream are atmospheric and delicate. It's a much more complex sound than what I expected from an Irish teenager with an acoustic guitar.
I asked Bridie Monds-Watson to play DJ on this edition of All Songs Considered, and share some of the songs she loves by other artists who've influenced her over the years. It turns out she's a huge Pink Floyd fan, with a special fondness for R.E.M. and Bon Iver. We also play and talk about some of my favorite songs from SOAK's new record.
You can hear and download the full conversation with the link above, or scan a playlist of the songs we play in the episode, alongside personal stories from SOAK about each of them.
Songs Featured On This Episode
Pink Floyd
Song: Fearless
from Meddle
"My parents have always played a lot of Pink Floyd for us. I've been told that when I was in the womb, they played 'Echoes,' 'the whale song' — we always called it 'the whale song.' It's crazy. They've played loads of Pink Floyd, so I picked 'Fearless' — that's off Meddle.
"I know when I was younger, when I heard this, I was like, 'I want to make music like this.' And I still feel like that. It's definitely something that's a constant inspiration when I hear it."
SOAK
Song: B a noBody
from Before We Forgot How To Dream
"The first time I ever touched a guitar was when I was five. My dad's played guitar for a very long time, and always [has] since I've been alive. He always had acoustic guitars lying around. I remember not knowing what the tuning pegs did and really twisting them until one of the strings broke, and I was like, 'Oops!' So that was the first time I ... not played, but had any relation to one."
Crazy Frog
Song: Axel F
from Crazy Frog Presents Crazy Hits
"Originally, I really wanted drums when I was about 10, and I never got them. But my best friend who lived next door and is still my best friend, Jack ... He's more interested in music now than he ever was before, and he didn't really care for music. Our favorite song at that point was ['Axel F'.] It's one of those really annoying children's songs that does well and is on radio. It's horrendous. That was our big song at that point in time. If you played this in a kid's disco, people would lose their minds."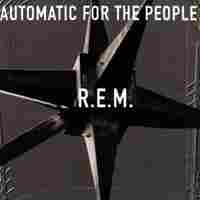 R.E.M.
Song: Everybody Hurts
from Automatic for the People
"[One] Christmas, my big brother got given a guitar. He learned 'Smoke on the Water.' He learned that, and then gave up. It was this really bad Wesley guitar. ... I think it's Wesley, but it's the only one I've played. It was not good. He did that, and then I was kind of jealous, and was like, 'Teach me how to play that.' And that's when I read my first-ever tab, like a tablature. It said something really dodgy like, 'Top string: 3-5-0-open.' But from that, I just learned how to play 'Smoke on the Water.'
"From there, I showed my dad, and my dad was like, 'How did you learn how to do that?' And I was like, 'Well, Aodghan taught me.' Aodghan's my brother. Then I was like, 'Teach me how to play something. I want to do this.' He was really excited because he was like, 'Your brother gave up, and I really want someone to play guitar because it's my big thing.' So he taught me 'Everybody Hurts' by R.E.M. That was the first-ever song I learned how to play."
Biffy Clyro
Song: The Captain
from Only Revolutions
"I remember when I first got paid for a gig. The gig didn't pay that much, but I brought a lot of CDs and we sold out of them. I made like 100 quid or something. I went to Cool Discs [in Derry, Northern Ireland] and I bought loads and loads of CDs. This was whenever people bought CDs. I was trying to teach myself a lot about older music to impress my dad and other people. There was an element of that, and then it was also like, 'That looks cool. I'm just going to buy that based on the album cover,' which is an interesting kind of thing to do. I got Biffy Clyro, [Only Revolutions] — the one with the flags on the front. ... They're a Scottish band. They're pretty good. They're a really big band over in Europe and the U.K."
Bon Iver
Song: Flume
from For Emma, Forever Ago
"On that trip [to Cool Discs], I remember looking at Bon Iver, For Emma, Forever Ago. I think that [album] is less than 10 tracks, and it was pretty expensive compared to most of the CDs. I was like, 'Why is this so fancy?' I bought it, and it's probably one of my favorite albums ever, and definitely inspired me to write a lot of music similar to that. Just his lyrics and how he records and everything is quite special.
"I think definitely [the album] just changed a lot of how I thought about things. And his lyrics, just in how he talks about situations and his view of things, I think definitely changed how I looked at things in a positive way. Just in that he speaks of things that are so simple so eloquently and so poetically that it's quite inspiring to look at things in that way as well."
SOAK
Song: If Everyone Is Someone - No One Is Everyone
from Before We Forgot How To Dream
"I don't sit down and force myself to write, because I could do it, but there wouldn't be too much heart in it. For me, songwriting has always been my way of how I would talk about things without talking about things. I would sit down, and I would sing and play, and everything that I said I would write down. When it was in front of me, I could understand it so much more better and what I was trying to say. I could just figure it out from there. After that, I would just turn it into a song by what was written in front of me. 'This is a verse, this is a chorus.' That would be it. I never paid too much thought to the songs. I would finish it in an hour, and that was it. And then I'd demo it, because I just loved recording terrible demos with five-point microphones that went straight into USB. That what I loved doing at that point, and I spent a lot of time doing it."
SOAK
Song: Oh Brother
from Before We Forgot How To Dream
"Me and family have always been very tight, and specifically me and my older brother. In the time I was writing that, things were alright for me because early on enough, I kind of knew what I was doing, and I was really, really motivated to do it, and I was really lucky that things went my way. He's an incredible artist. It's taken him a little while to figure out what he wants to do. At that point, he was in a state of like, 'I'm so confused' — paralysis, kind of. We weren't that close at the time. There was a lot of stuff going on at the time — my parents were splitting up, and things just overall felt like everything was really bad. So ... I wrote a lot in my basement because I could be as loud as I wanted there, and I could play everything as up as I wanted to. I wrote that song as a way of saying, even as far removed as you can be from someone, you still need them. And even though you don't want to, that's how you feel. The song I wrote is like, 'I need you to be there,' and also, 'Pretend we are who we used to be before we forgot how to dream.' That's kind of like when we were younger and before things were the way they are now."
Paul Buchanan
Song: Cars in the Garden
from Mid Air
"There's this band called The Blue Nile. The main guy from The Blue Nile, who I guess writes songs and stuff, is a guy called Paul Buchanan. ... He did a solo record. ... I think the record's called Mid Air. I actually stumbled across Mid Air from a movie about a guy who could travel in time. It's a pretty good movie. I looked up the song, and I realized that it was Paul Buchanan, and I made the connection between the songs. It's, at the moment, one of my favorite records — both Hats by The Blue Nile and [Mid Air]. The Paul Buchanan record itself is just incredible. It is the most simplistic ... It's piano and vocal, and that's all it requires. The song is called 'The Cars Are In The Garden,' and lyrically, it's just incredible."