All Things Considered Host Ari Shapiro Plays DJ
All Things Considered Host Ari Shapiro Plays DJ
Ari Shapiro started his career as an intern for NPR Legal Affairs Correspondent Nina Totenberg; he went on to become a White House correspondent, among other high-profile roles. Now, he's one of the hosts of NPR's evening news program All Things Considered. In his spare time, Shapiro also sings with the artful, playful pop group Pink Martini.
On this edition of All Songs Considered, he joins hosts Bob Boilen and Robin Hilton to discuss his love of musicals, the powerful voices that draw him in, and why Paul Simon's Graceland never gets old.
Songs Featured On This Episode
Pink Martini (With Ari Shapiro)
Song: But Now I'm Back
from Splendor In the Grass
"In 2003, I went to my hometown of Portland and did a story about Pink Martini, and I became friends with the band. So fast forward almost 10 years and there was this dinner party that became a late-night sing-along around my piano ... it went late into the night. The next morning, [Pink Martini's] Thomas Lauderdale called me at NPR and said, 'You know, we have this concept for a song we want a man to sing on our next album. Why don't you sing it?' This was the first thing I ever recorded." —Ari Shapiro
Melanie
Song: Brand New Key
from Gather Me
"She got a bad rap for this one. I kind of identified deeply with a lot of Melanie's songs. Because I discovered Melanie not through contemporary popular music in the '60s, but by playing my parents' records, I didn't know what her single was. I didn't know what she was famous for. I'd tell people I was in love with this singer and they'd say, 'Oh, yeah, Brand New Pair Of Roller Skates,' and I'd be like, 'Okay. I don't know.'" —Ari Shapiro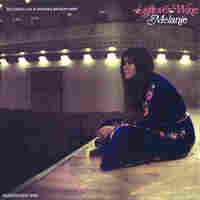 Melanie
Song: Beautiful People
from Leftover Wine
"[This one] is a little cliched, but a really sweet sentiment. I actually thought of this song very recently, because for the last couple of years I've been covering the story of Syrians migrating from Turkey through to Europe, and the thing that experience gives me is an understanding that these are not global events. These are real things happening to real humans that we can all relate to. And as I go and start to meet and talk to these people, these aren't 'war people' who live in 'war places' who have different kinds of existences that are defined by war. They are people who in very fundamental ways are just like us." —Ari Shapiro
Original Broadway Cast
Song: Finale: Make Our Garden Grow
from Candide
"When I think of musicals in contrast to pop music, pop music would have the message, 'I'm in love.' Or, 'I'm jealous.' Or, 'I'm heartbroken.' And when I listen to the music of Steven Sondheim or Leonard Bernstein, it was about not knowing how you feel. It was about ambivalence. It was about conflicting emotions and tensions and the tensions were in the lyrics and the music. It was acknowledgement of fallibility and trying to aspire to something better." —Ari Shapiro
Yo-Yo Ma/Bobby McFerrin
"[This] just exuded joy. Here were two people from such different musical backgrounds, coming together and making something that was such an accurate but unique reflection of the two of them and what the two of them make when they come together. Something about the fun they were having on [this] album really latched into me." —Ari Shapiro
The Pennywhistlers
Song: Shto Mi e Milo
from Folksongs Of Eastern Europe
"What I think grabbed me about this is that it was a version of femininity that was bold and uncompromising with these intense, tight harmonies. This kind of nasal singing. And it would not allow itself to fade into the background. I started listening to my parents' record collection, which led to these kinds of discoveries." —Ari Shapiro
Paul Simon
Song: Diamonds On The Soles Of Her Shoes
from Graceland
"It doesn't matter how many times I listen to this song; it never feels worn-out to me. It always has that uplift feeling. You know when you're on a roller coaster and you go over the crest and have that moment of coming up out of your seat a little bit, it's sort of what this song does to me." —Ari Shapiro
Buy Featured Music
Song

Graceland

Album

Graceland

Artist

Paul Simon

Label

WEA

Released

1986
Your purchase helps support NPR programming. How?
Billy Stewart
Song: Summertime
from One More Time: The Chess Years
"You know how a cover can make you hear a song you've heard a billion times in a completely different way? [This] is a very old song that I only just discovered. I heard it without knowing anything about it. But then I learned that Billy Stewart, who died at a very young age, grew up in my neighborhood where I now live in Washington, D.C. I live near Howard University. And so now, as I leave London and move back to Washington and I listen to this music, it makes me feel proud of the place where I'm living and connected to the history of that place. I think it pays respect to people who make art in this part of the world and Washington. It makes me excited to call this place home again." —Ari Shapiro
Robyn
Song: Indestructible
from Body Talk
"I run a lot. So if I really want to run hard, it'll be electro-dance-synth-pop. And I'm not ashamed to be a fan of Robyn. It's a little embarrassing to start off talking about Steven Sondheim and Leonard Bernstein and then come around to Robyn, but the truth is [it's who we are]." —Ari Shapiro
Asaf Avidan
Song: Over My Head
from Gold Shadow
This "is the album I've had on repeat all year. It's a combination of beautiful music and incredible vocal talent, and I really think the whole album is fantastic. He has an astounding voice." —Ari Shapiro