New Mix: Psych Pop And Gritty Rock From John Grant, Dilly Dally, More
New Mix: Psych Pop And Gritty Rock From John Grant, Dilly Dally, More
Good luck getting these tunes out of your head.
Host Bob Boilen kicks off this week's All Songs Considered with new music by Pell, a rapper and songwriter who garnered well-deserved attention for his first mixtape, and is back in a big way with production help from TV On the Radio's Dave Sitek. That's followed by a bizarre and relatable introspection from John Grant, a twisting Beatles-esque tune from the Danish trio Slaughter Beach and the "Misguided Light" of Younghusband. From there we enter the enchanted forest of the mind of Marian McLaughin and co-host Robin Hilton leaves us with "Desire" from Toronto outfit Dilly Dally.
Songs Featured On This Episode
Pell
Song: Monday Morning
from Limbo
Pell, a rapper and songwriter who relocated to Jackson, Mississippi after Hurricane Katrina, enlisted producer Dave Sitek of TV On the Radio to help create the memorable hooks and unshakable earworms on Pell's forthcoming album Limbo. His 2014 mixtape Floating While Dreaming has already earned 19 million listens on Spotify.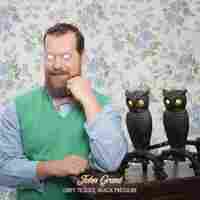 John Grant
Song: Grey Tickles, Black Presure
from Grey Tickles, Black Pressure
John Grant reflects on the everyday struggle to maintain perspective with a twisted sense of humor, catchy octave jumps and poignant observations about hemorrhoid cream commercials. The Colorado transplant, now based in Iceland, releases his idiosyncratic third solo album, Grey Tickles, Black Pressure, on Oct. 9.
Slaughter Beach
Song: Introvert
from Love/Venice
The accents of this Danish trio all but disappear on a track from its upcoming EP Love/Venice. What emerges is a walking chord progression and a slaying guitar line that transports listeners right back to Sgt. Pepper's.
Younghusband
Song: Misguided Light
from Dissolver
With vocals reminiscent of a young David Gilmour, Younghusband continue the '60s psych-pop tradition. The London foursome is following up its 2013 debut, Dromes, with Dissolver, coming Oct. 30.
Marian McLaughlin
Song: Even Magic Falters
from Spirit House
What do Gandalf, Houdini and Merlin have in common? They all appear in the lyrics to songs on Marian McLaughlin's magical new album Spirit House. Filled with sparse sections of nylon-stringed guitar and booming passages of orchestral whimsy by arranger and double bassist Ethan Foote, "Even Magic Falters" captures the enchanting wizardry of McLaughlin.
Hear the entire album and read McLaughlin's stories behind each song, track by track.
Purchase from Bandcamp
Dilly Dally
Contrary to its name, Dilly Dally's sound is powerful and to the point. On "Desire" from its forthcoming album Sore, out Oct. 9, Kate Monk and Liz Ball count in to a tune that captures the essence of life in your early twenties with permeating vocals, thick guitars and dragging drums.