New Music From Beach House, Chairlift, CMJ Discoveries And More
On this week's All Songs Considered, Robin starts the show with a question: What bands have you discovered and fallen in love with from commercials? His first pick, Chairlift, has come a long way since its 2008 ad for the Apple iPod Nano. Bob's first pick, Stolen Jars, is one of his CMJ 2015 favorites and has also been featured in an Apple ad. Share your picks in the comments.
Also on the show: Bob shares some of the other CMJ acts he loved this year, like the childlike Weaves and the engrossing Bayonne. Bronze Radio Return, one of Robin's SXSW picks from 2013, is back, bringing big, buoyant pop. And Beach House returns quickly, with Thank Your Lucky Stars arriving just two months after its last album, Depression Cherry.
New Music From Beach House, Chairlift, CMJ Discoveries And More
Chairlift
Song: Ch-Ching!
from Moth
The Brooklyn duo Chairlift may have started as a project meant to make music for haunted houses, but the danceable, fun "Ch-Ching" from 2016's Moth is anything but spooky. The band has a bigger, more confident sound than ever before.
Stolen Jars
Song: Wreaths Rakes
from Kept
Stolen Jars was one of Bob's favorite discoveries from the CMJ Music Marathon this year. "Wreaths Rakes" is full of hand claps, galloping percussion and staccato guitar licks that build on themselves to create a lush, lively tune.
Beach House
Song: Elegy To The Void
from Thank Your Lucky Stars
Beach House invites listeners to stare into the abyss and realize it's not so bad. "Elegy To The Void" from Thank Your Lucky Stars, the band's second album in two months, is engulfing, ethereal and entrancing — as all voids should be.
Bayonne
Song: Spectrolite
from Debut Album
Roger Sellers becomes one with his mountain of electronic gear as Bayonne. His animated, engrossing performance at CMJ caught Bob's attention. "Spectrolite," from his forthcoming debut album, is all about texture.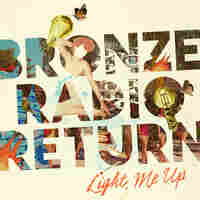 Bronze Radio Return
Song: Light Me Up
from Light Me Up
Bronze Radio Return frontman Chris Henderson feeds on the positive energy of the crowds at his shows, and all of those feel-good vibes have been poured into the bright, bouncy title track from the band's new album, Light Me Up.
New Music From Beach House, Chairlift, CMJ Discoveries And More
Weaves
Weaves singer Jasmyn Burke combines childlike vocals with '40s phrasing to create Bob's very favorite CMJ act. "Ticks" is the latest single from the Toronto quartet.