Robin Hilton's Top 10 Albums Of 2015
If one thing defined the year in music for me in 2015, it was the seemingly endless struggle I had just trying to keep up with all the great releases. The pace and volume at which albums were dropped, often with no advance warning or fanfare, was breathtaking, and it felt harder than ever to spend a lot of time with any one record I loved. Sufjan Stevens put out what is by far my most beloved album in 2015. I feel like I listened to it on constant repeat throughout the year. But my iTunes play count tells me I only heard it 18 times! (Can that be right?) Wilco put out my number two record and I only listened to it all the way through a half dozen times (though I heard individual songs more). In our year-end review, Ann Powers talked about listening to albums this year the way we usually watch movies — you really only see your favorite ones a handful of times, if that. But it left me a little frustrated at the end of the year, wishing I had more time. I suppose there are worse things in life than an embarrassment of riches.
Robin Hilton's Top 10 Albums Of 2015
1. Sufjan Stevens, 'Carrie & Lowell'
Maybe I'd feel differently about this record if I didn't have young children of my own. The stories Sufjan tells on Carrie & Lowell about his mother abandoning him as a child, and the years of heartache that followed, hit me hard this year. But it's difficult to imagine how they couldn't resonate for anyone with a pulse and a shred of empathy. Taking a deep dive into this album can be life-changing. It's just an incredibly inspiring example of how someone can be deeply wounded and still feel nothing but love for the people who hurt him and everyone else in the world.
2. Wilco, 'Star Wars'
This was the best surprise in a year full of unannounced releases. Dropping a free album out of the blue, calling it Star Wars and slapping a drawing of a fluffy kitty cat on the cover invites a tremendous amount of doubt. Was I supposed to take this thing seriously? But seconds into the squealing, distorted opening cut and it's clear the members of Wilco are at it again, stretching themselves in new and immensely rewarding ways. Star Wars — and the Tweedy record from last year — show frontman Jeff Tweedy has entered a period of profound creativity, writing some of the best songs of his life.
3. Torres, 'Sprinter'
Have I mentioned how much I love '90s rock? Mackenzie Scott, who writes and records as Torres, studied at the school of PJ Harvey circa 1995, which makes her sophomore full-length, Sprinter, a sonic delight. But it's the potent, raw emotion she packs into each track that knocked me out this year. Plus her live performance I saw at SXSW was one of the best shows of the year. Torres is a force to be reckoned with, and if she keeps producing at this level, she will be very big some day, hopefully soon.
4. Grimes, 'Art Angels'
I haven't always been a Grimes fan. When I first saw Claire Boucher perform a few years ago, she seemed a little green. Like she knew a few tricks, but was still trying to find her voice. And the music felt like it was only halfway there. But after releasing Visions in 2012, Grimes disappeared for a while to hunker down and to hone her craft and focus on how she could better realize her own ideas. The result is a bit of a mind-blower for me. Art Angels, which she wrote, recorded and produced entirely on her own, is one of the year's most ambitious records, showing the enormous scope of her vision. Just monstrously huge at times and thrilling to hear. Bravo.
5. Palehound, 'Dry Food'
We've heard it before: It was a great year for women in rock! But in 2015, women absolutely owned rock. Courtney Barnett, Torres, Joanna Gruesome, Summer Cannibals, Dilly Dally, Girlpool, Bully, Sleater-Kinney, Chelsea Wolfe, Waxahatchee, Childbirth, Chastity Belt. The list goes on and on. Palehound, the musical project of Ellen Kempner, put out one of the most arresting records of the bunch. It's pensive and melancholy and supremely catchy. Kempner is also an incredible guitarist. Pay close attention to her finger work. Love this record.
6. Courtney Barnett, 'Sometimes I Sit and Think, and Sometimes I Just Sit'
Gotta be honest. I've never really cared for speak-singing. At all. But Courtney Barnett's album worked pretty brilliantly for me this year. I think one of the big reasons is because her plain-spoken, rapid-fire ramblings aren't preachy. She doesn't try too hard to make some super heavy point that you really, really must know. The deepest Courtney Barnett gets is "I want to go out, but I want to stay in." That's basically my entire life in a nutshell.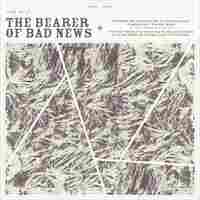 7. Andy Shauf, 'The Bearer of Bad News'
Andy Shauf put out the year's best collection of story songs. On The Bearer Of Bad News, the soft-spoken singer from Saskatchewan unspools often grim tales about drug addicts, the suffocating oppression of small-town living, murderous lovers and other heartbreaking underachievers. Shauf also has a great instinct for crafting super beautiful melodies, with close-knit harmonies. It came out right at the top of the year and I was still playing it at the end.
8. Youth Lagoon, 'Savage Hills Ballroom'
I've always been a Youth Lagoon fan. But Trevor Powers really outdid himself with this year's Savage Hills Ballroom. The name itself sets you up for a beast of a record, and that's what this one is. Big and bold, powerful and purposeful. You can tell he spent a lot of time huddled in a bunker until he got it just right. It really feels like a creative leap for him and one, in retrospect, that was probably inevitable given the strength of his earlier work, and the understanding that he's always been a seeker, reaching for something beyond himself.
9. Jackson Scott, 'Sunshine Redux'
Jackson Scott's slacker-rock is often a big muddy mess, but I mean that in the best possible way. His songs perfectly capture what the world feels like slogging through the marsh of my brain. Sunshine Redux is gauzy and fractured, a little spacey, emotionally remote and woozy. And somehow Scott manages to make it all incredibly infectious. My kind of party!
10. Bill Ryder-Jones, 'West Kirby County Primary'
Bill Ryder-Jones has never recorded the same kind of album twice. The British musician's first release in 2011 was a contemporary classical record he made with the Royal Liverpool Philharmonic. His 2013 followup was a mostly acoustic, folk-pop album that showed he could sing. His third album, this year's West Kirby County Primary, is his most remarkable record to date. This time he goes electric and digs down deep into the darkest depths of a mind he admits is often troubled. In 2009 Ryder-Jones was diagnosed with a dissociative disorder that left him questioning his own reality. West Kirby County Primary is one of the year's most thoughtful, meditative and moving releases.