Viking's Choice 2015: The Year In The Loud And The Weird
Viking's Choice 2015: Hear The Discussion And The Songs
Brandon Duncan/Courtesy of the artist
At this point, it's basically tradition: The last show of the year is dedicated to the loud, the fast, the heavy, the cosmic and the sublime. A.K.A., when All Songs Considered host Bob Boilen and I talk about metal, punk and a broad definition of experimental music. Maybe you've listened to some of these outliers in my Viking's Choice column or even on the podcast — they definitely stick out like a sore, headbanging thumb.
In 2015, Iron Maiden reminded us all why it's one of the greatest heavy metal bands of all time, a once-mysterious sacred music collective from Liverpool returned after 20 years away and some Olympia punks smashed the patriarchy with a boot to the head.
If this is a sonic realm you wish to enter on the regular, it's best to follow me on Twitter, Bandcamp and Spotify. I've also written up 50 of my favorite musical ephemera on Tumblr.
Note: In this episode, I make the plea, "We need you Lemmy!" when discussing metal veterans still making music. We taped this episode one week before the Motörhead founder died. Rest in power, Lemmy. This one's for you.
Viking's Choice 2015: The Year In The Loud And The Weird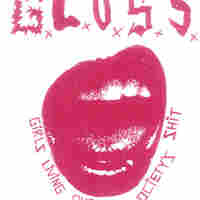 04Lined Lips And Spiked Bats
G.L.O.S.S.
Song: Lined Lips And Spiked Bats
from DEMO
Released way back in January, this is still the most invigorating and raw demo of the year. To quote G.L.O.S.S. vocalist Sadie Switchblade, it weaponizes a "lifetime of anguish and alienation" for and by the queer and trans experience in eight minutes of patriarchy-ass-kicking hardcore-punk.
Demo is available from Bandcamp.
Obnox
Song: Too Punk Shakur
from Boogalou Reed
Lamont "Bim" Thomas released three (!) records in 2015, which is practically par for the course for the Cleveland-based punk lifer. Know America, Wiglet and Boogalou Reed all offer something a little different, but it's the goofily named Boogalou Reed that offers the most tangible way into Obnox's blown-out soul-noise-punk universe. One moment he's crushing a silly love song into distorted, Hendrix-punk bliss and the next looping a psychedelic, J Dilla-inspired beat into a warped meditation.
Boogalou Reed is available from 12XU.
Red River Dialect
Song: Amelia
from Tender Gold & Gentle Blue
Few records this year felt as lush, considered and ancient as Red River Dialect's Tender Gold And Gentle Blue, with the intention right there in the title. The Cornwall-born, London-based David Morris and his band look to acts like Fairport Convention, imbuing traditional British folk music with naturally psychedelic textures. In unquiet times, this is quiet and desperate folk music to acknowledge and calm the storm in our hearts.
Tender Gold And Gentle Blue is available from Bandcamp.
Anna von Hausswolff
Song: Come Wander With Me/Deliverance
from Miraculous
The headline with The Miraculous, and rightly so, is that Anna von Hausswolff recorded the album on one of Scandinavia's largest pipe organs. The Swedish musician already has a way with the majestic, but The Miraculous wields the awesome terror of the sublime with a record that communes with Cocteau Twins, Swans and Black Sabbath. She wrote to NPR in August that The Miraculous is "a place of mystery and doubt. It's highly attractive and very scary at the same time. If I were to search for a miracle, this is the place I would start looking." Oh, she found it.
The Miraculous is available from Other Music.
Iron Maiden
Song: Speed Of Light
from Book of Souls [Deluxe Edition]
Lest we ever take Iron Maiden's reign for granted, 2015 gave us the heavy metal band's most exhilarating album in a decade. The Book Of Souls is everything an Iron Maiden fan could ask for, with singles-worthy barn-burners, proggy epics, shout-alongs and shredders sequenced to maximum effect. And after vocalist Bruce Dickinson beat a cancerous tumor on his tongue earlier this year, the double album feels all the more triumphant.
Revolutionary Army of the Infant Jesus
Song: After The End
from Beauty Will Save the World
Two decades since its last release, The Revolutionary Army of the Infant Jesus returned with a record for healing a broken world. The experimental Liverpool-based collective, once a mysterious entity, makes sacred music without bounds, culling from several Christian traditions as well folk music from around the globe. "It's probably more accurate to describe our music as the pursuit of meaning rather than having a meaning," the band wrote to NPR. "Truth is always elusive and we are still searching." Beauty Will Save The World is one of the year's greatest treasures, unbound by doctrine and sound, but always finding the thread among disparate worlds.
Beauty Will Save The World is available on Occultation and Bandcamp.
Circuit des Yeux
Song: Ride Blind
from In Plain Speech
After so many years going it alone, Haley Fohr's fifth album as Circuit des Yeux sees the Chicago-based musician reaching out to her community. The wondrous and wandering full-band arrangements on In Plain Speech are warming, opening up Fohr's striking baritone and harrowingly beautiful songs like flowering tea leaves.
In Plain Speech is available on Thrill Jockey.
Stara Rzeka
Song: Stara rzeka
from Zamknęły się oczy ziemi
Jakub "Kuba" Ziołek is an active part of a Polish music community that embraces boundary-less sound, playing in trance-y rock bands like Alameda, the experimental electronic duo Kapital, as well as the improv group Innercity Ensemble. Though he's closing the book on Stara Rzeka as a solo recording project, Zamknęły się oczy ziemi is a stunning double album that glides into psychedelic valleys and synthesized sky. While the acoustic guitar (and the music of Robbie Basho) grounds Stara Rzeka, this music finds gateways to Cluster-y komische and metallic bliss by way of Robert Wyatt.
Zamknęły się oczy ziemi is available on Instant Classic and Bandcamp.
VHÖL
Song: Desolate Damned
from Deeper Than Sky
Go ahead and listen to VHÖL and try not to grin ear to ear. After a helluva debut album, the Bay Area band (featuring members of YOB, Hammers of Misfortune, Agalloch and Ludicra) went full-on extraterrestrial speed metal with Deeper Than Sky, shredding a hole through the cosmos.
Deeper Than Sky is available from Profound Lore.