16 Number One Songs From Our First 16 Years
16 Number One Songs From Our First 16 Years
Sixteen years ago All Songs Considered started as NPR's first online-only program. This month we're celebrating its sweet 16 birthday, and to mark the occasion on this week's episode we're counting down our favorite songs from each of the past 16 years. Hearing some of these cuts is a real trip down memory lane, from the dreamy synth sound of Moby's "Porcelain," and Björk's polyrhythmic "Hidden Place," to The Postal Service, Grizzly Bear and Kanye West's brilliant and playful earworm "Gold Digger."
If you've had a memorable moment with All Songs Considered, share your story in the comments section below. We love hearing from our listeners. And if you want to share your own list of number one songs from each of the past 16 years, well pass that along, too!
16 Number One Songs From Our First 16 Years
2000: "Porcelain"
Moby's "Porcelain," from the 1999 album Play was one of the songs Bob Boilen played frequently between news stories back when he was directing All Things Considered. Fans of the news program often wrote in asking for more info about the songs they heard on air, including "Porcelain," so Bob started All Songs Considered in January of 2000, initially as an online music show to play full versions of those songs.
2001: "Hidden Place"
When All Songs Considered entered its second year, co-host and producer Robin Hilton was brought on, just as the show was starting to explore more new and interesting music outside of the short clips played between news stories on the radio. Björk's Vespertine album was one of the show's earliest discoveries.
2002: "I Am Trying to Break Your Heart"
from Yankee Hotel Foxtrot
by Wilco
Wilco's Yankee Hotel Foxtrot was a landmark album in 2002. The previous year the band's label, Reprise, refused to release it, the band regained ownership of the songs, then streamed them for free on the Wilco website. It was unheard of at the time. Yankee Hotel Foxtrot went on to become many critics' picks for Album Of The Year, and remains Wilco's best-selling release.
2003: "The District Sleeps Alone Tonight"
from Give Up
by The Postal Service
The Postal Service's bedroom electronic album Give Up felt like an appropriate shift toward a moodier, more introspective post-9/11 sound. "The District Sleeps Alone Tonight" was an anthem for anyone ready to hide under the covers.
2004: "Neighborhood #1 (Tunnels)"
from Funeral
by Arcade Fire
Arcade Fire's incredible debut album, Funeral, was one of the first of the young century to feature a bigger, bolder, and often euphoric sound, with sprawling stage productions, and helped lead to many more exuberant bands in the years that followed.
2005: "Gold Digger"
from Late Registration
by Kanye West
Kanye West's sophomore album Late Registration was the second in his planned series of education-themed albums and featured this wildly playful ear worm produced by Jon Brion, with guest vocals by Jamie Foxx. "Gold Digger" was a huge hit and became the fastest-selling download at a time when fans were still getting accustomed to paying for legal downloads.
2006: "Fidelity"
from Begin to Hope
by Regina Spektor
We first discovered Regina Spektor in 2003 when she sent in her music in hopes of being featured on our now defunct Open Mic series. She went on to become one of our most beloved artists.
2007: "Bodysnatchers"
from In Rainbows
by Radiohead
After breaking from its longtime label, EMI, Radiohead was on its own when it surprised everyone by self-releasing this brilliant album, and allowing fans to pay whatever they wanted for a download of it. It was one of the best records the band has ever made.
2008: "Skinny Love"
If you listened to All Songs Considered back in 2008 you probably know how obsessed we were with this record. Bon Iver's Justin Vernon holed up in a cabin in a snowy woods and self-recorded the gorgeous, shimmering and deeply personal For Emma, Forever Ago. We still can't get enough of it.
2009: "Two Weeks"
from Veckatimest
by Grizzly Bear
Every time we hear the opening piano line to this one, it immediately takes us back to 2009. Veckatimest was a meticulously crafted work of art, inspired as much by ethereal, ambient rock as it was by doo-wop.
2010: "A/B Machines"
from Treats
by Sleigh Bells
Sleigh Bells made us stop dead in our tracks when we first heard the Brooklyn duo's explosive, frenetic and unforgettable sound. The album Treats, with this song "A/B Machines," struck the right chord as we entered the new century's second — and much louder — decade.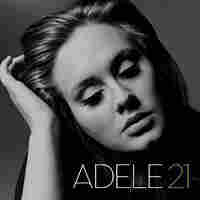 2011: "Someone Like You"
Adele was supposed to play NPR Music's day party at South by Southwest in 2008, but couldn't get a visa. She made up for it a few years later by performing this heartbreaking hit and others at the Tiny Desk.
2012: "Tessellate"
from An Awesome Wave
by Alt-J
Alt-J is Bob Boilen's favorite band of the 21st century. The group's debut full-length, An Awesome Wave, was strange and utterly transfixing. It went on to win the Mercury Prize.
2013: "Retrograde"
from Overgrown
by James Blake
One of Robin Hilton's all-time favorite songs of any year, James Blakes' "Retrograde" was inspired by the lilting melodic voice of Sam Cooke. In astronomy, retrograde refers to two celestial bodies moving in opposite directions, an idea Blake cleverly references in the chorus of the song with rising vocals over a falling synth line.
2014: "Coffee"
from Sylvan Esso
by Sylvan Esso
This song pretty much owned our 2014. "Coffee" is also indicative of a lot of music produced in recent years, with spare electronics and incredible textures, set against the beauty and more organic sound of singer Amelia Meath's voice.
2015: "King Kunta"
from To Pimp A Butterfly
by Kendrick Lamar
Kendrick Lamar's dense, multi-layered masterpiece To Pimp A Butterfly is not only a brilliantly produced record, it's also an important one that digs deep into race and identity, religion, the trappings of fame and more. It will be cited, studied and deconstructed for decades.