New Mix: Santigold, Macklemore, PJ Harvey, Iggy Pop, More
New Mix: Santigold, Macklemore, PJ Harvey, Iggy Pop, More
On this week's All Songs Considered, we've got several new favorites including Bob Boilen's No. 1 discovery of 2016 so far, Lucy Dacus. Robin Hilton shares songs by several artists he thinks are about to release their best albums yet, including Santigold and Ane Brun.
Also on the show: Iggy Pop brings back his Bowie-inspired swagger with help from Queens of the Stone Age's Josh Homme, French musicians Adan Jodorowsky & Xavi Polycarpe channeled their recent breakups into a big '70s-flavored pop song, PJ Harvey returns to her original rock sound and electronic artist Ital Tek reflects on his love of guitar drones and distorted electronics. Plus, rapper Macklemore asks a lot of difficult questions about race and responsibility in the song "White Privilege II."
Songs Featured On This Episode
01I Don't Wanna Be Funny Anymore
Buy Featured Music

Song

I Don't Wanna Be Funny Anymore

Album

No Burden

Artist

Lucy Dacus

Label

Egghunt Records

Released

2016

Your purchase helps support NPR programming. How?
Lucy Dacus
Song: I Don't Wanna Be Funny Anymore
from No Burden
Bob Boilen first heard Lucy Dacus when she opened for Julien Baker. She has the lilt of Sharon Van Etten, the sharp lyricism of Torres and is Bob's favorite discovery of 2016 so far.
Her first album, No Burden, comes out Feb. 26 on Egghunt Records.
Adan & Xavi y Los Imanes
Song: Along The Way
from Adan & Xavi Y Los Imanes
Adan Jodorowsky & Xavi Polycarpe were driven to make music together after going through simultaneous breakups. "Along The Way" sums up all of the regrets and disappointments they encountered, in a big Supertramp-meets-10cc, '70s pop sound. Adan & Xavi y Los Imanes' self-titled record is due out March 4 on Everloving Records.
Iggy Pop
Song: Gardenia
from Post Pop Depression
Josh Homme of Queens Of The Stone Age took Iggy Pop on a ride out to Joshua Tree to record a new album. The result feels close to Iggy's David Bowie collaborations Lust For Life and The Idiot. "Gardenia" sees Pop bring some Bowie swagger while Homme brings his signature expansive guitar sound. Post Pop Depression is due out March 18 on Loma Vista.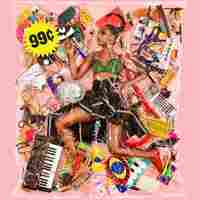 Santigold
Song: Can't Get Enough of Myself (feat. B.C)
from 99 Cents
Parenthood changes everyone. Since the birth of her son, Santigold says she's been trying to write brighter, more optimistic songs. The result is "Can't Get Enough Of Myself," from 99¢, which Robin Hilton thinks will be Santigold's best record so far. 99¢ is out Feb. 26 on Atlantic.
PJ Harvey
Song: The Wheel
from The Hope Six Demolition Project
In her career as a singer-songwriter, PJ Harvey has ventured into a wide range of musical directions. But after journeying to Kosovo, Afghanistan and Washington, D.C., Harvey returned to London to record a straight-up but thoughtful rock record. That album, The Hope Six Demolition Project, is due out April 15 on Vagrant.
Ane Brun
Song: All We Want Is Love
from When I'm Free
Norwegian singer-songwriter Ane Brun says she wanted to write a universal song about love and vulnerability. "All We Want Is Love" is a moment of classic beauty on her new record, When I'm Free, due out Feb. 26 on Balloon Ranger Recordings.
10Reflection Through Destruction
Ital Tek
Song: Reflection Through Destruction
from Hollowed
"Reflection Through Destruction," the title of Alan Myson's new song under the name Ital Tek, is a hint at his creative process for his new LP. The electronic musician, primarily known in EDM circles, deconstructed his musical identity and blasted it apart with experiments in electric guitar drones. The result is something much closer to his musical heart. Hollowed is out March 18 on Planet Mu; find out more about the album and artist on his Bandcamp page.
Macklemore & Ryan Lewis
Song: White Privilege II (feat. Jamila Woods)
from This Unruly Mess I've Made
Perhaps the most important thing Macklemore & Ryan Lewis have done with their nine-minute social justice hip-hop epic, "White Privilege II," is start a dialogue. Macklemore offers up his own reflections on his positions within the hip-hop community, the black cultural movement, and popular culture. The duo will self-release the album This Unruly Mess I've Made on Feb. 26.