New Mix: Sturgill Simpson, Beth Orton, Julianna Barwick, Damien Jurado, More
New Mix: Sturgill Simpson, Beth Orton, Julianna Barwick, Damien Jurado, More
This week on All Songs Considered, hosts Bob Boilen and Robin Hilton talk about Sturgill Simpson's more rock-inspired sound and how parenthood inspired Simpson's new LP, A Sailor's Guide To Earth. Bob also plays some great, guitar-driven rock from Weaves and Heron Oblivion.
Also on the show: British singer-songwriter Beth Orton returns to her electronic-folk roots and Damien Jurado winds down his trilogy of concept albums. Plus we've got new music from singer Julianna Barwick, from electronic producer James Hinton under the name The Range and a cartoony, horror-inspired song from producer John Congleton and his new band The Nighty Nite.
Songs Featured On This Episode
Weaves
Bob Boilen first saw the Toronto-based Weaves in the small New York club The Cake Shop during CMJ 2015. The band's blistering and occasionally ethereal sound quickly won him over.
Weaves' self-titled debut album is out June 17 on Kanine.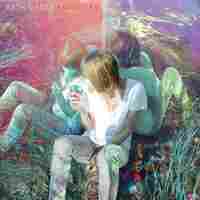 02Moon
Buy Featured Music

Song

Moon

Album

Kidsticks

Artist

Beth Orton

Label

Anti-

Released

2016

Your purchase helps support NPR programming. How?
Beth Orton
Song: Moon
from Kidsticks
When she first started making records almost 20 years ago, Beth Orton often mixed electronic music with folk music. She moved toward a more traditional acoustic sound for a long time, but she returns to that electronic-folk mix on Kidsticks, her first album in four years.
Kidsticks is out May 27 on Anti-.
Heron Oblivion
Heron Oblivion is the result of Meg Baird from Espers getting together with members of Comets on Fire and Assemble Head in Sunburst Sound to make a psychedelic music that is explosive yet also spare and beautiful. Baird's voice is a thing of beauty, floating along in the beautiful noise of the song, which contrasts nicely with the wah-wah guitar. We know you'll want to air-guitar to the solo.
Heron Oblivion's self-titled debut album is out now on Sub-Pop.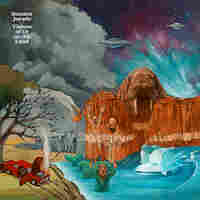 Damien Jurado
Song: Lon Bella
from Visions Of Us On The Land
Seattle-based songwriter Damien Jurado's last two albums were both concept albums, following the strange, metaphysical odyssey of the unnamed protagonist. His new album Visions Of Us On The Land is the third and final installment in the tale. "Lon Bella," one of the last tracks on the LP, is the soundtrack to a journey that is coming to a close.
Visions Of Us On The Land is out March 18 on Secretly Canadian.
Sturgill Simpson
Song: Brace for Impact (Live a Little)
from A Sailor's Guide To Earth
Sturgill Simpson's first son was born shortly after the release of his 2014 album Metamodern Sounds in Country Music, so he wrote his new LP, A Sailor's Guide To Earth as a sort of letter to the newborn. It's a departure from the psychedelic Metamodern: The album features horns from the Dap-Kings and a sound that bounces between The Rolling Stones and Pink Floyd. It is a record full of surprises, just like parenthood.
A Sailor's Guide To Earth will be out April 15 on Atlantic.
Julianna Barwick
Brooklyn-based singer Julianna Barwick previously incorporated synths into her vocal-loop based music, and now she's added a Moog Mother 32 more fully into her mix. The pulse of the Moog's melody sounds like a planet in orbit, one of the celestial influences that led her to name this song "Nebula."
Barwick's next album, Will, is out May 6 on Dead Oceans.
John Congleton and the Nighty Nite
Song: Your Temporary Custodian
from Until The Horror Goes
When John Congleton played Guest DJ in Oct. 2014, he talked about his love of horror films and music. "Your Temporary Custodian," from his debut LP with the Nighty Nite, is a rollercoaster through a horror exhibit, dominated by the feeling of never finding a footing in the song. But stick with it, and you'll find that it becomes pretty pleasantly catchy.
John Congleton and The Nighty Nite's debut album, Until The Horror Goes, is out April 1 on Fat Possum Records.
The Range
Song: Five Four
from Potential
James Hinton, the electronic producer behind The Range, searches for potential all across YouTube, using a custom algorithm to find a cappella vocalists and rappers. He then blends their voices seamlessly with his electronic beats and melodies, creating brilliant works out of the fusion. "Five Four" utilizes the voices of two U.K. rappers who recorded themselves in a park.
The new album by The Range, titled Potential, is out March 25 on Domino.