Guest Dose: DJ JNETT
Stream A Mix By Melbourne's Premiere House DJ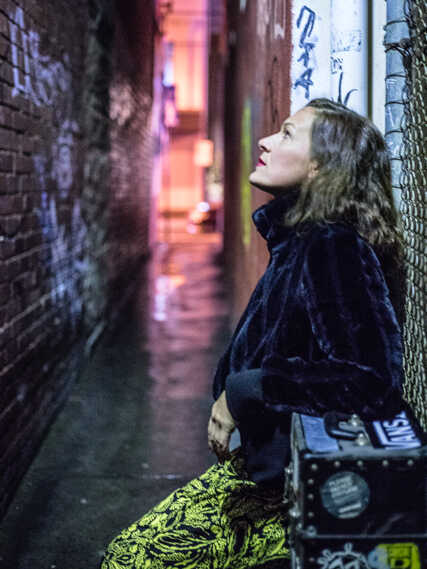 Welcome to Guest Dose. Every month, NPR Music's Recommended Dose crew invites a knowledgeable and experienced DJ/selector to share with us their personal perspectives on electronic and beat-driven music, and make a mix from some new tracks they are digging.
It is not hard to tell that Janette Pitruzzello is house music for life. The giveaway is right there in one of the anecdotes the producer/DJ, who as JNETT (sometimes J'Nett) has been one of Melbourne, Australia's club cornerstones for nearly two decades, inserts into the conversation within minutes of us getting on Skype. Pitruzzello has an infectious laugh, gloriously full-spirited asides, and a hi-BPM story-telling style that would seem slightly manic if it wasn't also gregarious and good-natured. Like the music she DJs — and finally crafted herself on Wildlife, her debut EP on Maurice Fulton's BubbleTease Communications — her mannerism is one of somebody 100 percent comfortable in their own skin. This makes Janette's reflections — fittingly, on her unorthodox narrative as a 47-year-old mother of two, making dance music — instantly poignant.
"You go through these little crossroads in your life," she says when I ask how she came to house music as a full-time occupation. In the early 2000s, "already towards my mid-30s," having received a bachelor's degree in photography and developing a career in the field (while also DJing regularly), she took on a multi-week photo-assisting job in America; conveniently, the gig coincided with the Winter Music Conference, a long-running dance-music gathering in Miami, and would also take her to Chicago, the birthplace of house music. During the trip, she says, "I tried my hand doing both at the same time. So in Miami, I found myself sneaking out at night to play records after a 16-hour day assisting. Then once we got to Chicago, I went out late to see DJ Heather [a leading female house DJ]; and suddenly, I was standing in some tiny club saying to myself, 'Who am I kidding? I don't ever not want to do this.'" She bursts out laughing, and it is undoubtedly an exclamation point.
Janette says she started clubbing in Melbourne's disco and funk clubs at 15, but that she attributes the love for music and rhythm to witnessing an unlikely appearance by a Caribbean steel band in the streets of Foster, Country Victoria, her tiny south-coast hometown, at the age of 8. ("I remember thinking, 'My God, this is like the greatest thing I've ever heard'.") She already loved loud soundsystem music and dub reggae when she discovered the house sound of Paul "Trouble" Anderson while living in London in the early '90s; and was fully bitten by the DJing bug upon her return to Australia. Working at Melbourne's iconic Central Station record store gave her access to the world's best dance records, while she perfected her skills in private ("total bedroom DJing, way too self-conscious, way too shy"). When friends asked that she take a gig as a last-minute fill-in at Melbourne's The Lounge, she fought through the nerves. "The booth was in the middle of the dance-floor, so all the sound was coming in, booming. It was so great, and there was no turning back after that." The next morning JNETT was a Lounge resident — and, soon, with her "Purveyors" club night, one of the city's most respected house DJs, as well as a mainstay on Australian radio (first Kiss FM, now PBS Radio Melbourne). This is how Maurice Fulton found her.
"Maurice lived in Melbourne many years ago — and I always held him as one of my mentors," begins Pitruzzello, when I ask how, she came to collaborate with one of dance music's most respected and beautiful eccentrics. "Whenever he would come back to play here, he'd call me and two other people. The last time he came, he saw that I'm still doing it, so he said, 'OK, after all these years, I want to see you expand, it's time.' Maurice encouraged me. I was petrified that it was never going to be good enough. Now, I realize it was not about that, but about finally having some input and support. It had been my deepest wish for decades — not just to put some stuff out there, but feel confident enough in it. And it's not like [in Australia] there were people who were doing it. It's different."
The four-song EP that came out of their sessions, Wildlife, is one of the year's best examples of the diversity that die-hards recognize as house music, fueled by dueling bass lines, natural percussion, dubbed-out drum-machines and even symphonic strings: "What I like musically is so broad, it seemed unfair to do just one thing," she says.
And as Australia's dance and electronic-music boom continues, Janette sees how a seasoned perspective and unprejudiced version of house fits into the broader picture, and into her own life. "I was always the youngest," she says, "and now I am one of those people who have been around for ages. It went from my mother saying 'turn it down' to my kids saying 'turn it down.'"
The tracks DJ JNETT chose for her Guest Dose mix equally spanned the generations.