Recommended Dose: Our Favorite Dance Tracks Right Now
This Month's Mix Features Robert Hood, Cassy, Recloose And More
Recommended Dose: Our Favorite Dance Tracks Right Now
Zoe Lower/Courtesy of the artist
Nowhere to begin but with the brutal fact that we're still crying purple tears here in Rx Dose land, and this month's selections reflect that somewhat. We're not going to spend this short space rhapsodizing Prince Rogers Nelson's impact on electronic and dance music, especially when others have done the job more thoroughly for us, in both listicle and essay form.
Suffice it to say, that every DJ worth his mixer and every producer worth his sample library, owes him a debt that no honest musician can pay. Remember to pour one out for him on the dance-floor this summer, whether you're listening to disco-house, '80s throwbacks, some acidic Afrobeat, a mix of mbira and 808s, a great soulful cover of Prince, or whatever is your beat of choice.
We'll return in a few weeks with dryer eyes (hopefully) and great summer tunes (definitely). In the meantime, you can follow us on Twitter at @Sami_Yenigun (Sami) @raspberryjones (Piotr) and @spotieotis (Otis), for our day-to-day listening selections.
Recommended Dose: Our Favorite Dance Tracks Right Now
Charles Roussel/Courtesy of the Artist
Recommended Dose: Our Favorite Dance Tracks Right Now
Cassy, "Strange Relationship"
We received an advance of Donna, Cassy Britton's full-length debut as a recording artist, a few weeks before the day the purple music died, and the Prince cover easily stood out, even among the Austrian producer/DJ's wonderfully diverse offerings. Co-produced by Philly's legendary King Britt, the song carries a fantastic G-funk vibe, with electric piano chords setting forth an airy atmosphere so that Damon Bennett's Minimoog and Chuck Treece's tightly picked guitar can exchange coolly melodic hooks. Meanwhile, Cassy's voice, full of resignation, expresses melancholy befitting such a huge loss.
Timecode: 00:00 - 03:29
Donna is out June 24 on Aus Music.
Recommended Dose: Our Favorite Dance Tracks Right Now
Jacob Mafuleni & Gary Gritness, "Chikoni 808"
More great music to add to the flood of original Afro-European collaborations happening all over the electronic music spectrum: Zimbabwean mbira master Jacob Mafuleni (one-time sideman to the late great vocalist, Chiwoniso Maraire) and his wife, singer/percussionist Martha Thom, are joined by French producer Gary Gritness, who adds simple 808 drum-machine lines to the voices and the thumb piano. Simple rhythmic beauty ensues. This is cross-cultural minimalism at its finest; wonder what Steve Reich might think of it?
Timecode: 03:30 - 9:31
Atuka Mondhoro 808 is available now on Nyami Nyami.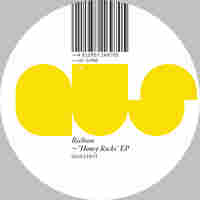 Recommended Dose: Our Favorite Dance Tracks Right Now
Recloose, "Sidewalks"
It comes as no surprise that the first new music from Matt Chicoine as an NYC resident would capture the city's history and bustle so well. He's always been a chameleon with a style all his own. As a latecomer to Detroit's third wave, Recloose developed a techno-soul at home next to smooth R&B and jacking house; more recently, as a full-time resident of New Zealand, he took a more global percussive approach to the 4/4. "Sidewalks" jumps into the Big Apple's grittiness from the get-go, with keyboards reminiscent of Sugarhill and Jellybean, and a beat that almost screams "Koch Administration." And yet, this ain't no retro rear-guard action; the bassy funk rolls hard here.
Timecode: 09:32 - 14:33
Honey Rocks is out May 27 on Aus Music.
Recommended Dose: Our Favorite Dance Tracks Right Now
XOA, "Aiye Le (Dan Shake Remix)"
A ton of glorious elements come together on the b-side of this, the first non-re-edit release from Dan Shake's new imprint: There's XOA, a great young London-based Afrobeat band fronted by the Dub Mafia powerhouse Eva Lazarus. There's Dele Sosimi, the legendary former keyboardist and vocalist of Fela Kuti's Egypt 80. And of course, there's Dan Shake who we've already told you is the MF man. Together, they've come up with one of the best pieces of Afro-house music you're likely to hear all year, an organic collaboration as reliant on Marijus Aleksa and Junior Alli's percussion as on Shake's kick-drum and 303 asides.
Timecode: 14:34 - 20:19
Aiye Le is out May 15 on Shake.
Recommended Dose: Our Favorite Dance Tracks Right Now
Sau Poler, "Jnane"
A young Catalan producer who records for the Amsterdam-based Atomnation label, Poler leaps forward with his new EP Memorabilia — and the key is in the audio sauce. Deep under the spell of '70s funk and jazz textures, the house music he makes here is full of instruments instead of sounds — some live, and others, undoubtedly, sampled. But the jump-off is always in a mix that makes the sonic past and the future effectively come together. "Jnane" is a perfect example, opening with an unmistakable ride cymbal and snare of a jazz kit, before giving way to a house beat. Halfway through there's an incredibly simple interplay between Rhodes chords and an arpeggiated keyboard, while a hi-hat beat pushes the dancefloor. Taken collectively, the music is in the now, but the individual pieces are eminently historic.
Timecode: 20:20 - 25:09
Memorabilia is out now on Atomnation.
Recommended Dose: Our Favorite Dance Tracks Right Now
Floorplan, "Tell You No Lie"
Once an avenue for original Detroit techno minimalist Robert Hood's more house-oriented productions, Floorplan has recently become a family affair, with the veteran producer joined by his teenage daughter Lyric Hood. Yet even that relatively radical dance-music equation – the daddy-daughter DJ duo – is unlikely to prepare you for the awesome chord this piece of glorious disco-house strikes. Built on Jerry Peters' percolating, up-tempo strings and a loop of Belita Woods' vocal (both from "Lovin' is Really My Game," a 1977 disco jam by Detroit's Brainstorm), this is more fiery maximalism than the sort of futurist manifesto he's mastered through the years. Everyone knows that sometimes simpler is better; here's proof.
Timecode: 25:10 - 32:41
Music is out now on M-Plant.