New Mix: Songs On Letting Go And Believing In Yourself
On this week's All Songs Considered, we play songs about facing fears, being true to yourself and not worrying about what everyone else thinks, plus a new song from Angel Olsen and a conversation with her about her surprising new sound.
Robin Hilton opens with an introspective pop gem from the Portland, Ore. band Ages And Ages inspired by the ephemeral nature of nearly everything. Bob Boilen follows with a sonic adventure from the Asheville, N.C. folk group River Whyless.
Also on the show: Bed., another Portland band, has an ode to being free and escaping the comforts of home; The D.C. band Paperhaus has a fierce new single with some mind-blowing drumming and singer Hannah Georgas takes a simple piano ballad and turns it into a syncopated wonder with pulsing horns.
But first, Bob settles back in after a month on the road while Robin tries to put on a new face with a coffee mug that might just change his whole outlook on life.
Songs Featured On This Episode
Ages And Ages
Song: They Want More
from Something To Ruin
We first fell in love with Ages And Ages when the group released the album Divisionary in 2014, which included the beautiful and incredibly inspiring song, "Do The Right Thing." The Portland, Ore. band is back with this song from its more introspective followup Something To Ruin, due out Aug. 19.
River Whyless
Song: All Day All Night
from We All The Light
River Whyless is based out of Asheville, N.C., where the quartet makes largely acoustic folk-based music. On its new album, We All The Light, this talented group of songwriters stretches its style with some surprising new instrumentation.
Angel Olsen
Song: Intern
from My Woman
Angel Olsen teased this song with a video last week, but we soon learned it's from her upcoming album, My Woman. "Intern" opens the album and seems to signal a shift from Olsen's rock roots toward a synth-based, dream pop sound. Listen to the full show with the link above or download the All Songs podcast to hear Angel Olsen tell us why she chose to share this song first from the album.
Bed.
Song: Billy Joel
from Klickitat
Bed. is otherwise known as Sierra and Alex Haager, a husband-wife duo from Portland, Ore. They've been trickling songs out for the past couple of years but recently released their first official EP, which includes this song, inspired in part by Billy Joel's "Moving Out (Anthony's Song)."
Paperhaus
Song: Silent Speaking
from Silent Speaking (Single)
This dizzying new single from the DC-based Paperhaus, led by Alex Tebeleff, is a fierce, propulsive showcase for guest drummer Ian McColm.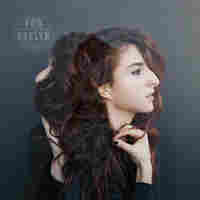 Hannah Georgas
Song: Waste
from For Evelyn
Hannah Georgas is a singer from Ontario who originally wrote "Waste" as a reflective piano ballad. But producer Graham Walsh turned it into a frenetic, horn-powered jam. It will appear on her album For Evelyn, out on June 24.