Jason Martin Explains Starflyer 59's 'Slow,' Track By Track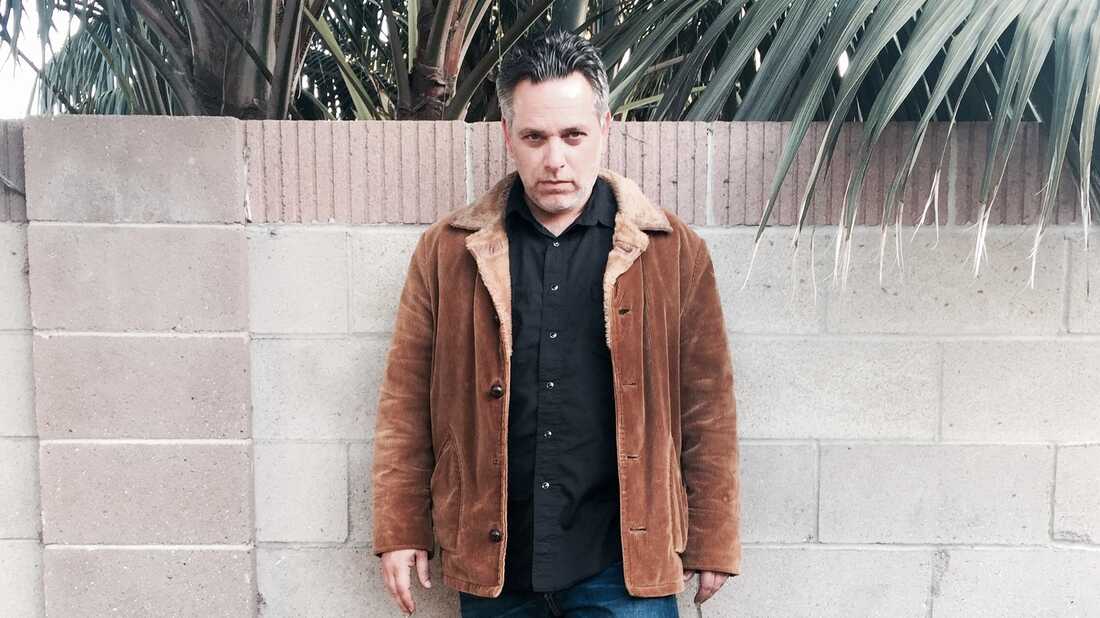 In the 23 years that Starflyer 59 has been a band, the only constant has been Jason Martin. But in those same two decades, through many styles — from the heavy shoegaze of Silver and Gold to Americana's classic rock to the poppier run of The Fashion Focus through Leave Here A Stranger, and so on and so forth — you always know a song is a Jason Martin song. His workmanlike approach puts an emphasis on songs that make sense and are built to last. To him, a song is math, not art, so if a Starflyer 59 riff or a tone or a chord progression sounds familiar, it means the song's working. That's not meant to take the magic out of music, just base it on reality. More than ever, Martin is focused what it means to make music now.
"I'm a 43-year-old guy, got three kids, work all of the time and play guitar on the weekends," Martin says with a dry-heave laugh. "That's about it — typical, middle-aged dude, I guess, that does band stuff on the side."
Martin has always been quick to move on musically, as evidenced by a long and sonically diverse discography. That's what makes Slow, the 14th album under the Starflyer 59 moniker, such a curiosity. This is the first time he's really allowed himself to look back, at his personal life as well as his creative life. There are not only hints of Starflyer 59's past — no sickening walls of sad-sack distortion and feedback, it should be noted — but also, in the case of "Runaround," a clue to Martin's original vision for the band.
"I think there's a couple good songs, couple lousy songs, couple whatever songs. I just stopped thinking about it so much on this one," he says. "Most records I do, I'm like, 'Oh, I'm trying to do this on this one,' or I have these rules. It's just tunes I had, and some of them wound up rolling with stuff like, 'Oh, man, this is the kind of stuff I would've done in '96,' or something back when I was younger and not thinking about what I was doing as much. I just wanted to have a more natural-sounding record."
So when the coda of the languorous title track throws back to the lounge-y surf guitar that separated Starflyer 59 from the other shoegaze bands coming on in the mid-'90s, it might remind fans of a time when Martin and his cohorts slicked back their hair and rode Triumph motorcycles. In his now smoothed-over gravel voice, Martin sings the sweetly evocative line, "Played some shows and on the drives, thought of baby names," about two decades with his wife — a far cry from the mopey lyrics of yesteryear. The big, Orange-amp-fueled blues stomp of "Hi / Low" recalls the boot-kicking rock 'n' roll of Americana. The jumpy rhythm section and quickly strummed acoustic guitar behind "Wrongtime" might have shown up on The Fashion Focus, when Martin let his love for The Smiths and New Order shine through.
Martin admits that when it all comes together, it might sound like a "best of Starflyer 59" pastiche, but Slow comes to terms with his long career by having a honest dialogue.
"I'm kind of an oddly nostalgic person," Martin says. "I don't like change. It's looking back, looking at the last 20 years with my wife and the band, my kids, getting old and older. It's hard for me to grapple [with the fact] that I'm closer to 60 than I am 20, you know what I mean?"
Going into Slow without a defined vision makes this the most freewheeling Starflyer 59 record in years. The album features drummer Trey Many and bassist Steve Dail, who have served as Martin's longest-running backing band since 2006's My Island. It's book-ended by quiet reflection, and filled with the kind of songs Jason Martin has always written, just now with far more perspective than the twentysomething who made Silver: "You gotta live it to have it. Whatever that means." With his characteristically dry sense of self and humor, Martin shares his thoughts on each of the eight songs below.
"I'm like a minor-league ball player, man," he says with a laugh. "I'm better than some, but not good enough to get it done. That's not me being humble. That's just me looking at it pretty honestly."
Hear Starflyer 59's 'Slow'
"This tune was written about three years ago. I put down a very slow and simple drum-machine beat, and the piano chord progression. I titled the song on my hard drive 'Slow,' so I would remember which demo it was. A couple of months later, I put a scratch vocal on it and pretty much forgot it was there. While working on the final tracks for the record, I found the song and liked it better than I remember liking it, and decided to put it on the record. Had no intention of it being a lead-off track, but after hearing the finished mix, it seemed like a nice way to set up the record.

"It's a song about me and my wife taking it as literal as possible. I just can't believe how fast time has gone by. We were just a couple kids when we got married. It's a three-minute version of 20 years."
"This song was written 'proper' for the record, 'proper' meaning I had it written from beginning to end before anything was recorded. Some songs of mine are something that progress as they go, the good and the bad of recording on a computer, I guess. I used a lot of guitar effects for some of the leads, more than I usually have done in the past, but it has a smoothness to it that I like for this song. Thought it might make a nice lead-off track, but we changed our mind with the sequence at the end."
"This song was made from a bass line I had around for years. I never could find a song that it worked for; it just always felt wrong. Decided to make the song really fast, and it finally felt like it worked. As far as guitars, I wanted it really minimal, with a couple of heavy spring-reverb leads popping out here and there. I wouldn't say this is a pretty song, but it does give me the vibe of the stuff I loved as a teenage kid [like] Love And Rockets, New Order, some early Cure stuff — really fast, dark-chorded tunes that are centered around a bass line. Left to my own devices, I probably would just do that. I like really spooky songs and I like real major [key] songs, so I don't know how that fits in — that's just Starflyer. I like interweaving them both."
"I had just bought a little Orange amp for my studio and wanted to hear how it recorded, so I laid down some drums and just started playing some riffs and came up with the main guitar part for the tune. It had a '90s Starflyer feel to it that I wasn't sure I liked, but like the rest of the album, it felt like going back in time a little bit, so I rolled with it. I added a verse and chorus, sang a quick vocal, and that was about it. Song didn't change too much from the original version that was made that day. Most of the vocals and the guitars for the final version were kept from that session."
"Some of my favorite tunes over the years have been the ones that are a complete song over one simple progression. The Cure did that a lot. 'Rebel Rebel' by David Bowie. It takes a special talent to write something really simple, but the parts don't change.
"I remember being a kid and going over certain songs and thinking, 'Oh, man, if I'm just doing these three chords, that's everything. That's the riff, that's the verse, that's the chorus, that's the bridge.' It's easier to go somewhere in a song if you change it up; it's actually harder to stay in the same chords. Some guys can do that all day long, write a three-chord tune, write 10 of them in a row. The king of that would be the old Social Distortion stuff, which I liked as a kid. Every one of that guy's songs do not change — they're the same, literal, two to three chords all the way through.

"I'm not saying this is the perfect version of that, but that was the idea when it was written."
"This is another song that was written 'proper' for the record from start to finish. Not really a trick or gimmick tune, just a straight song with a descending chord progression. Lyrically, this song is pretty much self-described in the title; basically, it's about what you do when there's nothing left to do.

"A gimmick song to me is a song like 'Cherokee.' It's based around a goofy bass line, and you're going for a mode with the guitar sound. It's more based on style than substance. I like gimmick songs — that's what I call 'em — and I also like song-songs. I don't know that anyone looks at them any different. 'Retired' is just a song that I wrote; there was nothing tricky about it. It just means you're piecing it together. In other words, if I sat in there with an acoustic guitar in front of you and played 'Cherokee,' it wouldn't go anywhere because it needs the bass line, the little riffs coming in and out — it would get very boring to play that. But if I sat there on acoustic guitar and played a song like 'Slow' or 'Retired' or whatever, it's just a song. No matter what's going on, it doesn't necessarily need the licks and tricks just to be a tune."
"There were a few songs we didn't put on the record. I'm not sure how this one made it; maybe it just felt nostalgic to me. The song really came together for me when Steve [Dail] put his bass line on the demo, and the way it wrapped the whole song around just felt right. It's a quick little two-minute ditty, but probably the closest thing I've done in almost 20 years that resembles my original intent for what the band was supposed to sound like when it was started in '92.

"When I started doing Starflyer, I just wanted to have fuzzy guitars, major 7th-type chords and real simple in-and-out, couple minutes. I was into a band like The Boo Radleys when I was a kid, and they did a lot of that. When that song was done, I didn't think it was the greatest thing ever, but it made me nostalgic — a little slice of 20-year-old me. I wouldn't even know how to do an album worth of that stuff: Sometimes you're so far removed from something that you kinda forget, but for some reason, that song came together."
"This was one of the first songs written for the record. We rehearsed this song for a few hours, playing it uptempo and straight, and [drummer] Trey [Many] had the idea of slowing it way down and playing the tom-tom drum beat. It really changed the dynamic of the song, from being an uptempo pop-type tune to giving it a darker feel. So for the new mode of the song, I wanted my guitars to match the feel; lots of single-note guitar echoes that keep the drums and bass carrying the song. Got back the final mix from J.R. McNeely and was stoked with the final result. It wound up being one of my favorite tracks on the record.

"I'm just a nostalgic person. In my pea brain, I'll look back at something from 15, 30 years ago and say, 'Oh, that was great,' as if there weren't problems or sadness back then. You look back and think they were great times, and it's probably not true; you just remember the good stuff and shove the bad stuff in a special place. You give me another 10 years and I'll be talking, 'Oh, yeah, that Slow era, those were such good times.'"