A Lot Of Songs About Ice Cream
A Lot Of Songs About Ice Cream
On July 15, 1984, President Ronald Reagan signed a proclamation declaring July National Ice Cream Month, and called "upon the people of the United States to observe these events with appropriate ceremonies and activities." As this week marks that momentous occasion's 32nd anniversary, hosts Bob Boilen and Robin Hilton see it as their civic duty to do an entire show about ice cream.
To make this week's playlist, we asked you to tell us about your favorite songs and memories of ice cream. What we got was a lot of wonderful stories and a mix that includes everything from colorful cuts by Louis Prima and Jonathan Richman to Van Halen, Syd Barrett and plenty of novelty songs.
But before we get too deep in the show, we attempt to make ice cream in the studio with the help of Allison Aubrey of NPR's The Salt.
Songs Featured On This Week's Episode
Jonathan Richman
Song: Ice Cream Man
from Rock 'N' Roll with the Modern Lovers
Bob picked this song, which proves (as if there was any doubt) that Jonathan Richman is a total kid at heart. Bob remembers seeing Jonathan crawling around on the stage pretending to be a dinosaur at one show.
Michael Hearst
Song: Ice Cream!
from Songs For Ice Cream Trucks
Bob picked this sweet song by Michael Hearst that comes from an album all about ice cream. The song is made with a series of keyboards that include a chord organ plus a glockenspiel, with vocals interspersed in between.
Louis Prima
Song: Banana Split For My Baby
from Capitol Collectors Series
Louis Prima's classic ice cream song is meant to be heard with a martini in hand. "Banana Split For My Baby" was picked by a listener named Ron who recounts this story: "My paternal grandparents, one day in December of 1930, took a walk uptown from where they lived in the city of Rockland, Maine. My grandmother was expecting at the time. They stopped at an establishment called Thurlow's Ice Cream Parlor in the business district. While they were there, she went into labor. They left and walked another couple of blocks to the city hospital and hours later my father was born. He has always told people that he came into the world on a scoop of ice cream."
The Hungry Food Band
Song: Ice Cream Sandwiches
from A Lot Of Songs About Food
Robin picked this song by the novelty group The Hungry Food Band because it reminds him of Bob's love for ice cream sandwiches. The song comes from the 92-track (yes you read that right) album A Lot Of Songs About Food, which Bob deems the 69 Love Songs for food in reference to the classic album by The Magnetic Fields.
Podington Bear
Song: Ice Cream Sandwich
from Bon Voyage
Another pick from Robin about ice cream sandwiches, this joyful track comes from the prolific music producer Podington Bear. This delicious instrumental song manages to scream ice cream without saying a word. You can find this and other delights on the record Bon Voyage.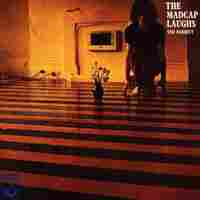 Syd Barrett
Song: Love You
from Madcap Laughs
This track comes from Pink Floyd founder and rock legend, Syd Barrett. "Love You" is the perfect marriage of love and ice cream with it's carousel sounds including ice cream bells and sweet love-dovey terms of endearment.
Sarah McLachlan
Song: Ice Cream
from Fumbling Towards Ecstasy
One of the most popular songs picked by our listeners this Sarah McLachlan track comes from the album Fumbling Towards Ecstasy. "Ice Cream" is simple and beautiful love song built around the line, "Your love is better than ice cream."
Van Halen
Another listener pick, this track by Van Halen is a cover of a classic blues song of the same name by John Brim, with a red-hot guitar solo that may melt your popsicle.
Tom Waits
Song: Ice Cream Man
from Closing Time
This track was picked by a listener named Donna who says her favorite ice cream memory is, "Eating a cone walking down the street in the Minnesota midwinter subzero cold. The server talked us into it: 'It's the perfect way to eat ice cream — no melting!'"
Blur
Song: Ice Cream Man
from Magic Whip [LP]
Blur's "Ice Cream Man" is perhaps the darkest song on this list. The Ice Cream Man in this song sounds almost like the Grim Reaper, with his magic whip and references to "lantern men" and a sinister party where everyone freezes. The song features an equally dark line of bubbling synth and brooding blues guitar.
"Weird Al" Yankovic
This song was picked by a number of listeners, including Jean, who says, "In the 6th grade, my teacher did a month-long unit on humor and comedy (tying it to our science lesson on the brain) where we spent three straight days listening to Weird Al' Yankovic. We were later treated to ice cream at the end of the year, and our teacher played 'I Love Rocky Road.'" Weird Al's spoof is a take on the song "I Love Rock 'n' Roll" made famous by Joan Jett & The Blackhearts.