New Mix: Bon Iver, The White Stripes, Lambchop, More
New Mix: Bon Iver, The White Stripes, Lambchop, More
This week on All Songs Considered, we return from break with new music by some of our all-time favorite artists, including a wildly different sound from Bon Iver, a previously unreleased White Stripes song and a remarkable new direction for the Nashville art-folk group Lambchop.
Also on the show: The Neutral Milk Hotel-inspired LVL UP, an arresting instrumental from Swans percussionist Thor Harris and Ed Harcourt's searing indictment against political corruption.
But first, Robin digs into a little gift from Bob: a Twinkie!
Songs Featured On This Episode
LVL UP
Song: Hidden Driver
from Return To Love
LVL UP is a group of four friends who met at SUNY Purchase in New York and bonded over a shared love of Neutral Milk Hotel, dirty guitar fuzz and labyrinthine lyrics. This is the breathless opening cut to the band's Sub Pop debut, Return To Love, out Sept. 23.
Lambchop
Note: This song is available to hear only in the full version of the show with the link at the top of the page.
Lambchop has been making artful acoustic music out of Nashville for the past three decades, rarely straying far from its country-folk roots. But on the band's new album, FLOTUS (For Love Often Turns Us Still), the group digs into synths, heavy voice processing and polyrhythms. FLOTUS is out Nov. 4.
The White Stripes
Song: City Lights
from Jack White Acoustic Recordings 1998-2016
The White Stripes originally recorded this song for the band's 2005 album Get Behind Me Satan, but shelved it. Jack White rediscovered and reworked it for a new collection of his acoustic recordings spanning the last 18 years. Jack White Acoustic Recordings 1998-2016 includes songs from The White Stripes and The Raconteurs, as well as White's own solo work.
Thor & Friends
Percussionist Thor Harris is known for his work with the experimental rock group Swans, but has also collaborated with Shearwater, Bill Callahan, Amanda Palmer and many others. Here, he teams with Peggy Ghorbani and Sarah "Goat" Gautier for a collection of curious instrumental pieces. Thor & Friends is out Oct. 7.
Bon Iver
Song: 22 (OVER S∞∞N) [Bob Moose Extended Cab Version]
from 22/10 (12"/Digital Single)
Bon Iver premiered this and other songs from the band's upcoming album — titled 22, A Million — in an August 12 concert at frontman Justin Vernon's own Eaux Claires music festival in Wisconsin. It's Bon Iver's first new album in five years, and it marks a dramatic new sound for the band. 22, A Million is out Sept. 30.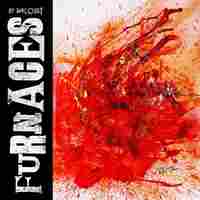 Ed Harcourt
Song: There Is A Light Below
from Furnaces
Ed Harcourt is a London singer-songwriter whose songs are both reflective and noisy, with plenty of arresting ear candy. His latest album is a stirring, often searing look at what Harcourt calls the "menace" of men in the world.