New Mix: Future Islands, The Black Angels, Jacaszek, More
It's starting to feel like every show this year is going to have music inspired or shaped in some way by social and political unrest. This week, that means a dark and gritty new cut about greed and corruption from The Black Angels, and singer David Bazan's (relatively) uplifting plea for empathy in his new song, "Care."
But we've also got plenty of other music to lift you up, including the wistful but celebratory new song from Future Islands called "Ran," and an epic, shape-shifting rock cut from the Athens, Ga. band Oak House. NPR Music's Lars Gotrich and Marissa Lorusso stop by the studio to turn us on to a couple of their favorite new discoveries, including some pure pop joy from a New York group called Charly Bliss, and the Japanese experimental psych-rock band Sundays & Cybele.
Bob also shares some arresting ear-candy from the Polish composer Jacaszek and the English singer-songwriter Johnny Flynn.
But we begin the show with some good news: "When the sun dies, the charred, lifeless remains of Earth will leave no evidence that humanity ever existed at all!"
-- Robin Hilton
Songs Featured On This Episode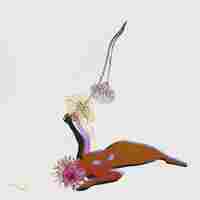 New Mix: Future Islands, The Black Angels, Jacaszek, More
Future Islands
Song: Ran
from The Far Field
Few bands strike a balance between unfettered joy and wistful reflection as brilliantly as Future Islands. "Ran" is from The Far Field, the band's first new full-length since 2014's Singles.
The Black Angels
Song: Currency
from Death Song
Heavy psych rarely feels as fresh as it does with Tiny Desk veterans The Black Angels, who know how to shred. The band's first new album in four years is Death Song, a play on a classic Velvet Underground track. "Currency" takes on the topic of money's role in a world that's bought and sold by a select few. Death Song comes out on Partisan April 21.
New Mix: Future Islands, The Black Angels, Jacaszek, More
David Bazan
David Bazan is back with his third full-length album in less than a year. The title track from Care is a moody slow burner, intended as a message of hope and unity. Bazan, who says he spent the last year performing protest songs, decided to make a plea for empathy with this release. "I found myself in an unfamiliar mode," he tells us, "trying to light a candle. The song 'Care' is the first one I lit." Care comes out March 7 via Undertow.
New Mix: Future Islands, The Black Angels, Jacaszek, More
Charly Bliss
"Glitter," from the New York-based Charly Bliss, juxtaposes dark themes with joyful melodies and saccharine vocals. Charly Bliss' debut album, Guppy comes out April 21 on Barsuk.
New Mix: Future Islands, The Black Angels, Jacaszek, More
Sundays & Cybele
Song: Chaos & Systems
from Chaos & Systems
NPR Music's Japanese psych expert Lars Gotrich shares a song premiere from the Tokyo-based freak-out act Sundays & Cybele. The group exercises unusual restraint on the title track of their upcoming album, which glides along the rails of a incessant kalimba beat. Guitarist and vocalist Kazuo Tsubouchi considers the chromatic tune a sort of rice planter song and a prayer for fertility. Chaos & Systems is out on February 24 via Beyond Beyond is Beyond.
New Mix: Future Islands, The Black Angels, Jacaszek, More
Oak House
Song: Esque
from Hot or Mood
Take in the mercurial swirl of the Athens GA-based rock band Oak House in this premiere from the group's upcoming debut. Frontman Gresham Cash says this epic jam was inspired by a Kafka-esque dream. Over its nearly six-minute course, "Esque" defies expectations with frenetic shifts in mood and energy. Oak House's Hot Or Mood comes out April 7.
New Mix: Future Islands, The Black Angels, Jacaszek, More
Jacaszek
Song: Soft Music
from KWIATY
Inspired by an anthology of 17th century metaphysical poetry, Polish electroacoustic composer Jacaszek returns with a record titled KWIATY. Here, we premiere the frail and affecting "Soft Music." Though it may feel like a trek across an arctic plane, this tune is as buoyant and vocal-driven as any in Jacaszek's career. Combining fragments from years past, the artist crafts a gorgeous blend of sounds. KWIATY comes out March 17 via Ghostly International.
New Mix: Future Islands, The Black Angels, Jacaszek, More
Johnny Flynn
Song: Heart Sunk Hank
from Sillion
London luminary Johnny Flynn returns with "Heart Sunk Hank," recorded in part on one of two working voice-o-graphs in the world. The resulting crackle effect, alongside the breezy intonation of this achingly beautiful self-duet, captures an English folk tradition of days past. Flynn's fourth record, Sillion, is out March 24 on Transgressive.