Why SXSW Matters: The Best Of What We Saw, 2017
SXSW isn't a rock festival, a hip-hop festival or a global music festival — it's a big bundle of everything rolled into five spring-warm Texas days. For artists, the choice to attend can be an expensive risk, traveling from Taiwan, Mebourne, Brixton, Brazil, or Italy hoping to be seen and heard. But sometimes it pays off. We go there to find music we're unlikely to see in our own backyard, find something thrilling, then shout out our fervent support.
On this edition of All Songs Considered, Robin Hilton, Stephen Thompson and I talk about the things we're most excited about following our time in Austin. From the ecstatic music of Britain's Anna Meredith, the dark and alluring work of New Zealand's Aldous Harding, the genuine joy of Bogota's Tribu Baharú, the provocative and fearless soul of Lizzo or simply puppets from Austin (yes, they even crowd surfed), what we hear at SXSW often serves as a signpost for the year ahead.
We also revisit our own showcase in Austin: Watch concerts from PWR BTTM, Hurray for the Riff Raff, Lizzo, and Big Thief. (One more set from NPR Music's showcase is on the way.)
We also shared some personal moments with bands amidst all the craziness — I urge you to take time and watch our escape from the madness with intimate sessions from Nina Diaz & Luz Elena Mendoza, L.A. Salami, Let's Eat Grandma, Valerie June and Jealous Of The Birds (and a couple more still to come) for our South X Lullabies series. — Bob Boilen
Songs Featured On This Episode
Fragile Rock
Song: Stay Felt (Live)
from Weepy E​P
We begin our show with what is almost definitely the world's first puppet emo band, Fragile Rock. During the show Bob saw, one of the puppets even crowd surfed. Fraggle Rock, the Muppety namesake of the band, taught kids about the importance of compassion — Fragile Rock preserves that tradition with its song "Stay Felt."
Hard Proof
Song: Stinger
from Stinger
You can draw a straight line back in time from Hard Proof to foundational afrobeat musician Fela Kuti. Hard Proof rocked the South By stage with a upbeat and incredibly danceable performance. "Stinger" showcases its remarkable horn section.
Lizzo
Song: Worship (Live)
from Worship (Live)
During her set at the NPR Music SXSW showcase, Lizzo gave one of Robin Hilton and Stephen Thompson's favorite performances of the entire week. The singer is having a breakout year after three previous trips to the festival.
Anna Meredith
Song: The Vapours
from Varmints
Composer Anna Meredith takes elements of 70s progressive rock and a mix of classical minimalism to create new and ecstatic music. "The Vapours," from Meredith's solo debut Varmints, is enthralling, featuring an unorthodox ensemble of clarinet, cello, tuba, two percussionists and more. Bob describes her SXSW performance as one of the "most uplifting musical moments" he's seen in his lifetime.
Let's Eat Grandma
Song: Deep Six Textbook (Live)
from Deep Six Textbook (Live)
Childhood friends Rosa Walton and Jenny Hollingworth formed their fiendish-sounding, nursery-rhyme-inspired English band in 2013. Four years later, they delivered a South X Lullaby from within a wood-slatted Airstream trailer.
Grandaddy
Song: The Boat is in the Barn
from Last Place
Grandaddy is back from a 10-year break with a stellar full-length album called Last Place. Robin was overjoyed to see the group share highlights from the album, along with older favorites, during a SXSW performance for nearly 2,000 adoring fans.
Frances Cone
Song: Arizona
from Arizona
This deceptively named Brooklyn act is not a solo artist, but rather a four-piece band that makes tunes whose crisp production permeates hooky-yet-complex songwriting. Bask in the warm and billowy "Arizona," the first single from Frances Cone's upcoming third album.
Calliope Musicals
Song: 1604
from Time Owes You Nothing
Calliope Musicals put on quite a show this year, musically as well as pyrotechnically, what with the lasers and a tablet computer suit beaming animated lips. Stephen compared the group's energy and showmanship to that of the spiritual jazzman Sun Ra. With "1604," the Austin band presents a rich and swirling example of modern space-rock done right.
Aldous Harding
Song: Imagining My Man
from Party
Note: A bit of the unreleased song "Imagining My Man" can be heard in the full All Songs Considered episode with the listen link at the top of this page. The only full track currently available from her upcoming album Party is "Horizon."
Tribu Baharú
Song: Made in Tribu Baharú
from Pa'l Más Exigente Bailador
For a real party, look no further than Colombian band Tribu Baharú and its ode to... well, itself. "Made in Tribu Baharú" is one continuous celebration. With its cries and cheers and high-density percussion, the group champions the style of champeta — a feverish amalgam of Euro-African and Caribbean genres.
Allison Crutchfield
Song: Chopsticks on Pots and Pans
from Tourist in this Town
Earlier this year, NPR Music premiered Crutchfield's Tourist in This Town as part of the First Listen series. The singer's memorable performance at Waterloo Records in Austin closed with this cut, "Chopsticks on Pots and Pans," which includes the line, "More than anything, I just wish I didn't care."
Phoebe Bridgers
Song: Smoke Signals
from Smoke Signals
From Bob's hotel room, Phoebe Bridgers performed a plaintive rendition of a song that's become a staple here at All Songs Considered. Bridgers strips away the strings, leaving only guitar, minimal percussion, and faint bits of harmony.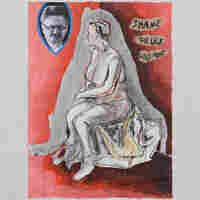 Shame
Song: The Lick
from Gold Hole / The Lick
London band Shame captured the spirit of punk in a good-natured show of vulgarity and destruction during this year's festival. Member Charlie Steen lost his suspenders (and later his pants) before attempting to climb atop a photo booth (only to crash to the concrete). "At least I tried!" the singer hollered as he emerged from the crowd. With its evocative lyrics and sneering attitude, "The Lick" funnels contemporary themes through the classic sound of greats like Hüsker Dü.