New Mix: Kendrick Lamar, Weed, Adam Torres, More
So I took last Friday off to clean out my garage and ended up using the time to listen to the new Kendrick record, DAMN. over and over again. It was a glorious, uninterrupted stretch of several hours, but even that wasn't enough to really understand everything he covers on it. DAMN. is dense, packed with religious imagery, deep thoughts on race, fame and identity, and a whole lot of personal stories and memories. Those are some initial observations. You can read a lot more thoughts on DAMN. from the NPR Music team and writer Oliver Wang's review. Like a lot of other fans, I'll be digging into this one all year. But we kick off this week's show with one particular story Kendrick Lamar shares at the end of the record called "DUCKWORTH." It's a story of several remarkable coincidences that ultimately led to him becoming one of the most important rappers alive.
This week's show also has some fantastically fuzzy garage rock from the Vancouver band Weed, some dreamy sounds from both the incredible singer Adam Torres and the Brooklyn-based ambient pop group Cigarettes After Sex, and existential meditations on out of body experiences from the duo GEMS.
Plus, NPR Music's Marissa Lorusso stops by to share the infectious sounds of Ratboys (no rats, no boys in the band), and we say goodbye to our intern, A Noah Harrison who plays a plainspoken, joyful cut from the band Terror Pigeon. -- Robin Hilton
Songs Featured On This Episode
Kendrick Lamar
We begin our show with the final track from Kendrick Lamar's eagerly-awaited album DAMN. "DUCKWORTH." tells the remarkable story of how an act of kindness changed the course of the rapper's life and career. "Whoever thought the greatest rapper would be from coincidence?" he asks us on the cut.
This song is available to hear in the full version of the podcast — hit the play button at the top of this page.
Adam Torres
Song: I Came to Sing the Song
"I Came To Sing The Song," from Torres' EP of the same name, begins with a slow, plucked guitar against audible whoosh of the room tone. It's hard to imagine how something so soft can deliver such force, but as soon as Adam Torres lets out his wistful falsetto, you won't have to.
Cigarettes After Sex
Cigarettes After Sex's ambient single "K." feels almost like a slowed down and smeared '80s synth-pop cut. Vocalist Greg Gonzalez told us the song "was written about a very difficult, but sweet, long-distance relationship I had back in the fall of 2015. It was a bit too perfect in that we missed each other a bit too much after and it fell apart." Cigarettes After Sex's self-titled debut album comes out out June 9.
Weed
With "Are We Cool?," Vancouver's bluntly named Weed delivers a potent hybrid of '90s shoegaze and '70s hard rock. It's from Born Wrong Love, out April 28. Frontman Will Anderson says the song is about someone who "offered me what I now realize was actually real love and acceptance... So [it's] me sheepishly trying to come out of the woodwork and re-enter their life, asking if we're cool. The answer is 'nah, not really.'"
01Chamber Of Secrets For 1
Terror Pigeon
Song: Chamber Of Secrets For 1
For intern A Noah Harrison's last hurrah with All Songs Considered, he shares a track from Nashville-based Neil Fridd's project Terror Pigeon. Fridd's densely layered dance jams have a disarming innocence about them, radiating almost spiritual positivity in the face of adversity. On the opening cut of his third record — We Will Never Run Out of Love, out in July — he speaks plainly about his impossible love for a friend's partner: "I think I have to hold my feelings / 'cause your boyfriend rules and I'm just a fool / who shows up every two months / so can I freaking chill once?"
Ratboys
NPR Music's Marissa Lorusso brings us "Control," from the self-described post-country Chicago act Ratboys. Only toward the conclusion does its true twang reveal itself, but the song rocks all the the way through, at points creeping into emo territory. "Control" comes from Ratboys' upcoming sophomore album, GN, out June 30.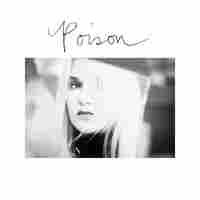 GEMS
The dreamy "Poison," from D.C.-formed, LA-based GEMS, is the fifth song from their "Every Full Moon" series; one new song with each full moon. Lindsay Pitts told us that "Poison" is about living in a state of dissociation from the self: "I found I was neglecting some harsh real-life things, like my crumbling relationship, and when I found myself back on earth, it was impossible not to deal with the not-so-fun realities of being a human."