New Mix: Feist, Beth Ditto, Frankie Cosmos, Rostam, More
Bob Boilen and I rarely know what each other is going to play before we record the show. This week, Bob didn't even know what he himself was doing because he was too busy to plan ahead. Somehow he managed to scrounge up some gems from former Vampire Weekend multi-instrumentalist Rostam Batmanglij, and another one from the Sufjan Stevens, Nico Muhly, Bryce Dessner and James McAlister project known as Planetarium. In between, I share a cut from the stunning new Feist album, her first in six years.
NPR Music's Lars Gotrich also stops by to share a bubbly and joyful song from Frankie Cosmos, covering the British band Kero Kero Bonito.
All that, plus a thumping new jam from former Gossip powerhouse Beth Ditto and a transporting electronic instrumental from the duo known as You'll Never Get To Heaven. -- Robin Hilton
Songs Featured On This Episode
Sufjan Stevens, Bryce Dessner, Nico Muhly & James McAlister
Song: Mercury
from Planetarium
The second cut shared from the upcoming Planetarium project, due out June 9 on 4AD, "Mercury" is a sweetly sad and delicate elegy to lost love, inspired in part by the Roman god of thievery. Unlike the song "Saturn" that we previously featured on the show, Sufjan's voice here isn't as heavily processed.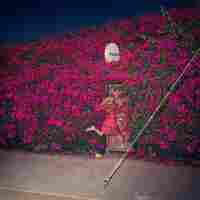 Feist
Song: A Man Is Not His Song
from Pleasure
Leslie Feist returns after a six-year break with this stunning collection of spare songs full of sonic surprises. This cut, "A Man Is Not His Song," which explores the idea that things are rarely what they seem to be, includes an unexpected choral section before closing with a gritty sample from the metal band Mastodon.
Rostam
Rostam Batmanglij got his start as a multi-instrumentalist with the band Vampire Weekend. He goes just by Rostam for his solo work and is set to release a new full-length later this year. He says this first single from the album "is about trying to listen to what your subconscious mind is trying to say to you."
You'll Never Get To Heaven
Song: Rain Copy
from Images
You'll Never Get To Heaven is an ambient pop duo from Canada featuring singer Alice Hansen and self-proclaimed "studio-obsessed sound shaper" Chuck Blazevic. Their latest full-length, Images is a mix of sung pieces and electronic instrumentals, including this transporting album closer "Rain Copy."
Kero Kero Bonito
Song: Fish Bowl (Frankie Cosmos Remix)
from (Single)
Frankie Cosmos covers the song "Fish Bowl" by the British electro-pop band Kero Kero Bonito. It's part of a remix project featuring some of Kero Kero Bonito's favorite bands reworking songs from their 2016 debut full-length Bonito Generation.
Beth Ditto
Song: Fire
from Fake Sugar
Beth Ditto is a force-of-nature performer best known for fronting the pop-punk group Gossip. The band officially broke up last year and now Ditto is about to release her first solo album. Fake Sugar, out June 16, is a mix of disco, dance pop and punk rock, with one song that even channels '50s girl group harmonies.