A Mother's Day Mix: Songs That Remind You Of Mom
All Songs Considered
Listen To The Podcast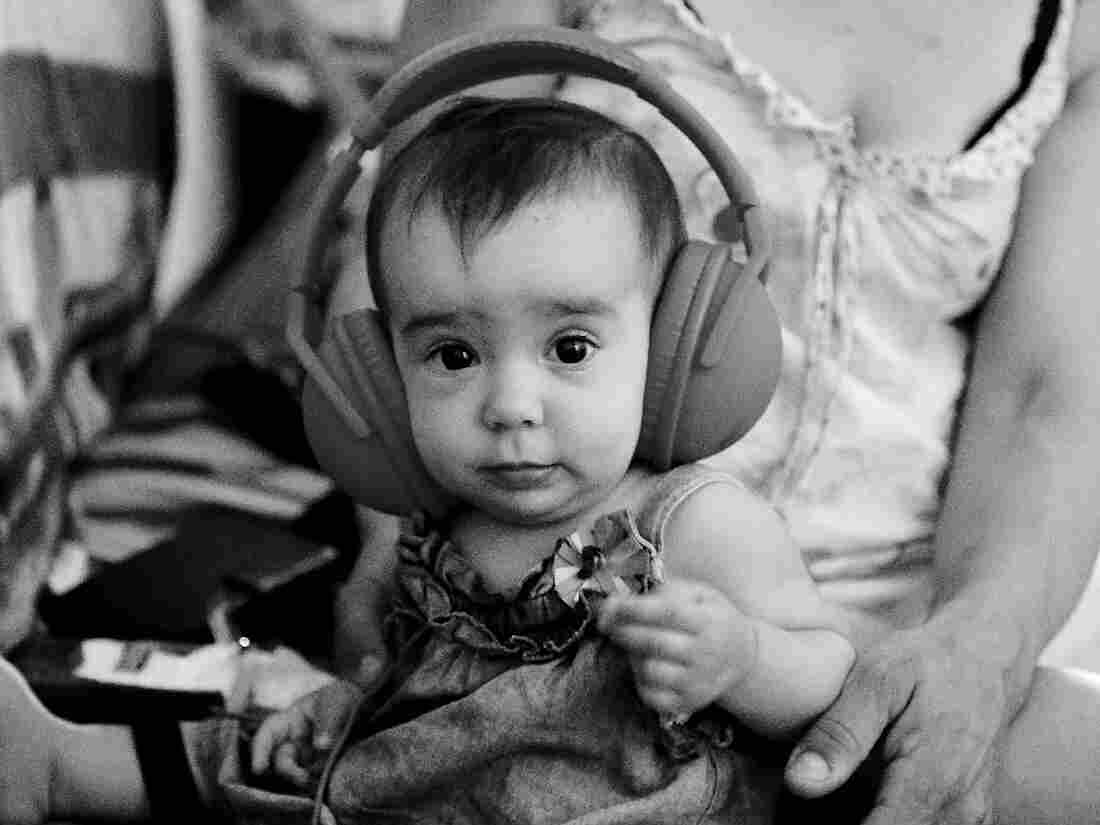 Grab your hanky — you're gonna need it for this week's episode of All Songs Considered. Bob Boilen and I certainly did while reading and listening to all of the incredible stories we received from listeners about the songs that remind them of their moms. Some were funny, some were dark (a few of you have issues way above our pay grade), but most were heartfelt and full of joy, sometimes grief, but always ending with unconditional love.
We got several thousand stories and song picks, way more than we could share in a single show. But here are a handful of the ones that moved us the most, sometimes in the simplest and smallest ways. You can hear the songs and read edited excerpts from the stories below, or listen to the full show — you really should — with the play button at the top of the page. Happy Mother's Day, everyone. -- Robin Hilton
Songs Featured On This Episode
Don't Get Around Much Anymore
from Sings the Duke Ellington Song Book
by Ella Fitzgerald
"My mom's such an amazing technical singer 'cause she's an opera singer, but she's always loved rock 'n' roll and jazz. Jazz was never something I thought I could play or access, but it was always something I loved to listen to. Now that my mom is in my shreddy, gay, glitter-drenched punk rock band, the memories I have most of her are singing. It's like everyone just knew that my mom is this incredible singer who sang professionally and stuff and was really modest about it. So it'd be late into the night and she'd say, 'Alright, I'll sing.' And she'd always sing this song." -- Ben Hopkins of PWR BTTM
What a Wonderful World
from What a Wonderful World
by Louis Armstrong
"I grew up celebrating Mother's Day with brunch at a small restaurant in Bucks County with my family. We're far from perfect — in fact, perfectly flawed in many ways! But those sunny Sunday Mother's Day mornings would be shared over breakfast. Oftentimes my dad would wait until the last minute to make reservations or plans for the holiday (much to my mother's dismay), so there would be years that those brunches would be less warm and cheery than others. But no matter the year, there was an old jukebox in the corner of the restaurant and each year my parents would dance to the song 'What a Wonderful World.' In my own moments of frustration, I call upon that memory of taking a few minutes out of a busy day to show your love to one another in the simplest of ways, and how it can offer a hiatus from small annoyances of the daily grind. That song holds a very special place in my heart as a reminder of those moments and the lessons my parents taught me. Additionally, that memory also stands as a reminder of my mother's constant and sage dating advice to me in any relationship I've had: 'Find a man who likes to dance.' Cheers, Mom, to one day having someone to stop breakfast to dance with me, in front of the kids, to 'What a Wonderful World' on a jukebox, and showing my brother and I what love looks like." -- Kylie, from Philadelphia
Smile
from 16 Most Requested Songs
by Tony Bennett
"My Mother's life was filled with almost immeasurably deep suffering. She lost her entire family to World War II at 17, left her homeland, and made her way alone in America. [She] spent years in and out of hospitals with severe bipolar illness, yet when caring for me and my siblings only ever spoke kindly, joyfully, and with deep gratitude for life and its beautiful offerings. It was her singing that I most remember. Her rounded voice always filled our tiny, crowded apartment. I knew she didn't want to burden us as young children or add to our own horrors. But when she sang 'Smile,' when she sang that particular tune, my heart always stopped a moment and I heard everything." — Hannah, from New York
California Dreamin'
from If You Can Believe Your Eyes and Ears
by The Mamas & the Papas
"It was my mother's favorite, but I have a distinct memory. It was 1984 and I was four. She had taken me to a park to play, when we lived in Normal, Illinois. It was fall and there were giant red and golden leaves everywhere. When we got back in the little blue Datsun to go home, her Mamas & The Papas tape that was always in the player started to play that song. And as we drove away, all the beautiful fall leaves blew across the ground. It was a great day." — Alex, from Fort Worth, Tx.
My Name Is Jonas
from Weezer (Blue Album)
by Weezer
"My wife's a huge Weezer fan and I know she plays it in the car when she's driving [our kids] to daycare and preschool in the morning. And I know it's either the Blue Album or the White Album — that are from the two opposite ends of the Weezer catalog, the beginning and the most recent — that's what she plays and I'm sure that's what [our kids] would pick." -- Robin Hilton, predicting the music that will remind his kids of their mom
Imagination
from Essential Frank Sinatra with the Tommy Dorsey Orchestra
by Frank Sinatra/Tommy Dorsey & His Orchestra
"As a kid, she always was just singing around the house. She's 90 now and every time I call her you hear the music loud in the background. She uses the cable TV 'Singers And Swingers' channel — and it's on every TV in the house. I love you, Mom. I'll send you something nice for Mother's Day!" -- Bob Boilen
You Are My Sunshine
from O Brother, Where Art Thou?
by Harry McClintock
"The song that reminds me of my mother is 'You Are My Sunshine.' For some reason I have a memory of her singing that to me when we were in bedroom when I was little, and it's just one of those songs that makes me think of her." -- Robyn, from Kuwait
Holiday in Spain
from Hard Candy
by Counting Crows
"Music served as a magical connection between me and my mom. My mom loved the classic '70s rock of her youth, especially The Eagles. But when I was a teen in the '90s, she was the cool mom who loved contemporary music. We planned vacations around seeing rock concerts. Every year for Mother's Day, I would buy us a pair of concert tickets to spend the evening together — just the two of us. Over the years, we went to at least two-dozen shows. Our favorite was Counting Crows. At every show, they finish the concert with their melancholy 'Holiday in Spain.' My mom loved this song. Mom died last year, suddenly. There are dozens of songs that remind me of her, but 'Holiday In Spain' holds a special place in my heart." -- Al, from San Antonio, Tx.
Forever and For Always
"In our silver minivan, [Mom] kept what I knew as the 'red CD,' a copy of Shania [Twain's] album Up!. Driving to preschool or running errands, my mom belted every song in her thick southern drawl. My dad, years later, cackles with laughter recalling how awful a singer she was, and how illuminated she would become serenading her family, even if she couldn't carry a tune. My mom passed away when I was seven and it wasn't until recently, when I got my license and began driving the old minivan, that I rediscovered the coveted red CD. I popped it into the CD player, cranked the volume and sang along, belting every word in my own subtle southern drawl. A decade later, I recalled the sunshine in her hair and the warmth of her voice in a way grief had allowed me to forget. In that moment, driving down roads that would be nearly [unrecognizable] to her now, I held the lyric 'we will be together all of our days' close to me, imagining nights she tucked me into bed with those same words. How warm I feel knowing I will take her love wherever I go, forever and for always." -- Caroline, from Apex, NC
The Circle Game
from Ladies of the Canyon
by Joni Mitchell
"My mom has always loved Joni Mitchell and used to play her albums often. Over the years the song has only deepened in meaning for me, through many, many happy memories but also through the hardest times of my life. We lost my older sister almost 13 years ago, and then my younger brother just last year. All my grandparents have passed away and I know someday I'll have to say goodbye to my father and mother, too. To me, this song embodies how we all can only move forward in time, but we can always look back and cherish our memories and remember all the beauty we've been fortunate to have in our lives. It's a hard song for me to listen to at times, but there is comfort in it as well. I'm reminded to be thankful for what I have been given in life and to never take my family — especially my mother — for granted." -- Alyssa, from Denver, Col.