New Mix: Jeff Tweedy, Kevin Morby, Big Thief, Mitski And More
New Mix: Jeff Tweedy, Kevin Morby, Big Thief, Mitski And More
A couple of weeks ago I snuck a Harry Styles cut on the show, to see if I could trick Bob Boilen into loving the One Direction singer's solo effort by not telling him who it was. (It didn't work). This week I try to get another One Direction song by Bob via one of his favorite singers, Mitski, performing a cover of the song "Fireproof" from One Direction's album Four. Did I fool Bob? Oh yeah.
Bob followed with a burst of gritty rock from singer Kevin Morby, who pays tribute to The Ramones on the song "1234." We've also got a brief conversation with Morby about how he used to listen to The Ramones as a child — in daycare — and why he decided to pay tribute to the band on his new album, City Music.
Also on the show: Wilco frontman Jeff Tweedy's quiet, acoustic version of the band's propulsive pop song "I'm Always In Love," from a new collection of solo studio sessions; Canadian singer and guitarist Jon McKiel calls for love and unity in a chaotic and cathartic new rock track; the Brooklyn-based band Big Thief has what has become Bob Boilen's favorite song of the year; and the arresting sounds of singer Kate Stables, a Paris-based artist who writes and records as This Is The Kit. -- Robin Hilton
Songs Featured On This Episode
New Mix: Jeff Tweedy, Kevin Morby, Big Thief, Mitski And More
Mitski
Song: Fireproof (One Direction Cover)
from Our First 100 Days
Mitski covered the One Direction song "Fireproof" for the compilation album Our First 100 Days, a collection of originals and covers by various artists to raise money for women's and immigrants' rights, and climate change.
New Mix: Jeff Tweedy, Kevin Morby, Big Thief, Mitski And More
Kevin Morby
Song: 1234
from City Music
This driving burst of rock is an homage to The Ramones. "What Woody Guthrie was to folk," Morby tells us in an interview, "The Ramones were to punk." This song is from Morby's upcoming album City Music, an ode to the urban areas he loves and the people who live there, out June 16 on Dead Oceans.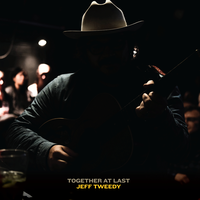 New Mix: Jeff Tweedy, Kevin Morby, Big Thief, Mitski And More
Jeff Tweedy
Song: I'm Always In Love
from Together At Last
On Together At Last, the Wilco frontman performs solo acoustic versions of songs from across his band's catalog, along with songs from side projects Loose Fur and Golden Smog. A fuller, much louder version of this song, "I'm Always In Love," originally appeared on the 1999 Wilco album Summerteeth. Together At Last is out June 23.
New Mix: Jeff Tweedy, Kevin Morby, Big Thief, Mitski And More
Big Thief
This Brooklyn band took a huge leap forward on its sophomore full-length Capacity. Bob Boilen calls this, the penultimate cut from that album, his favorite song of the year. Capacity is out June 5.
New Mix: Jeff Tweedy, Kevin Morby, Big Thief, Mitski And More
Jon McKiel
Song: Conduit
from Memorial Ten Count
Jon McKiel is a singer and guitarist from New Brunswick, Canada who makes beautifully distorted, chaotic rock. He says this song, "Conduit," serves "as a peace sign and a plea to answer to love rather than authority. It is a message of peace and defiance and a simple observation that many of our systems are inherently racist and broken." McKiel's latest album, Memorial Ten Count, is out now.
New Mix: Jeff Tweedy, Kevin Morby, Big Thief, Mitski And More
This Is The Kit
Song: Moonshine Freeze
from Moonshine Freeze
This Is The Kit, otherwise known as Kate Stables, is a singer with an arresting voice who divides her time between Paris and Bristol, England. The National's Aaron Dessner, who originally signed her to his label Brassland in 2012, plays synths, guitars and piano on this cut for This Is The Kit's Rough Trade debut Moonshine Freeze.