New Mix: Turning The Tables Takes Over All Songs Considered
Advisory: This show contains profanity.
All Songs Considered
The 150 Greatest Albums Made By Women
The 150 Greatest Albums Made By Women
Turning the Tables was intended as "a correction of the historical record and hopefully the start of a new conversation" around women's place in the canon of modern music. This week, five journalists take over All Songs Considered in order to continue that dialogue.
NPR Music's Ann Powers, Suraya Mohamed and Anastasia Tsioulcas, NPR One's Jenny Gathright, and Minnesota Public Radio's Andrea Swensson unpack some of the top songs on our 150 Greatest Albums list and their experiences with the music on it.
We kick off with "Carey" from Joni Mitchell's Blue, in which dreams, love, and intimacy breathe easy. Next, Lauryn Hill's candid social commentary on "Doo Wop (That Thing)," Nina Simone's fearless look at the future on "Tomorrow Is My Turn," and Aretha Franklin's sensual wisdom on "Dr. Feelgood (Love Is A Serious Business)."
Also on the show: Some mother-daughter memories, Missy Elliott's new vocabulary on "Izzy Izzy Ahh," The B-52s' spunky confidence (which helped inspire the askew ponytail of a teenaged Ann Powers), empowering rhymes from a young Queen Latifah, Ofra Haza winning space for complex, marginalized identities and PJ Harvey's "Man-Size."
"Can you hear can you hear me now?"
Songs Featured On This Episode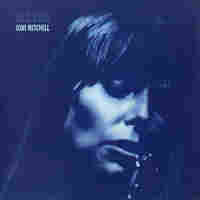 Joni Mitchell
"Carey" is an adventure story in which Mitchell wraps candid emotion, a yearning for intimacy, and a carefree abandon into one wrenching melody. Expressive, bold, and honest, Blue, which Mitchell wrote between different islands in the Mediterranean and recorded and produced herself, was voted greatest album the 150 albums on Turning the Tables.
Lauryn Hill
Song: Doo Wop (That Thing)
Hill schooled everyone in her 1998 self-produced release, The Miseducation of Lauryn Hill. On the indelible "Doo Wop (That Thing)," Hill doesn't shy away from sexual politics, personal experience, and female power, rapping: "Girlfriend, let me break it down for you again / Respect is just the minimum / Don't think I haven't been through the same predicament."
Nina Simone
Song: Tomorrow Is My Turn
Nina Simone remains an icon of female power and the uncompromising artistic statement. On "Tomorrow Is My Turn," from 1964's I Put a Spell on You, Simone's dauntless voice rings out over a sweetly quieted jazz ensemble, promising herself the future.
Aretha Franklin
Song: Dr. Feelgood (Love Is a Serious Business)
Aretha Franklin, winner of 18 Grammys and, far more importantly, the reigning Queen of Soul, is full of confident sensuality and everyday wisdom on I Never Loved A Man The Way I Love You. With conversational ease and that stunning voice, Franklin packs ageless insight on life and love into this cut.
Missy Elliott
Missy Elliott's '97 Supa Dupa Fly shattered the hip-hop boy's club. She's right when she raps, "You never heard beats like this before" on "Izzy Izzy Ahh." Her style and her swagger was and remains futuristic and effortless, making Missy Elliott an essential and a groundbreaker for the today's rap scene, from SoundCloud to TDE.
The B-52s
The '70s and '80s new wave in which The B-52s played a large, jittery and jubilant role, had everyone dancing. "52 Girls" shouts out the names of the "principal girls of the U.S.A" with exuberance and confidence — an homage that rings with contagious, irresistible fun.
Queen Latifah
Song: Wrath of My Madness
Queen Latifah's All Hail The Queen remains a female-forward, afro-centric coup to the male-dominated hip-hop scene of the early 90's. Recorded when she was only a teenager, Latifah's gold-certified "Wrath of My Madness" brags about female power in a pioneer rap style that shook hip-hop at its roots. In the words of NPR's Jenny Gathright, Latifah makes you "feel like you can take on the whole world as a young black woman."
Roberta Flack
Though Roberta Flack's "Tryin' Times" debuted on First Take from 1969, the lyrics — delivered by a voice that moves gracefully between prayerful reverie and untethered defiance — examine social tension with acuity and remain vital, as if written yesterday.
Ofra Haza
The Israeli singer and musician Ofra Haza carved out a space for the female voice and her own complex identity — both in Israeli culture and internationally. Coming from Israel's profoundly marginalized Yemenite Jewish community, Haza drew upon ancient religious poetry for her album Fifty Gates Of Wisdom - Yemenite Songs and its hit song, "Im Nin'alu," which was sampled by hip-hop and house artists like Eric B. and Rakim, Public Enemy and MARRS ("Pump Up The Volume").
PJ Harvey
Rock 'n' roll titan and self-designated "force-ten hurricane" Polly Jean Harvey slams gender expectations and challenges personal relationships with her explosive, searching, emotive Rid Of Me. Midway through the album, tongue in her cheek, she roars, "I want to fit I've got to get / Man-sized" and follows with musical turns that become threatening, theatrical, tender — and often all these at the same time.