Guest DJ Week: Courtney Barnett
Guest DJ Courtney Barnett
Note: Our week of Guest DJs continues with Courtney Barnett. Later this year the Australian guitarist and singer will release a new album she recorded with Kurt Vile. In October, the two will also embark on limited tour together. Back in 2015, Barnett had just released her debut full-length, Sometimes I Sit And Think, And Sometimes I Just Sit, when she joined Bob Boilen to talk about some of the artists who've influenced her own work and life over the years, from Wilco and Talking Heads to the Sydney band You Am I and fellow Australian signer Paul Kelly.
Mia Mala McDonald/Courtesy of the artist
Melbourne guitarist and singer Courtney Barnett has been an NPR Music favorite since I caught three of her performances at New York's CMJ Music Festival in 2013. Her blend of witty lyricism and deadpan delivery made for two excellent EPs, and this year a full-length that will surely end up at the very top of my year-end list, Sometimes I Sit And Think, And Sometimes I Just Sit.
Barnett just wrapped up a sold-out tour in support of the album, and I invited her to stop by between D.C. shows to act as our Guest DJ for this week's episode of All Songs Considered. I saw both of Barnett's shows at the 9:30 Club, and the crowds were full of younger fans, but also many of their parents. It's clear from the music she picked to play on our show that her musical sensibility, like her sound, spans decades.
The influential artists Courtney Barnett discovered as a kid — Australian folk and rock bands, Wilco, Talking Heads — came to her through family and friends young and old, in school and at shows. Words are often at heart of those songs. It's no surprise for someone who writes such amazing, conversational lyrics, but Barnett is huge fun to talk to, and she was excited to talk about the music that the loves, not just the music she makes.

You can hear the whole interview with the listen link above and read excerpts in our playlist below.
Paul Kelly & The Messengers
Song: To Her Door
from Under The Sun
"When I was in grade 10 — so [age] 16 — my English teacher [told] a class one day to pick apart this song called 'To Her Door' by Paul Kelly. So we had to go through the lyrics and figure out what every word meant, and why he used this word instead of that word and, you know, descriptive [language]. ... I think that was a bit of a moment because I'd been writing poetry and playing guitar and stuff up until then, but I think it just hit a different level because there were so many familiar Australian locations and a lot of it was just so familiar. So maybe it connected a lot more.
"Our teacher was pointing out that those methods of writing and the kind of narrative ... You know, the second verse or something talks about going to The Buttery, and I was like, 'I don't know what that is,' but I think it was a rehab thing in Sydney. So [I liked] learning what little parts of the songs were, which you might otherwise just brush off.
"I reckon that when I heard this song, it probably opened up seeing stories in a different way and how they can develop. Such a simple little story can have so much impact when it's drawn out. That song always sticks out for me because of that moment that I had with it that started a bit of a snowball of change."
Wilco
Song: Handshake Drugs
from A Ghost Is Born
"I remember when I first heard Wilco, and that was a year or so after I released my first EP. I heard a bunch of songs on someone's shuffle. That band stood out as something different, and again, it was a bit of a life-changing musical moment for me.
"'Handshake Drugs' would be the one that stood out. I've never been good at putting it into words. For one thing, that line, 'Exactly what do you want me to be?', that punches you right in the heart. I love it. But just the general groove and the three chords, it's this transfixing ... It goes for how long? Six, seven minutes? It's kind of dreamy ... you disappear into it. And then it all falls apart in the guitar at the end. It's incredible. ... [It's about] the contrast or something, the beauty in the contrast.
"I feel like I'd written my first EP songs, and then I discovered this band. From then on ... Everything that comes into your life changes it in some way. It feels like a lot of those songs that I'd done on the first EP were kind of like, they knew what was coming, if that makes sense. I was trying to write really simple, repetitive, one-chord, two-chord songs and find those contrasting moments. I think apart from the songwriting and the general writing, the dynamics in the playing has been a pretty big thing for me. From then on, [I've been] going into studios and making more music and just being really aware of how powerful that actually is, on top the song itself and the lyrics and the music ... starting super quiet and [with] beautiful piano and whatever, and crunching into something huge and ugly, but beautiful."
Courtney Barnett
Song: Depreston
from Sometimes I Sit and Think, and Sometimes I Just Sit
"It feels like it's a very constant theme in my songs, anyway, [this] kind of purpose-searching. I think everyone can kind of relate to that."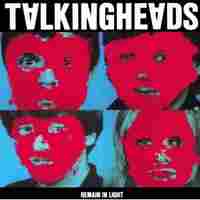 Talking Heads
Song: Once in a Lifetime
from Remain in Light
"[I first heard Talking Heads] in art class, grade 12, so I was 17, 18. But it was cool. We had a cool teacher who let us listen to music. My friend Rose, she just had all this cool music that she introduced me to, which I, again, hadn't heard of. She showed me The Pixies and Talking Heads and Television... stuff that I didn't know of. So we'd sit in class and faff around and listen to music.
"I think one of the things [I liked was] how different it was to other music I was listening to. The spoken, really casual verses probably inspired me a little bit, because I never sang in front of anyone until I was nineteenish. When I was doing my first shows, I always just played guitar, and I was always just so frightened by the idea of what a good singer should be and how they should sound. When I slowly started hearing other stuff like ['Once In A Lifetime']... I love [David Byrne's] voice. It just kind of opened up. You can just naturally do what comes out your mouth and out of your brain and it's probably 50 times better than the person with amazing skills."
You Am I
Song: Heavy Heart
from #4 Record
"It kind of tugs on my heartstrings a little bit. It's probably 'I miss you like sleep / There's nothing romantic about the hours I keep.' That's a brutal line.
"[You Am I is] a Sydney band. They're still playing, but they were doing heaps of stuff in the '90s. I heard this song on a compilation CD when I was, I don't know, a teenager somewhere? It just always stuck with me. But then, it's funny though — I didn't really get into them as much until my early 20s. It's just one of those weird things. It's one of my favorite songs."
Magic Dirt
Song: Vulcanella
from Tough Love
"One of the first gigs I went to when I turned 18 was Magic Dirt in this bar in Hobart, in a really small, 200-person room or something. It just blew me away. It totally blew me away. I hadn't really seen live music. And this song, 'Vulcanella,' she kind of puts down her guitar — Adalita [Srsen] is the singer, she does solo stuff now — but yeah, she put down her guitar, and the other guitarist keeps playing the riff, and she walks into the crowd singing this song. It's just a jumble of words.
"She just put out a second solo album recently. She's a huge inspiration to me. She lives in Melbourne as well. I think I was listening to that song when I wrote 'Pedestrian At Best,' so there's a bit of that in there."
Courtney Barnett
Song: Pedestrian At Best
from Sometimes I Sit and Think, and Sometimes I Just Sit
"I'm super proud of [Sometimes I Sit And Think, And Sometimes I Just Sit]. It's a good feeling to turn all those ideas and emotions and good and bad things into something that people can take whatever they want from it or put it in their life. It's cool.
"I really like hearing people's stories. Lots of people do share what they got from a certain [song.] And it's always a different song, which is great. It's not just one. And everyone has a different story, like a 'Depreston'-type thing or songs helping them get through moments in their life. It's nice to know that it can be useful."