New Mix: Beck, Weaves, King Krule, S. Carey, More
Beck Weaves, S. Carey, More
After three years of trickling out singles, Beck has finally announced Colors, a new full-length due out this fall. His latest track, "Dear Life," channels Beach Boys harmonies and the barrel-house piano of classic Beatles songs like "Martha My Dear" or "Lady Madonna."
S. Carey, percussionist for Bon Iver, also returns, with a gorgeous new single he wrote for the Netflix series Flaked; English singer and rapper King Krule has a profoundly warped new sound in the song "Czech One;" Atlanta singer Curtis Harding just announced his second full-length record the melts together the worlds of soul, psychedelic rock and R&B; and the Canadian band Weaves delivers a bold shot of guitar rock on its new song, "#53."
Also on the show: This past weekend the DIY Musicians Conference was held in Nashville, with seminars and other programs to help artists navigate the complicated business of getting their songs sold and heard. Bob Boilen was there and made a number of discoveries, including AHI (pronounced "eye"), a soulful Toronto-based singer whose song "Ol' Sweet Day" is a warm embrace of innocent love and forgiveness.
Songs Featured On This Episode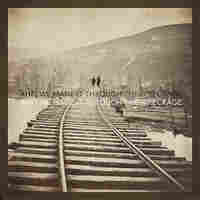 AHI
Song: Ol' Sweet Day
from We Made It Through The Wreckage
Artists who attended the DIY Musicians Conference this past weekend in Nashville had a chance to pitch their songs to music supervisors, producers and other industry figures. AHI was just one of the noteworthy musicians Bob Boilen chose, for his powerful voice and memorable song. The Toronto singer's most recent album, We Made It Through The Wreckage.
S. Carey
Song: Brassy Sun
from (Single)
Sean Carey, who records and performs as S. Carey, got his start as the percussionist for Bon Iver. As a solo artist he makes gorgeous, reflective songs perfect for a rainy day. Carey wrote this track for the Netflix series Flaked, but says he originally started it while on tour. "I was looking through some old pictures, part homesick, part just trying to kill the (sometimes endless) hours of free time you have on tour. I was looking at an old picture of my wife before I even knew her and started questioning whether I even knew this person, the person that I have the most intimate relationship with. I think people spend their whole lives trying to just know themselves, and I'm sure certain deep corners about your partner remain left unknown."
Weaves
The music of Weaves has always been a bit frenetic and upside-down. But on its latest song, "#53," the band moves toward anthemic Springsteen-esque rock with an added dose of noise. Weaves' latest album, Wide Open, is out Oct. 6 on Kanine.
Beck
Song: Dear Life
from Colors
Beck has always steeped much of his music in irony, with puzzling and playful lyrics. His latest single, "Dear Life," is (or at least seems to be) a reflection on middle age and how it's hard sometimes to make sense of the life you find yourself living. Colors, Beck's first new full-length since 2014's Morning Phase, is out Oct. 13 on Capitol Records.
King Krule
Song: Czech One
from (Single)
King Krule is otherwise known as English singer and rapper Archy Marshall. "Czech One," is a bent and blurred mix of curious sounds and styles, from lounge jazz to R&B and trip-hop.
Curtis Harding
Song: Wednesday Morning Atonement
from Face Your Fear
Curtis Harding grew up singing gospel with his evangelical mother, rapping in Atlanta and later playing in a garage-rock band. These days, his music is a mix of all those sounds with a healthy dose of vintage soul. Harding says this track, produced by Danger Mouse, is "about an estranged father who for whatever reason was not able to be present in his family's life ... Also, the business of music can sometimes pull you away from the art of making it. So metaphorically, it's a story about a musician where, in theory, his songs are his children." Harding's latest album, Face Your Fear is out Oct. 27 on Anti.