Robin Hilton's Top 10 Albums Of 2017
Mary Rozzi /Courtesy of the artist
2017 was a year of chronic whiplash, not only for the ceaseless horror show of news headlines, but for the overwhelming number of albums and songs that were released. From the moment The xx dropped I See You in January (remember that one?) to Eminem's upcoming Revival, it seems we barely had enough time to get all the way through a single listen of a single album before a miles-wide torrent of other ones — all by bands we love — sloshed over the cracked and buckling dam.
I'm not entirely sure whether this is good or bad, or whether it even matters. But I know I spent a lot less time (and failed to connect) with a number of artists who once dominated my list of favorites in previous years: St. Vincent, Fleet Foxes, The Flaming Lips, Ty Segall, Dirty Projectors, Laura Marling, The Magnetic Fields, The Shins, Conor Oberst, Future Islands, Timber Timbre, the list goes on and on. All are wonderful, sometimes even brilliant artists, who never held my attention long enough to track. Maybe I was too busy listening to Kendrick Lamar on repeat. I just know that in 2017, it was incredibly hard for any band to capture and hold the imagination of an audience for very long before something else came along to steal it away.
That said, here are 10 albums from this year that locked me in.
Robin Hilton's Top 10 Albums Of 2017
1. Kendrick Lamar, 'DAMN.'
Song: DNA.
by Kendrick Lamar
Smarter people have written more about this remarkable album than I can. So I'll just say it was, by far, 2017's most intense and rewarding listen. Densely layered with existential paradoxes and puzzles, every play invites a deeper listen that, in turn, uncovers more questions and contemplations. It's an album about conflicts and contradictions in a world overwhelmed by rage and grief and injustices. But it's also a profoundly introspective album that finds Lamar trying to make sense of his own history and where he finds himself as, arguably, the greatest rapper of his generation. What is truth? What is reality? What is life? Uneasy lies the head that wears the crown indeed.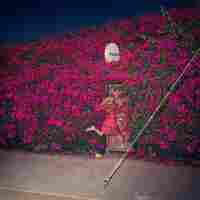 2. Feist, 'Pleasure'
Nothing on Pleasure sounds remotely like Leslie Feist's biggest hit, "1234," the carefree romp that launched her career after appearing in a 2007 Apple ad. The songs on Pleasure, her fifth solo album and first in six years, are a lot moodier, more inward-looking and meditative. They're also among the best Feist has ever written. Lyrically, melodically, she's at the top of her craft. But her smartest move is in the limited arrangements and stark production. Feist uses space -– the rooms she recorded in, mic placement, the ambient sounds that bleed in — to create an intimacy and immediacy more acute and evocative than anything she could have gotten in a more tightly controlled studio environment. The result is transporting. It's like you're sitting with her in her living room, quietly listening as she unspools a series of confessions, observations and secret dreams for her future self. She also keeps you guessing with lots of little surprises that seem to come from nowhere, like the group chorus on "A Man Is Not His Song," or whenever a sharp-edged guitar suddenly cuts through moments of quietude. This is the best album Feist has ever made and would have been my No. 1 if not for DAMN.
3. Big Thief, 'Capacity'
Catharsis took on many forms in 2017. Some artists raged, some grieved. Some were immediate and of the moment, while others, like Big Thief, sought to purge a lifetime of turmoil and conflicted feelings. Capacity is a breathtaking journey through singer Adrianne Lenker's life, from a horrific childhood accident that nearly killed her, through her coming of age and becoming a young woman. The album is mostly a quiet reflection that seeks wisdom and understanding, even when Lenker sings about a life's darkest moments, from deceit and lies to sexual assault. In the end, Capacity, as the title suggests, is about all the human heart can hold before breaking and a testament to love's ability to endure. It's an idea most profoundly realized on the album's centerpiece, "Mary," as Lenker, in a ceaseless but gently delivered round of words, recalls a childhood friend and the innocence of youthful clarity:
"What did you tell me Mary / When you were there so sweet and very / Full of field and stars / You carried all of time / Oh and, heavens, when you looked at me / Your eyes were like machinery / Your hands were making artifacts in the corner of my mind." It's a song Lenker once described as the sound of crying and laughing at the same time, which is also the perfect summation of life itself.
4. Lorde, 'Melodrama'
Song: Green Light
by Lorde
Pop was a potent and irresistible art form in 2017. Even artists like Weezer and Beck jettisoned their usual, tried-and-true sounds to go all-in on pop — to explore its conceits as a vastly complicated, challenging and maybe even mind-blowing means of expression, with more depth and sophistication than one might normally assume. But in a very crowded field, Lorde released what was the year's most interesting and compelling pop album.
Part of Melodrama's appeal is the New Zealand singer's ability to make life's smallest moments — putting on makeup in a car, listening to the radio, getting stupid drunk — feel like universal truths, as though she were unfurling life's secrets by describing something as ordinary as a late-night cab ride. But Lorde also makes these vignettes more mysterious and seductive with a strange mix of sounds that bubble and fall behind the scenes, suggesting a universe more vast and complicated than the four-on-the-floor thump anchoring it all. It's the heartbeat of young lives trying to make their way in a senseless but nonetheless glorious world.
5. Partner, 'In Search Of Lost Time'
Song: Comfort Zone
by Partner
Reports of rock's demise have been greatly exaggerated. If anything, 2017 was a boom year for power chords and brawny shredding — and the best of the best came from young women: Jay Som, Charly Bliss, Vagabon, Waxahatchee, Diet Cig, Palehound, Chastity Belt, Girlpool, Bully and Daddy Issues were some of the standouts. But two young women from Canada, Joseé Caron and Lucy Niles, who write and record as Partner, put out the year's best guitar rock album. In Search Of Lost Time is both thrilling and comical, with the kind of gritty noise that makes you pump your fists and deadpan lyricism that celebrates life's simplest joys: eating frozen pizza in your sweatpants, watching TV and lighting up a bowl. If the brutal, unrelenting news cycle of 2017 left you feeling disjointed, 40 minutes with Partner's In Search Of Lost Time will realign you and settle you back down to earth.
6. Chelsea Wolfe, 'Hiss Spun'
Song: Spun
by Chelsea Wolfe
Sometimes you have to go deeper into the abyss to find a way out. Northern California guitarist and singer Chelsea Wolfe attempted to exorcise her demons in 2017 with a take-no-prisoners frontal assault, digging deep into the trenches of her mind to wage war. Whether you call it sludge metal or doom pop or just plain rock, Hiss Spun is perhaps the year's most monstrously dark, brutally heavy roar against internal agony and the myriad cruelties of life. It rages and heaves and collapses in an exhausted heap as Wolfe sings about desperation and revulsion, sleepless nights, anxiety and sickness. There is no happy ending to Hiss Spun. But as the battle wears on, it feels worth fighting.
7. Mount Eerie, 'A Crow Looked At Me'
Song: Ravens
by Mount Eerie
As NPR Music's Lars Gotrich noted in his review of A Crow Looked At Me, there really are no words to properly measure the horrifying grief this album barely manages to contain. Over the course of nearly a dozen stark and plainspoken tracks, Mount Eerie's only permanent member, Phil Elverum, recounts the loss of his wife to cancer and the gut-wrenching sorrow it left in its wake. Musician and artist Geneviève Castrée and Elverum had been married for more than a decade, and she'd just given birth to their first child when she was diagnosed with stage four pancreatic cancer. She died about a year later, leaving Elverum to care for their young daughter alone. As he seeks some sort of understanding, Elverum describes the tiny, otherwise innocuous moments that can suddenly dismantle him. "Crusted with tears, catatonic and raw / I go downstairs and outside and you still get mail," he sings on the opener, "Real Death." "A week after you died a package with your name on it came / And inside was a gift for our daughter you had ordered in secret / And collapsed there on the front steps I wailed / A backpack for when she goes to school a couple years from now / You were thinking ahead to a future you must have known deep down would not include you." Later, on the song "Raven," he sings "I watched you die in this room, then I gave your clothes away / I'm sorry, I had to / And now I'll move." The nerves couldn't be more clearly or painfully exposed.
While Elverum considers the possibility of an afterlife or even reincarnation, the kind of epiphanies that lead to healing and acceptance elude him. His journey on A Crow Looked At Me isn't one toward recovery but rather an emotional outpouring that, at best, leads to the possibility of hope, like a distant, flickering light deep inside a chasm. I think it's fair to say A Crow Looked At Me is one of the most candid, profoundly moving and unforgettable albums of all time.
8. Juana Molina, 'Halo'
Song: Paraguaya
by Juana Molina
Is there anything harder for musicians than coming up with a way to surprise listeners? They glare at the empty page, sit at a piano or hold a guitar, staring off in search of inspiration, knowing deep down that pretty much everything has already been done in one form or another.
When I first heard the Argentine singer and electronic artist Juana Molina's sophomore album Segundo back in 2000, I was dumbstruck by the wild polyrhythms and woozy, gurgling sounds she produced. It truly was unlike anything I'd heard before. The fact she's able to pull this off again, 17 years later, with the album Halo, is even more astonishing.
Molina's greatest gift is her ability to create a world of living, electronic soundscapes. Her bleeps and sweeps sound more like the murmurings of alien creatures — like they were made by something organic — than by a box of wires. And somehow, on Halo she manages to breathe life into a whole new batch of sounds that leave your head spinning, as though she visited a new, unimaginable planet and returned with an audio document of what she found there.
I'd comment on the lyrics and stories Molina tells, but I have no idea what she's singing about. Not that it matters. The way her voice coos over these wondrous sounds is arresting enough.
9. Daniel Hart, 'A Ghost Story' (Original Soundtrack)
Song: I Get Overwhelmed
by Dark Rooms (Daniel Hart)
I've never put a film soundtrack on one of my Top 10 lists before, but this one, by composer Daniel Hart, just floored me. I also listened to it more than a lot of my other favorite albums of 2017.
The inspiration and starting point for the entire score is the song "I Get Overwhelmed," a soaring synth-pop inquiry into the point of living in a world of relentless, mind-numbing ubiquity. Hart first wrote the track for his band Dark Rooms, but then took it apart and slowed all the elements way down to create a mix of haunting drones and bare-boned string arrangements. It proved to be a near-genius companion to A Ghost Story, a deeply existential film about the vastness of space and time, the afterlife, parallel universes and other heavy themes. With very little dialogue in the movie, Hart's score did the heavy lifting of relating the story through mostly wordless tones and melodies. What vocals he did include were sung in Latin, which only added more layers to the mystery. The score for A Ghost Story is gorgeous and stirring. It gets under your skin and stays with you for days, and you don't even need to see the film to enjoy it. (But really, go see the movie, too.)
Buy Featured Music
Song

A Ghost Story (Original Soundtrack)

Album

A Ghost Story (Original Soundtrack)

Artist

Dark Rooms (Daniel Hart)

Label

Milan Records

Released

2017
Your purchase helps support NPR programming. How?
10. Father John Misty, 'Pure Comedy'
Song: Leaving LA
by Father John Misty
I said all I really need to say in my writeup about this album when it first dropped back in April. But I'll add that, after eight merciless months of inexorable social and political upheaval, Josh Tillman's exegesis on the folly of everything feels more relevant than ever. "Music is chaos," Tillman told The New York Times just before Pure Comedy's release. "When I write songs, I'm opening the door to madness." And what a mad, mad world it's been.