Eight New Artists To Watch In 2018, From 'Slingshot'
All this year, NPR Music and its partner stations will be following a group of outstanding new and emerging artists from local music scenes across the country for a series we're calling Slingshot. On this week's All Songs Considered, we talk to some of our partner stations about the artists they chose for this year's list. Some are hometown favorites, and others are rising stars from abroad.
WGBH's Stacy Buchanan talks about Sidney Gish, a student in Boston with a homemade sound and brand. Bruce Warren of WXPN in Philadelphia chose Mt. Joy, a group that blends old-school classic rock with Americana. Jesse Menendez of Vocalo Radio in Chicago talks about Air Credits, whose hip-hop songs tell stories of a dystopian future. WMOT's Jessie Scott in Murfreesboro, Tenn. chose powerful vocalist Liz Brasher. Carmel Holt of WFUV in New York shares why she chose Bedouine, an artist who reflects on love and solitude in her delicate songs. Matt Reilly of KUTX chose producer-turned-vocalist Knox Fortune. And KCRW's Jason Bentley in Santa Monica talks about Lawrence Rothman, whose debut album explores several alter egos through '80s power-pop.
Artists Featured On This Episode
Sidney Gish
Song: Presumably Dead Arm
Sidney Gish is a singer-songwriter and full-time student with a wry sense of humor in Boston, Mass. where she's been recording and releasing her own work since 2015. She dropped her first album, Ed Buys Houses, in December 2016.
Haley Heynderickx
Haley Heynderickx has been building an audience in her hometown of Portland, Ore. for several years. So far, she's released two EPs: Fish Eyes (2016) and The Bug Collector (2017). This song is the title track to her debut album, I Need To Start A Garden, due out later this year.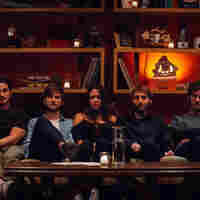 Mt. Joy
Philly-raised, Los Angeles-based Mt. Joy recently released an EP bringing together elements of old-school, classic rock and Americana. The band's debut album is due out on Dualtone in March.
Air Credits
Air Credits is the futuristic hip-hop project of Chicago rapper ShowYouSuck and producer STV SLV (aka Steve Reidell) of The Hood Internet. The duo's most recent mixtape, Omega Virus, imagines a dystopian, post-war future with a backstory for how we arrived there.
Liz Brasher
Liz Brasher is from North Carolina and raised in a family that performed in an all Spanish speaking gospel congregation. She blends blues, soul, gospel and R&B in music that digs down deep.
Bedouine
Bedouine (aka Azniv Korkejian) began her life in Allepo, Syria, spending her childhood in Saudi Arabia before her Armenian parents won a Green Card lottery and moved to the U.S. On her self-titled debut album, hints of Southern country music and the soft, rustic folk of '70s-era Laurel Canyon fuse with her smooth, soothing voice.
Lawrence Rothman
Lawrence Rothman is a Los Angeles-based artist who takes on several personas on the group's debut album, The Book Of Law. The band combines meticulous production, interesting guests and creative affiliations with a knack for slick pop songwriting.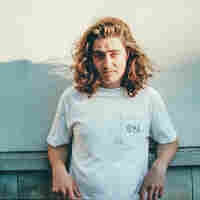 Knox Fortune
Knox Fortune, the music of Kevin Rhomberg is known mostly for his production skills behind the boards on the chorus of fellow Chicagoan Chance the Rapper's "All Night." Here he steps in front of the mic for his latest solo album, Paradise, in catchy, breezy songs like "Lil Thing."