Our Top Discoveries From globalFEST 2018
ADVISORY: This episode contains profanity
Our Top Discoveries From globalFEST 2018
Not matter how much of a music geek you may be, globalFEST is a music festival of discovery for everyone. Now in its 15th year, it's a celebration of music from around the world.
This year's festival featured extraordinary Congolese music from Jupiter & Okwess, Brazilian avant-pop from Ava Rocha, a twist on traditional Irish music from Jarlath Henderson, modern Iranian songs and poetry from Mohsen Namjoo, and so much more.
The gathering happens in just one evening. This year, a dozen bands performed on three stages in midtown Manhattan at B.B. King Blues Club, its smaller sister-venue in the same building called Lucille's and at the Liberty Theater directly across 42nd Street.
I was there globalFEST this past Sunday, along with around 1,500 people, including NPR Music's Anastasia Tsioulcas, Afropop Worldwide's Banning Eyre and WFMU's Rob Weisburg, home of his show "Transpacific Sound Paradise." On this edition of All Songs Considered, we share our favorite discoveries from globalFEST 2018.
Artists And Songs Featured On This Episode
Jupiter & Okwess
A hands-down favorite for all of us, this band from Kinshasa, fronted by veteran vocalist Jupiter Bokondji, made its U.S. debut at globalFEST with a joyous, super-high energy set that matched the charming lilt of Congolese soukous with propulsive, exhilarating speed.
Mohsen Namjoo
He's long been called the "Bob Dylan of Iran," but there's no one who does quite what singer, songwriter, and setar lute player Mohsen Namjoo does: a clever melange of Persian classical singing and instrumental music with theatrical, rock-inflected bays and yowls.
Delgres
This trio connects the dots between the musical styles — and often-tragic histories — of three points in the French-speaking world: Guadeloupe in the Caribbean (an overseas region of France), New Orleans and Paris. But the music is buoyant, in a raucous, rollicking setup of guitar, voice, sousaphone and drums.
La Dame Blanche
Song: Yo Quiero Trabarjar
On paper, this shouldn't really work: Afro-Cuban music, hip-hop, dancehall, cumbia and classical flute. But thanks to La Dame Blanche's serious musical chops, the "Woman in White" from Havana (by way of Paris) pulls off this stylistic hat-trick with outsized swagger and style.
Ava Rocha
The smokey-voiced Brazilian singer, songwriter and filmmaker Ava Rocha brews up an intriguing blend of tropicalia, rock and performance art — it almost seems as if she's channeling both Diamanda Galas and David Bowie.
Jarlath Henderson
Song: Fare Thee Well Lovely Nancy
Making his U.S. debut, the vocalist and uilleann pipes pipes player from Northern Ireland (but now based in Glasgow) frames his beguiling voice with an array of electronics, keyboards, bass, guitar and fiddle. His intimate, affecting set was another big All Songs Considered favorite from this year's edition of globalFEST.
Iberi Choir
The Iberi Choir brings to wider audiences the glorious, ancient tradition of polyphonic choral singing from Georgia — the one in the Caucasus, not the one in the southern U.S. Dressed in long leather boots topped with imposing, long black chokha coats, the group's six singers (who also whip out instruments like flutes and lutes at various points in their performance) are powerful musicians, but their music is achingly sweet.
Grand Tapestry
An intriguing new trio from California marry the centuries-old traditions of Hindustani (North Indian) classical music with — of all things — rap. But they back up this foray with huge virtuosity: vocalist Eligh's partners in this venture are sarod player Alam Khan (son of the master musician Ali Akbar Khan) and Salar Nader (a disciple of percussion virtuoso Zakir Hussain) on tabla.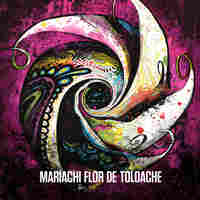 Mariachi Flor De Toloache
The winners of a Latin Grammy for Best Ranchero/Mariachi album just a few weeks ago, the all-female, brilliant Flor de Toalache mix mariachi with World War II-era close harmonies and original songs. In their globalFEST set, they even threw in a cover of Nirvana's "Come As You Are."