New Mix: Ólafur Arnalds, Khruangbin, Whyte Horses, Ari Roar, More
New Mix: Ólafur Arnalds, Khruangbin, Whyte Horses, Ari Roar, More
It's pretty much impossible to ever fully understand why we love or dislike a song. Sometimes we're just in a bad mood when we first hear it and the whole experience sours. Or maybe the opposite happens: You're in a totally elated mood and every song you hear sounds way better than it really is. We open this week's show with a brief reflection on this phenomenon before settling on the one thing we're always looking for no matter what: Songs that transport us in some way.
On this episode that means a couple of remarkable new discoveries for co-host Robin Hilton: the summery, early-'70s psych-pop of Whyte Horses and the transfixing voice and carefree pop of Dallas native Caleb Campbell, who writes and records as Ari Roar. Host Bob Boilen shares the band Khruangbin and the trio's mostly instrumental songs that are both genre and mind-bending. Bob's also got a heart-rending story-song from Canadian Inuk singer Beatrice Deer and a gorgeous — and curious — piano piece from Iceland's Ólafur Arnalds.
All that, plus a visit from NPR Music's Lars Gotrich who reports back with one of his favorite discoveries from Damaged City, a hardcore and punk festival held in Washington, D.C. this past weekend. The band is called Abuse Of Power.
Songs Featured On This Episode
Whyte Horses
Song: Counting Down The Years
from Empty Words
Whyte Horses is the musical project of Dom Thomas, who makes unhurried, eccentric pop shaped with the formal sonic precision of Brian Eno. "Counting Down The Years" accomplishes the surprisingly difficult task of making breezy, psychedelic-tinged pop that isn't bogged down by its heavier lyrics, which, for All Songs Considered's Robin Hilton, speak to the fear of losing one's parents. Empty Words is out now on CRC Music.
Khruangbin
Song: Evan Finds the Third Room
from Con Todo El Mundo
Khruangbin makes dusted, transporting instrumental music that sips from a groundswell of intercontinental influences. This vastness is evident in the title of their new album, Con Todo El Mundo, and doubly so on "Evan Finds The Third Room," a strutting, circuitously funky track with a groove that already feels worn-in, like a leather jacket passed down for generations. Con Todo El Mundo is out now on Dead Oceans.
Beatrice Deer
Song: Atungak
from My All To You
The half-Inuk, half-Mohawk artist Beatrice Deer, from Canada, is drawn to the mythos of her indigenous upbringing. Though this song "Atungak" glistens with the aesthetic influences of her fellow Montrealite collaborators (which include members of Stars, Land Of Talk, Timber Timbre and others), Beatrice Deer suffuses each song with her singular songwriting language. My All To You will be self-released May 11.
Abuse Of Power
Song: View Of The Few
from View Of The Few
NPR Music's Lars Gotrich was in attendance at the D.C. hardcore and punk-lifers fest Damaged City this weekend, where he witnessed punk music as an inclusive space for queer folks, women and people of color. The Atlanta-based hardcore act Abuse Of Power, named after the work of artist Jenny Holzer, was a new discovery for Lars from the festival which is now in its sixth year. View Of The Few // Blame is out now.
Ari Roar
Song: Don't Have A Fit
from Calm Down
Ari Roar stuffs multiple change-ups into a breezy pop gem in less than two minutes. The Dallas singer, otherwise known as Caleb Campbell, says "Don't Have A Fit" is "about confronting anxiety. How it can be exacerbated by going full steam for too long." Ari Roar's debut full-length, Calm Down, is out May 25 on Bella Union.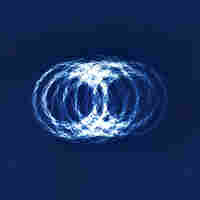 Ólafur Arnalds
Song: re:member
from re:member
Composer and multi-instrumentalist Ólafur Arnalds performs this piano piece with the help of newly developed music software. The software, called Stratus, takes his performance on one piano and, in real-time, creates a performance on two other pianos, which he then reacts to. It leads him down musical paths he likely would never have explored.