New Mix: Dirty Projectors, Stephen Malkmus & The Jicks, More
The release of Dirty Projectors' self-titled album last year came after a five-year hiatus and the departure of longtime singer Amber Coffman. The songs, which documented that departure, were heart-breaking, dark and cathartic. But frontman David Longstreth is already back with a follow-up, and brighter one at that. Lamp Lit Prose (out July 13) suggests he's emerged with a newfound optimism, and on this week's show we've got the first single from it: "Break-Thru."
Also on the show: Stephen Malkmus & The Jicks return with a sparkling reflection on growing older in America; the New York-based duo Sofi Tukker deliver lyrical dance pop with plenty of humor; Shannon & The Clams channel early-'60s pop on the band's latest album, Onion; and Valley Queen, featuring the powerful but nuanced voice of singer Natalie Carol, previews its upcoming debut album with a new single.
All that, plus the psych-folk of Chicago-based singer Jessica Risker and the wildly infectious, soul-grooving music of Red Baraat.
Songs And Artists Featured On This Episode
Dirty Projectors
Song: Break-Thru
from Lamp Lit Prose
Dirty Projectors' upcoming album, Lamp Lit Prose, features a new line-up, an adventurous, buoyant sound, and comes just a year after the band's self-titled release. Lamp Lit Prose is out July 13 on Domino Records.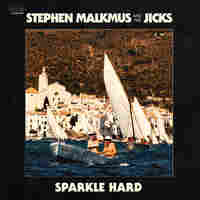 Stephen Malkmus & The Jicks
Song: Middle America
from Sparkle Hard
Few artists can write a hook as immediately infectious or distinctive as Stephen Malkmus. On his latest release with The Jicks, the former Pavement frontman considers, among other things, how one stays relevant and vital while growing older. Sparkle Hard is out May 18 on Matador Records.
Sofi Tukker
Song: Benadryl
from Treehouse
Sofi Tukker is a New York-based duo featuring the work of Sophie Hawley-Weld and Tucker Halpern. Their music is an often humorous take on four-on-the-floor dance pop with fantastic lyrics. Sofi Tukker's latest full-length, Treehouse, is out now on Ultra Records.
Shannon & The Clams
When you hear the music of the Oakland, Calif., band Shannon & The Clams, you'll immediately recognize the early '60s pop sounds of Del Shannon, Ritchie Valens or The Animals. But the group's latest album, produced by Dan Auerbach of The Black Keys, has sharper edges — and a lot of heart.
Valley Queen
Song: Supergiant
from Supergiant
All Songs Considered's Bob Boilen first discovered the music of Valley Queen at SXSW in Austin, Texas, back in 2016 and has eagerly awaited a debut album from the band ever since. Singer Natalie Carol possesses a stunning voice that can rattle the walls and stir the soul.
Jessica Risker
Song: I See You Among The Stars
from I See You Among The Stars
Jessica Risker is a former social worker, and now licensed counselor, whose songs exude a mix of introspection and universal observations you might expect from someone who spends their days helping people navigate their lives. Her arresting new album of delicate, slightly trippy folk songs is out now on Western Vinyl.
Red Baraat
Song: Kala Mukhra
from Sound The People
Red Baraat is a Brooklyn-based ensemble that makes heart-pounding, insanely infectious Punjabi folk music. The band is particularly known and loved for its unforgettable live performances. Red Baraat's latest album, Sound The People, is out June 29.