New Mix: Metric, Villagers, Richard Thompson, Mirah, More
All Songs Considered
Hear The Discussion And Songs
New Mix: Metric, Villagers, Richard Thompson, Mirah, More
Happy National Corn Fritter day! Or, if you want to travel back in time to Friday, when this episode was recorded, happy late National French Fry Day, too. Whatever you want to celebrate, it's always a special occasion when there's new music.
This week's episode of All Songs Considered features the return of several veteran favorites. The Canadian rock band Metric released a raw and ragged new single called "Dark Saturday," a biting track about the super-rich that portrays, as frontwoman Emily Haines puts it, "a dystopian nightlife scene of gaudy wealth where oblivious party girls say nauseating things like 'I'm so rich, everything's free.'" Ireland's Villagers returns with their single "A Trick of the Light," and guitarist Richard Thompson, whose mastery over the instrument has won him recognition as one of the Top 100 Guitarists of All Time, just announced his first self-produced album in over a decade called 13 Rivers. We play "The Storm Won't Come," a powerful display of his talent.
This episode is also full of previously-unknown discoveries, like the self-proclaimed "radical indigenous queer feminist" Black Belt Eagle Scout, whose quixotic "Soft Stud" showcases a lyrical intimacy and fuzzy guitar edge reminiscent of Mitski. We also play the Australian band The Goon Sax, which produces pop so mature and observant from three band mates all under age 20.
All that, plus a sparse and dreamy electronic track from songwriter Mirah and gritty experimental guitar from Ohmme.
New Mix: Metric, Villagers, Richard Thompson, Mirah, More
Metric
Song: Dark Saturday (Single)
Metric's dystopian new single "Dark Saturday" juxtaposes a wealthy, sinfully ignorant socialite who's "so rich, everything's free," with a scrappy narrator that embodies the band's perspective. Lead singer Emily Haines describes the song as a "celebration of the self-made" at a time when the super-rich might inspire feelings of inferiority. No word yet on a full album, but this new single shows the band has plugged in and turned their guitars to 11.
Ohmme
Chicago natives Sima Cunningham and Macie Stewart were originally trained as classical pianists, but wanted to explore the sonic possibilities of something different. Their joint rock band, Ohmme, is a project in experimentation that focuses on the guitar. "Water," off their upcoming album Parts, is a thrilling track that never stays the same long enough for you to form any expectations. Their smooth voices float over pulsing, grainy guitar. Their album, Parts comes out Aug. 24 via Joyful Noise Recordings.
Black Belt Eagle Scout
Katherine Paul grew up on a small Indian reservation in the Pacific Northwest. The singer, who performs as Black Belt Eagle Scout, identifies as a "radical indigenous queer feminist" and is influenced by Native American tradition as well as indie rock. Her debut single, "Soft Stud," expresses the complexity of queer desire, layering intimate lyrics and clean melodies over fuzzy guitar. Her debut album, Mothers Of My Children will be available Sept. 14 on Saddle Creek.
The Goon Sax
In Australia, a "goon sack" is a plastic bag of wine. "The Goon Sax," however, is a precocious band of teenagers from Brisbane whose restless, astute guitar pop suggests a wizened perspective. "Make Time 4 Love," a new single off their upcoming album, addresses what seems to be a former lover with plainly-delivered lines like: "What you want, what I want, we forget overtime." The song is enhanced by dashes of lively spontaneity: the rapid clink of cowbells, an unexpected horn line. The Goon Sax's album We're Not Talking is out Sept. 14 via Wichita Recordings.
07Hot Hot
Mirah
With her keen pop sensibilities, spare electronics, and bedroom sound, Mirah is a master at crafting pop that feels cool and intimate. The song "Hot Hot" argues that beauty comes with age — that the older you get, the hotter you get because of your fearlessness and wisdom. Mirah's sixth album, Understanding, comes out Sept. 9 via Absolute Magnitude and K Records.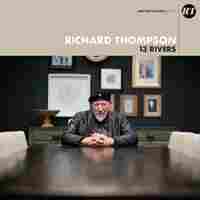 Richard Thompson
Song: The Storm Won't Come
The Grammy-nominated artist and master guitar player Richard Thompson just announced 13 Rivers, his first self-produced album in over a decade. His song "The Storm Won't Come," which we're debuting, showcases his skillful playing and powerful storytelling ability. 13 Rivers comes out Sept. 14th on New West Records.
Villagers
Song: A Trick of the Light
"My heart is spilling over / crashing on the ground / I can't see what's around me / But soon I'll come round," sings Villagers' Connor O'Brien in "A Trick of the Light," the first single off their new album The Art of Pretending to Swim. It's a song is about clinging to hope in the midst of impossible despair. The Art of Pretending to Swim comes out Sept. 21 via Domino.