New Mix: Thom Yorke, Sylvan Esso, Buke & Gase, More
We open this week's show with a new track from Sylvan Esso, with tentacles that reach into multiple musical universes. The song, "Funeral Singers," was originally written and recorded by the band Califone, features members of the group Collections of Colonies of Bees and was recorded at Wilco's Chicago studio, The Loft. The result is a plaintive, pulsing reflection on heartache and loss.
Also on the show: Radiohead frontman Thom Yorke offers a glimpse into his first-ever film score; the Greek electronic musician and singer known as Theodore has an epic, serpentine rock jam; the Los Angeles trio Half Alive delivers a disco-funk dance track with one of the year's best music videos; NPR Music's Marissa Lorusso shares a fuzzy garage rock cut by the Boston-based band Squirrel Flower; the inimitable art-rock duo Buke & Gase are back with sounds they could only conjure from their homemade instruments; and Dutch singer Amber Arcades reflects on the age of disillusionment.
Artists And Songs Featured On This Episode
Sylvan Esso
Song: Funeral Singers (feat. Collections Of Colonies Of Bees)
from Funeral Singers (Single)
The original version of this song, by the Chicago-based folk-rock band Califone, was built on strummed acoustic guitar and banjo. Here Sylvan Esso teams with label and tour mates Collections of Colonies of Bees, and swaps the banjo for electronics. But the song is still an emotional and powerful meditation on despair.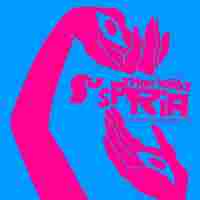 Thom Yorke
Song: Suspirium
from Suspiria
While Radiohead guitarist Jonny Greenwood has a long history of scoring films, Thom Yorke is about to release his first ever. It's for Suspiria, a remake of the 1977 Italian horror film of the same name. While nothing in Yorke's first single from the score, "Suspirium," is overtly terrifying, the song is still full of uneasy mystery. The soundtrack to Suspiria is out Oct. 26.
Theodore
Song: Disorientation
from Inner Dynamics
Greek musician Theodore says this song reflects "a complete loss of my direction [and] a big confusion of who I really am. Writing this album was my attempt to shout that I'm not just one thing and I can follow more than one path. And disorientation in my life was actually the reason for writing this album." Inner Dynamics is out Nov. 2.
Half Alive
Song: Still Feel
from Still Feel (Single)
Half Alive's remarkable video for the song "Still Feel" was shot at Popsicle LA, a large space illuminated by LED ceiling tiles and best known for appearing in Christopher Nolan's Batman movies. The must-see choreography was done by the JA Collective and Half Alive singer Josh Taylor directed it. The LA-based trio has only been playing together for about a year-and-a-half and has released one EP, with more music on the way.
Squirrel Flower
Song: Conditions
from Contact Sports EP
Squirrel Flower makes ragged and raw guitar rock featuring the infectious songwriting of Ella Williams. It's a sound that lands somewhere between the worlds of Sharon Van Etten and Mitski. Squirrel Flower's Contact Sports EP was originally released in 2016, but was reissued as a deluxe edition on the 2000 Pigs label earlier this summer.
Buke & Gase
Song: No Land
from No Land (Single)
No other bands sound quite like the duo of Buke & Gase, in no small part because they make their own instruments. This includes the "toe-bourine" the "buke" (a kind of baritone ukulele) and the gase, a cross between a bass and a guitar. It's been five years since the Brooklyn-based band released a full album. But they've just dropped this new single with hints that more music is on the way.
Amber Arcades
Song: Goodnight Europe
from European Heartbreak
Amber Arcades is otherwise known as Annelotte de Graaf, a singer from The Netherlands who splits her time between music and humanitarian work. Graaf has a law degree and has served on the UN's international war crimes tribunal, helping refugees seeking asylum in Holland. Of the song "Goodnight Europe," de Graaf says "about half of it is me actually being worried about the current state of the Union. The other half is me kind of messing around with, and making fun of, this archetype of the tiresome existentialist academic in me." European Heartbreak is out Sep. 28.