All Songs Considered: The Year In Music 2018
All Songs Considered: The Year In Music 2018
Kevin Winter/Getty Images for iHeartMedia; David Becker/Getty Images for LARAS; Kevin Winter/Getty Images; Christopher Polk/Getty Images for Stagecoach
Well, kids, it's been another year of holograms, headlines and big human messes here in Orbit City. At least music brought us together again and again in 2018, whether in the crowd to see Mitski, Janelle Monáe or Brandi Carlile, or surrounded by strangers in bed at Max Richter's SLEEP concert. This Year in Review edition of All Songs Considered is built like a little time machine to move us chronologically through 2018. And although we can't predict the future, many of the songs selected by hosts Bob Boilen and Robin Hilton, joined by NPR Music's Ann Powers and Stephen Thompson, sound a little like dispatches from a moment just around the corner.
One of the year's biggest albums, Janelle Monáe's Dirty Computer came heralding the marriage of sound and visuals, a trend we're seeing in the work of an incredibly talented new class of artists. Artists like Mitski, Tierra Whack and Childish Gambino are thinking about music as spectacle, as theater, as video and as a showcase of the moving body.
New rappers, like Compton's Buddy, are using recordings as a tool for world-building, taking us to the cross streets of their neighborhoods. All this in a year when Kendrick Lamar made history by winning the Pulitzer for his 2017 album DAMN.
That moment, in April, was one of a pair of events in 2018 where it felt like the attention of the world was drawn to music. The other arrived with the death of Aretha Franklin in August, and mourning the Queen of Soul gave us good reason to celebrate her music.
This is just the beginning of our look back at the best music of 2018. This week, we'll share NPR Music's lists of the best albums and songs of the year, and we'll have personal lists and picks for the best of many different genres too. We want to know what you loved this year too: You can vote for your favorite albums of the year right here. Stick with us — 2019 (the actual future!) is almost here.
Songs Featured On This Episode
Superorganism
This eight-piece band comes together into a great sandbox of visuals and sound, with members from Japan, South Korea, New Zealand and all over the world, packed into in a U.K. house that's become Superorganism's musical playground.
Brandi Carlile
What does a rock star look like in 2018? Maybe a little like Brandi Carlile, performing "The Mother" with her daughter in her arms (like she did this year in Philadelphia). In a year where we're fighting the impulse to disengage, Brandi Carlile has brought emotion, power and politics under the same roof.
Kacey Musgraves
The country singer took a welcome left turn with this album, using her confined yet powerful voice to tell a memorable story with the smallest inflection.
Jóhann Jóhannsson
Icelandic composer Jóhann Jóhannsson died in February at the age of 48. We remember his captivating, original work with this score for the film Arrival, where Jóhannsson built in little humanoid vocal accents to imagine what it would sound like if we made contact with alien life.
Janelle Monáe
On Janelle Monáe's third studio album, Dirty Computer, the Afro-futurist universe that's been incubating in her music reached a hand out into 2018. On stage this year, Monáe was a blend of funk and theater that proved medium and genre are powerless to box her in.
Tierra Whack
This album is a series of 15 even slivers — polished, 60-second songs that each show a totally different side of the the artist's sonic imagination. The debut of Philadelphia rapper and spoken word poet Tierra Whack features stunning visuals, some R&B, a little mumble rap and an incredibly unique form for telling stories.
Childish Gambino
Choreographer Sherrie Silver turned the video for Childish Gambino's powerful song into proof that music in 2018 is intertwined with politics, dance and the moving, mortal body.
Kendrick Lamar
Kendrick Lamar was awarded the Pulitzer Prize in April for his 2017 record DAMN. which continued to prove that no genre has been more potent or influential in American culture, speech or thought in recent years than hip-hop.
serpentwithfeet
No one would call experimental musician Josiah Wise a gospel artist. But this slinky, sexy orchestral pop record probes the conventions of song structure, while remaining tied to his church-choir background. He's just one of multiple artists whose music in 2018 sounded like the future.
Mitski
After the booming, Puberty II anthem "Your Best American Girl," conservatory anti-darling Mitski Miyawaki was poised to become a rock powerhouse. But with the jaunting, eclectic album Be The Cowboy — and a new live show focused on movement and visuals — Mitski continues to take the artistic risks fans have fallen in love with.
Meg Myers
NPR Music's Robin Hilton is a bottler, and what he's bottled most this year is pure, unadulterated rage. We're scraping Robin off the ceiling after he plays this track by Meg Myers, which sounds like the cork blowing off the bottle.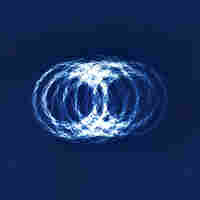 Ólafur Arnalds
The percussive textures in this piece were recorded deep in the bowels of a piano by Icelandic artist and producer Ólafur Arnalds. In a noisy year, this ambient, blood-slowing music for strings and keys has been a form of self-care and a soothing balm for the mind.
Buddy
Harland & Alondra is named for the intersection Compton rapper Buddy, a.k.a. Simmie Sims III, grew up on. An ode to the smoky beauty of Los Angeles, Buddy's tour in vignettes takes us to the cross streets and, at times, the less-than-sunny side of his home city.
Aretha Franklin
The televised memorial and a revisiting of her long and extraordinary catalog weren't enough for a world that needs to celebrate the Queen of Soul, who died this August at 76. Near the end of the year, fans were gifted the long-delayed documentary Amazing Grace, a chronicle of the making of Aretha Franklin's iconic album of the same, recorded at the New Temple Missionary Baptist Church in Los Angeles in 1972.
Buy Featured Music
Song

Amazing Grace

Album

Amazing Grace

Artist

Aretha Franklin

Label

Atlantic

Released

1972
Your purchase helps support NPR programming. How?
Robyn
When the Swedish dance-pop titan released her first album in eight years, it was a relatively spare and restrained follow-up to 2010's Body Talk. Yet it instantly resonated with something primal in its fans: a dose of self-care on the dance floor that made this record a welcome taste of oblivion.
Rosalía
The Catalonian artist is bringing flamenco into the 21st century, melding elements of hip-hop and electronic music with historical forms. Ann Powers names Rosalía the most striking new voice of the year for the ways she shapes it all into a thoughtful concept album based on a 13th century romance novel called Flamenca.
The Glands
When Athens, Ga. songwriter Ross Shapiro died in 2016, fans' hope for a long-awaited third album by The Glands died with him. But this surprise, posthumous double album was worth waiting for, blending melancholy with glimmers of hope and the wisdom that even if your life is unremarkable, it's still worth living.
boygenius
Lucy Dacus, Phoebe Bridgers and Julien Baker joined forces for the perfect collaboration we didn't know we needed this year. When the three bright young songwriters come together on this self-titled EP, their distinct and explosive voices roll into a powerful six-pack of acoustic catharsis.
MILCK
In a divisive year of entrenched tribalism in American politics and culture, Connie Lim, who writes and records as MILCK, gave us this deeply moving pop anthem. "Black Sheep" is a potent and simple reminder that it's okay to be different.
Marc Ribot
Song: We'll Never Turn Back
Guitarist Marc Ribot has dipped his toes into no-wave, free jazz and Cuban music, so a protest album for the Trump era was just another surprising addition to his discography. This song features Justin Vivian Bond & Domenica Fossati.
Lucy Dacus
Historian is only the second album from singer-songwriter Lucy Dacus, but she's already a powerhouse. Lucy Dacus throws her heart and the force of her unconventional mind into this song about leaving a relationship behind and moving forward.
Andrew W.K.
Song: Music Is Worth Living For
We end our year in review with a singular message from musician and motivational speaker Andrew W.K. You're not alone! In this insanely buoyant anthem, the party never dies! And music is (unquestionably) worth living for.