New Mix: Tank And The Bangas, Jesca Hoop, Chris Staples, More
New Mix: Tank And The Bangas, Jesca Hoop, Chris Staples, More
Don't worry! Everything's going to be alright. But if you need more reassurance than that, look no further than "Set of Stairs," from the Amsterdam-based band Pip Blom. It's a burst of frenetic joy to lift you up whenever life deals you a bad hand. Its singular message: You got this!
That's just one of the songs we're featuring on this week's show. We've also got wild and wonderful new music from former Tiny Desk contest winners Tank and the Bangas, gorgeous harmonies and an uplifting message of unity from Jesca Hoop with Lucius, and the singer known as Sevdaliza has a dark and mysterious reflection on love gone bad.
All that plus singer-songwriter Chris Staples announces his new album Holy Moly and shares a tale of young love called "Everybody Said;" and singer, multi-instrumentalist and poet Vera Sola pairs with Kenneth Pattengale of The Milk Carton Kids on "Loving, Loving (Acoustic Reprise)."
Artists And Songs Featured On This Episode
Tank And The Bangas
It's been two years since Tank and the Bangas won our hearts and our Tiny Desk Contest. Now they're weeks away from their brilliant, major-label debut Green Balloon. This song, "Nice Things," is a window into their poetic, witty, insightful, jazz-infused R&B/hip-hop potpourri. The video version here is a live performance of a song that they newly recorded for Green Balloon which is out May 3 on Verve Forecast.
Jesca Hoop
Singer Jesca Hoop first heard the term "shoulder charge" in Elbow's song "Friend of Ours." It's a reference to the spark you feel when someone brushes against you or you find yourself in close quarters with a bunch of strangers. For Hoop it helped her understand that the personal problems we often hide from others are more universal than we realize. "Shoulder Charge" is from her upcoming album, Stonechild, due out July 5 on Memphis Industries.
Sevdaliza
Sevdaliza, the Iranian-born, Dutch singer has been sharing her poetry and songs since 2012, and on her debut album ISON in 2017. Now she's releasing a series of videos and songs under the title "Duorum: Lover's Mourn." "Martyr" is the second song in the series and was inspired by a period of personal self-discovery.
"The Darkest Hour" was the first installment and dealt with the lack of diversity Sevdaliza sees in the music industry.
Chris Staples
Chris Staples is a gifted storyteller who reveals life's greatest mysteries in humanity's smallest moments. On the surface, "Everybody Said," from his just-announced album Holy Moly, is a short, simple tale of young love. But it speaks volumes about the elusive passing of time and how we often lose track of ourselves in the imperceptible shifts that unfold in each passing day. Holy Moly is out June 28 on Barsuk.
Vera Sola
Song: Loving, Loving (Acoustic Reprise)
Vera Sola is an artist with a vision. On her late 2018 debut album Shades, all of the instruments and the singing and writing was her own. On this new song "Loving, Loving (Acoustic Reprise)" she is joined by Kenneth Pattengale of The Milk Carton Kids on guitar, sounding more like a dampened piano. In an audio recording, she sent us from a van while on tour in Germany she said, "my instruction was that he play it as if he were manipulating the sound of a clock as heard through or under water. And since the song was originally written as a sort of sea shanty that's probably where the impulse came from." "Loving, Loving (Acoustic Reprise)" is the b-side to the single "Crooked Houses."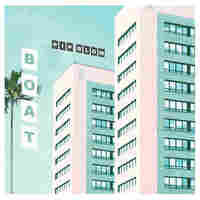 Pip Blom
Pip Blom is a young singer from Amsterdam and the namesake of her band, which also features her brother, Tender Blom, on guitar. Together they make wonderfully idiosyncratic rock with the kind of wry observations you might hear in the music of Courtney Barnett. "Set of Stairs" is a three-minute cheer to keep going when life gets you down. Sometimes you get an easy ride on an elevator... and sometimes you get a long, hard climb up a flight of stairs. Pip Blom's debut album, Boat, is due out May 31 on Heavenly Recordings.